Yeargan honored as Legend of Entomology
Yeargan honored as Legend of Entomology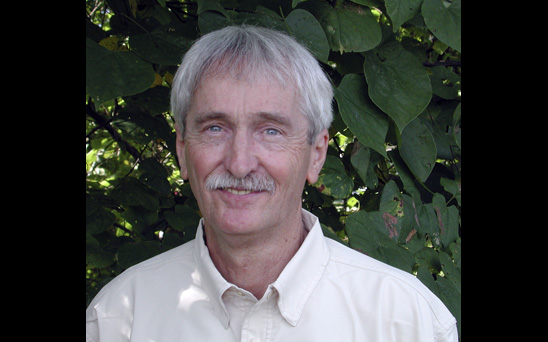 LEXINGTON, Ky.—
A longtime faculty member in the University of Kentucky College of Agriculture, Food and Environment was named a Legend of Entomology at the annual meeting of the Entomological Society of America in Portland, Oregon.
Ken Yeargan, UK entomology professor, received the honor for his years of mentoring entomology students, many of whom have gone on to successful careers in academia, industry and government agencies.
The Legend of Entomology mentoring award is given annually by the society's Plant-Insect Ecosystems Section to a colleague who, through their teaching, leadership and guidance, has made a meaningful impact on the next generation of entomology leaders. Yeargan is just the third recipient of this award.
"Ken Yeargan has inspired the next generations of entomologists through his classroom teaching, graduate and undergraduate student mentorship, novel outreach activities, and his important research into predators and parasitoids that keep pest insect populations in check," said Ken Haynes, UK entomology professor, who wrote a letter in support of his colleague.
Yeargan was nominated for the award by Joe Culin, a former student and interim associate dean for research and graduate studies at Clemson University's College of Agriculture, Forestry and Life Sciences. Additional nominators included five former students. UK entomology department chair John Obrycki also sent a letter of support.
"We nominated Ken Yeargan for the Legends of Entomology mentoring award to recognize the significant role that he has played in the lives of his advisees," Culin said. "I think I speak for all of Ken's students in saying that he was a major force behind our careers, and that he won't hesitate to continue to poke us if he thinks we need a bit more motivation."
"Dr. Yeargan is truly deserving of this recognition," Obrycki said. "Ken has been a dedicated mentor of graduate students during his entire 40-year career at the University of Kentucky."
A UK faculty member since 1974, Yeargan's research interests have focused on the ecology and behavior of arthropod predators and parasitoids. His work on the bolas spiders attracted the attention of Sir David Attenborough and brought the renowned British naturalist and BBC broadcaster to the university in 2004.
An Alabama native, he graduated with a bachelor's degree in zoology in 1969 from Auburn University and received his doctorate in 1974 from the University of California at Davis.
---
Awards
Entomology