Youth "Conversation" Results Presented to Governor Patton
Youth "Conversation" Results Presented to Governor Patton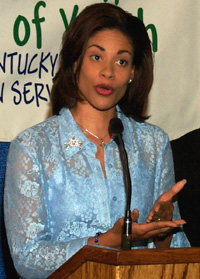 FRANKFORT, Ky.—
Youth and adult leaders from throughout Kentucky gathered at the Capitol Rotunda on Feb. 21 and presented Gov. Paul Patton with results of the state's "conversations" on youth development.
Spearheaded by Kentucky 4-H, the conversations were first held locally in 115 counties, then at eight locations for the statewide event. More than 3,000 youth and adults participated.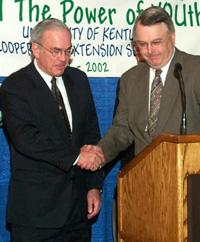 "Many community groups participated in these conversations that emphasized a positive youth development approach," said Scott Smith, dean of the University of Kentucky College of Agriculture and director of the Cooperative Extension Service which oversees 4-H. "These groups included faith communities, FFA, Girl Scouts, Boy Scouts, Beta Clubs, FCCLA, Partners for Youth, YMCA, YWCA and other organizations."
Smith presented the Governor with a report titled "The Power of YOUth: Moving into the 21st Century." Some of the report's findings are: youth should be represented on school boards; media youth coverage should be more broad-based and should reinforce positive assets of youth; youth need better transportation systems; parents/guardians and youth need community centers, clubhouses and meeting spaces for after school and summer activities; youth programming should be diverse and include a wide range of linguistic and cultural differences.
Youth and adults teams are now working in their communities to implement plans developed during the conversations.
"I compliment the university for the stewardship of this program, and I compliment the adults who are supporting this – you are doing a good thing," said Gov. Patton, who also read a proclamation honoring 4-H's 100th anniversary. Patton credited 4-H with helping him as a youngster develop his personal values, and also his public speaking and leadership skills.
Miss Kentucky Monica Hardin, a strong advocate of youth development programs, told the Governor and those assembled that youth and adults can work together to make a difference, and she is living proof of what can be achieved.
"I carry my crown with me, and when I share it with young people I let them know you can be anything you want to be with faith plus education," Hardin said, holding up her Miss Kentucky crown. "So the whole conversation, from state and local to national level is empowering young people to know that one day, just like I'm holding before you now my dream, they'll all be able to do the same thing."
The Governor also was presented results of the "Power of YOUth Pledge Campaign." Through this 4-H led initiative more than 1,000 Kentucky youth have pledged nearly 53,000 hours of community service.
Information from the Power of YOUth programs will be shared with government leaders at both state and national levels, and with state agencies and youth organizations.