New UK education center will facilitate aged horse care breakthroughs
New UK education center will facilitate aged horse care breakthroughs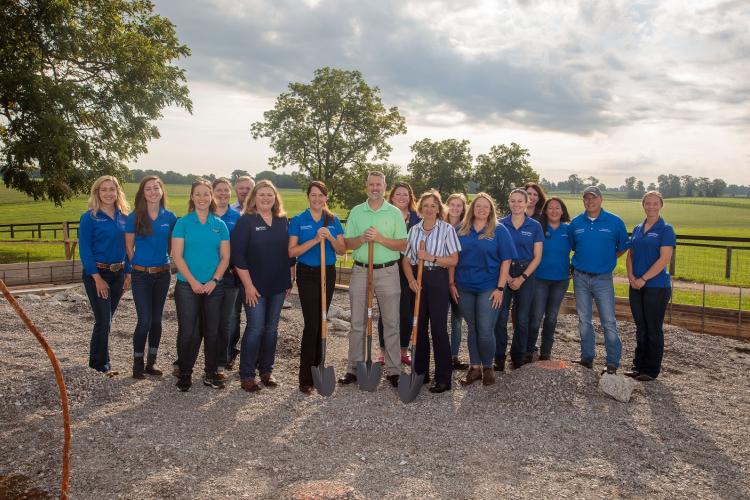 Lexington, Ky—
The University of Kentucky recently broke ground and began construction on a new center for aged horse research. The Linda Mars Aged Horse Care and Education Facility, located on the UK College of Agriculture, Food and Environment's C. Oran Little Research Farm, will help lead the way on breakthroughs in care for revered older horses, a demographic estimated to make up approximately one-third of the worldwide horse population.  
Support from Linda Mars, philanthropist and avid horsewoman, made the facility possible. The college hopes to complete the center by the end of this year. 
UK's Aged Horse Research Program was established by Amanda Adams, associate professor in the Gluck Equine Research Center. Adams, who specializes in the care of senior horses, is also an adjunct faculty member at Lincoln Memorial University College of Veterinary Medicine. She has established and supports a unique herd of aged horses who have conditions ranging from pituitary pars intermedia dysfunction, more commonly known as Cushing's disease, obesity, equine metabolic syndrome and insulin dysregulation.  
Adams' research program currently encompasses the study of equine immunology and endocrinology in the areas of aging, obesity, endocrine diseases, laminitis and stress. In 2019, Adams was named the inaugural MARS EQUESTRIAN™ Fellow in recognition of her expertise in equine science and dedication to creating a better world for horses. Adams was then tapped to provide mentorship to the inaugural MARS EQUESTRIAN Scholar, a doctoral scholarship program designed to engage and train future leaders in equine science. The holistic approach to supporting education and research exemplifies Mars' dedication to improving equine well-being integrating Mars, Incorporated family of equine-related brands and services, including WALTHAM™ Science, ANTECH™, SOUND®, BUCKEYE™ Nutrition and SPILLERS™ Brands. 
According to Adams, the new facility is an important tool helping aged horse research unlock new ways of caring for aging, PPID and EMS or ID horses, conditions that are common as horses age. Additionally, the space will help train the next generation of scientists and will serve as an important resource for the university's equine undergraduate students.  
"I am beyond thrilled, and so very thankful to Linda Mars for her love of the horse and for her innovation and generous support and establishment of this new facility," Adams said. "We couldn't do what we do for the senior horse without the support from Linda."  
While many generally associate the Mars name with the chocolate industry, the family also has significant involvement in the equine industry. Their continued participation includes multiple breeds and disciplines from grassroots involvement to the highest echelons of the sport. Active in horse racing for more than a century, perhaps one of their most famous moments was with a family-owned horse named Gallahadion who charged from behind and won as a longshot in the 1940 Kentucky Derby. 
The legacy of the Ethel V. Mars Milky Way Farm Stable is interwoven into the UK facility with signage depicting the racing silks of Gallahadion, a nod to Mars' desire to continue to make a lasting impact on the health and wellbeing of the horse through its entire lifecycle. This continues to the present day with the establishment of MARS EQUESTRIAN, a sponsorship division of Mars, Incorporated, whose purpose is to improve the lives of horses, pets and the people who love them.  
"We are incredibly thankful to Linda Mars for her continued support of this important program," said Nancy Cox, vice president for land-grant engagement and UK CAFE dean. "Not only will her gift help advance aged horse care, but it will also be essential in educating the next generation of equine professionals."  
The new facility will feature state-of-the-art laboratory space to support Adams' research program, something the research farm currently lacks. Before this facility, the research team transported samples from the farm to campus for analysis. The new space will allow that research to take place onsite and conduct studies that were previously unfeasible to complete.   
The new facility will house teaching and workshop space for 40 graduate and undergraduate students. Additionally, it will offer hands-on teaching potential, with additional space for a horse to be present during the demonstrations. 
The space will also be home to the MARS EQUESTRIAN Scholar program. The program's current scholar, Erica Jacquay, is a graduate student under Adams. Her research currently includes a nationwide survey on common reasons for transporting horses and management practices associated with different types of travel, particularly for road transportation of three or fewer hours. She aims to determine the impact of short-term transportation on stress and immune function in horses. Through this study, she will research differences in how transportation stress manifests in different classes of horses, including aged horses and horses with PPID, EMS or ID.  
Adams said that in addition to supporting the MARS EQUESTRIAN Scholars program, the facility will also provide other graduate and undergraduate students an opportunity for additional hands-on horse care education and learning about firsthand and managing endocrine diseases. 
This space will also host small public workshops that initially will focus on the care of aging horses, nutrition, management, endocrine diseases and other topics. 
"I also want to express my sincere thank you to Dr. Pat Harris, director of science, Mars Horsecare, for her continued support of our aged horse research program, as this collaboration all started with Pat, and there are not enough words to truly thank her for her unending support," Adams said. "She is the most passionate equine scientist in the industry, and we deeply thank her. My goal is to take our program to the next level and continue to make a difference in the field of equine science and for the equine industry and above all for the senior horse population."  
About the Gluck Center 
The mission of the Gluck Center is scientific discovery, education and dissemination of knowledge for the benefit of the health and well-being of horses. Gluck Center faculty conduct equine research in seven targeted areas: genetics and genomics, immunology, infectious diseases, musculoskeletal science, parasitology, pharmacology, therapeutics and toxicology and reproductive health. The Gluck Equine Research Center, a UK Ag Equine Program, is part of the Department of Veterinary Science in the College of Agriculture, Food and Environment at the University of Kentucky.  
About MARS EQUESTRIAN™  
MARS EQUESTRIAN Sponsorship by Mars, Incorporated is the link between our iconic brands and the equestrian community. For generations, Mars has celebrated a rich equestrian heritage, and through purposeful partnerships, MARS EQUESTRIAN is committed to the sport and building an enduring legacy. From world-class competitions across all equestrian disciplines, to stewarding the power of horses on society and sustainability, MARS EQUESTRIAN is dedicated to our purpose to improve the lives of horses, pets, and the people who love them. For more information please visit our website at www.marsequestrian.com and follow us on social media @marsequestrian.