UK Land-grant Engagement hosting inaugural Engagement Academy
UK Land-grant Engagement hosting inaugural Engagement Academy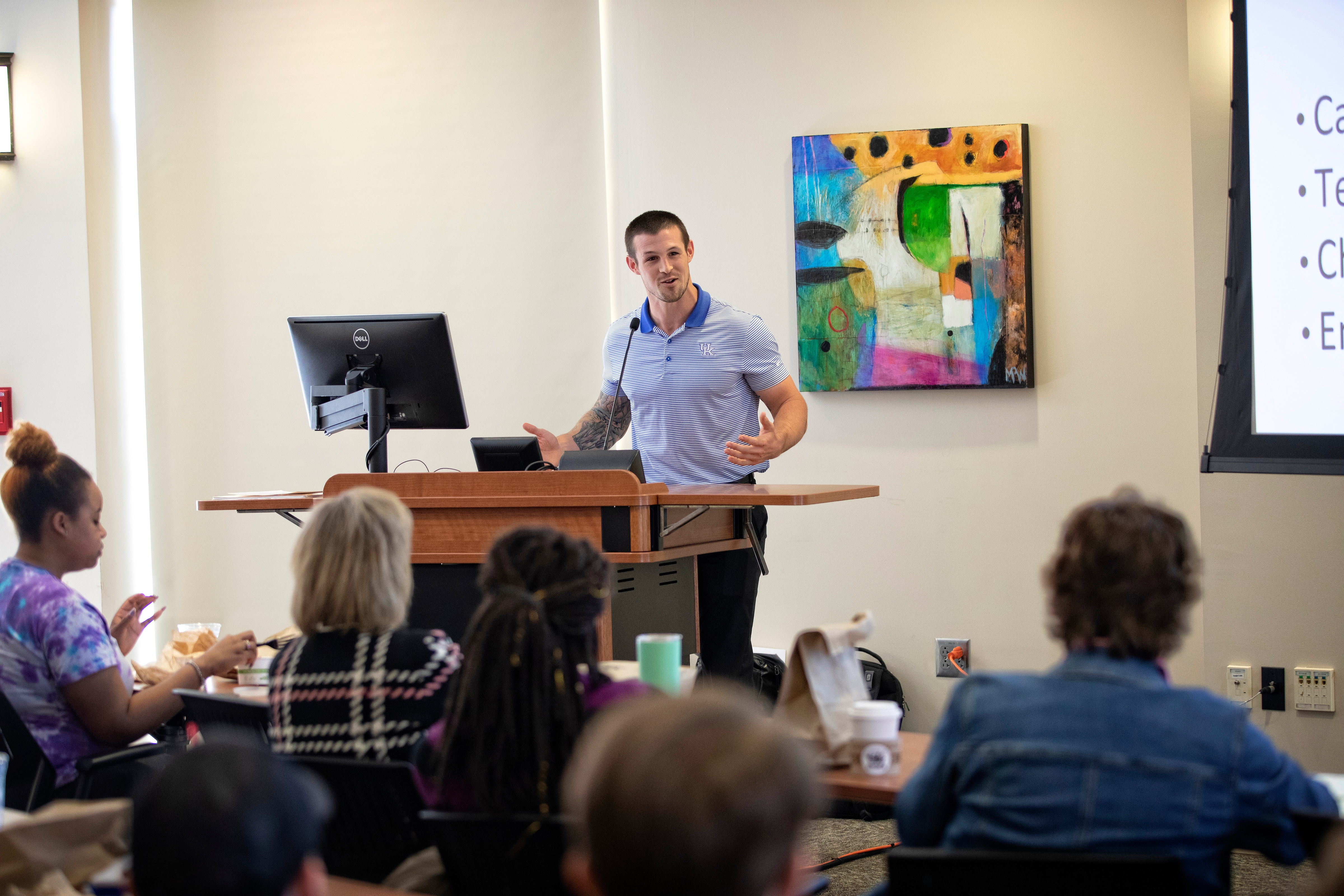 LEXINGTON, Ky.—
The University of Kentucky is hosting its inaugural Land-grant Engagement Academy with 39 faculty and staff across 12 colleges and units.
The cohort will participate in a two-day event highlighting engagement programming, visits to regional extension offices and new opportunities to collaborate on community-level partnerships. Organizers received more than 100 applications for the academy. For a full list of participants, click here.
"I am so excited for this opportunity," said Caroline Durr, extension specialist for the Nutrition Education Program. "I'm looking forward to learning about opportunities to collaborate with departments across campus that will strengthen the outreach efforts of the university."
The academy is Sept. 13-14. The first day will consist of seminars, discussion and a review of projects that could lead to campus-wide collaborations. The second day will include a tour of several campus-community engagement efforts.  
The goal is to build a culture around engagement and to foster creative opportunities to build multi-disciplinary partnerships around community-level work. The academy is a result of recommendations identified through UK Engage, led by the vice president for land-grant engagement and dean of the Martin-Gatton College of Agriculture, Food and Environment, Nancy Cox.
Since its founding, the commonwealth's flagship and land-grant university has been committed to serving the state and its people. This mission is manifest in the university's strategic plan. Part of enhancing and expanding this mission, the academy brings together faculty and staff from across the university with a common interest in engagement and outreach in Kentucky communities.
The Engagement Academy will become an annual event and organizers say interest in the inaugural event is encouraging. 
"We were grateful for the response to the call for applications," Cox said. "Sharing our engagement focus with partners across the university is the next step in bolstering a culture of community outreach."
To learn more about the Engagement Academy and Land-grant Engagement, visit engagement.uky.edu. 
-- 30 -- 
The Martin-Gatton College of Agriculture, Food and Environment is an Equal Opportunity Organization with respect to education and employment and authorization to provide research, education information and other services only to individuals and institutions that function without regard to economic or social status and will not discriminate on the basis of race, color, ethnic origin, national origin, creed, religion, political belief, sex, sexual orientation, gender identity, gender expression, pregnancy, marital status, genetic information, age, veteran status, physical or mental disability or reprisal or retaliation for prior civil rights activity.
---
Events
Extension