UK service week provides more than 400 volunteer hours to Kentucky's equine industry
UK service week provides more than 400 volunteer hours to Kentucky's equine industry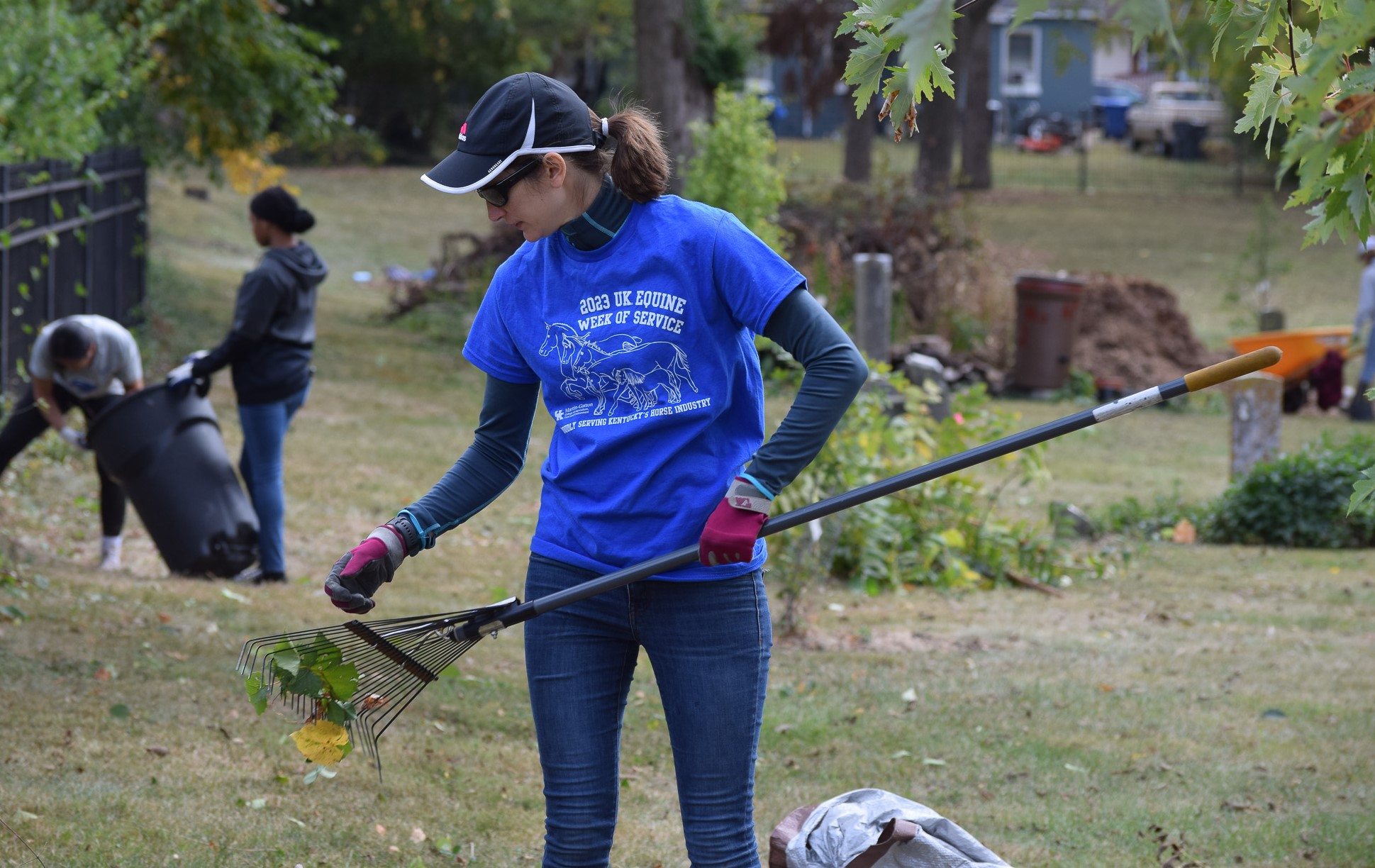 Lexington, Ky.—
Through painting, pruning and lending of extra hands, 150 participants volunteered more than 400 hours for various equine non-profit organizations in the Lexington area during the University of Kentucky Equine Week of Service Oct. 8-14. 
The UK Ag Equine Programs' Wildcat Wrangler student ambassador team lead this annual tradition of giving back, a unique opportunity for equine students, alumni, faculty and staff in the Martin-Gatton College of Agriculture, Food and Environment to support Kentucky's equine industry.  
Over the week, volunteers served seven different equine non-profit organizations: African Cemetery No. 2, Blue Grass Farm Charities, Central Kentucky Riding for Hope, Kentucky Equine Adoption Center, Old Friends, New Vocations Racehorse Adoption Program and the Retired Racehorse Project's Thoroughbred Makeover.  
"I loved volunteering at different organizations during the UK Equine Week of Service for the last four years. This community does so much for us as students and offers so many unique opportunities. I enjoy seeing other students giving back," said Stephanie Smith, Equine Science and Management Program senior and Wildcat Wrangler student ambassador. "The equine community and industry around Lexington are a big part of why I chose to be a student at UK and the Equine Week of Service helps show my appreciation for all they do."  
UK's Equine Week of Service began in 2020 during the pandemic lockdown days. Students wanted to help support Kentucky's signature industry in a meaningful way while at the same time finding opportunities to connect with other students sharing a similar passion for horses. The event was wildly popular, and it became an annual tradition. 
"I'm very proud of the Wildcat Wrangler equine student ambassador team. Their hard work in creating and implementing unique opportunities for students to serve the industry and to network does not go unnoticed," said Kristen Wilson, senior academic coordinator for the Equine Science and Management program and advisor to the equine ambassador team. "This year, we returned to organizations we've served in the past. We also added new opportunities, allowing students to choose from a variety of opportunities." 
"Over the past four years, I've had the privilege of volunteering with various organizations. The heartwarming gratitude and appreciation have continually motivated me to return, year after year," said equine senior and Wildcat Wrangler Isidra Powell. 
Volunteers often report getting more out of the experience than they put in and UK Ag Equine Programs' director James MacLeod is no exception.  
"The Week of Service has become a wonderful annual tradition. Within the equine agriculture community, it allows us to 'Be the engaged and caring person you admire and want to be," he said. "Sharing this very positive experience with students has been especially enriching for me."  
To learn more about Ag Equine's programs, events and opportunities for students, visit https://equine.ca.uky.edu/ 
30- 
The Martin-Gatton College of Agriculture, Food and Environment is an Equal Opportunity Organization with respect to education and employment and authorization to provide research, education information and other services only to individuals and institutions that function without regard to economic or social status and will not discriminate on the basis of race, color, ethnic origin, national origin, creed, religion, political belief, sex, sexual orientation, gender identity, gender expression, pregnancy, marital status, genetic information, age, veteran status, physical or mental disability or reprisal or retaliation for prior civil rights activity.  
---
Equine
Events