University of Kentucky Arbor Day event inspires planting native trees and environmental conservation
University of Kentucky Arbor Day event inspires planting native trees and environmental conservation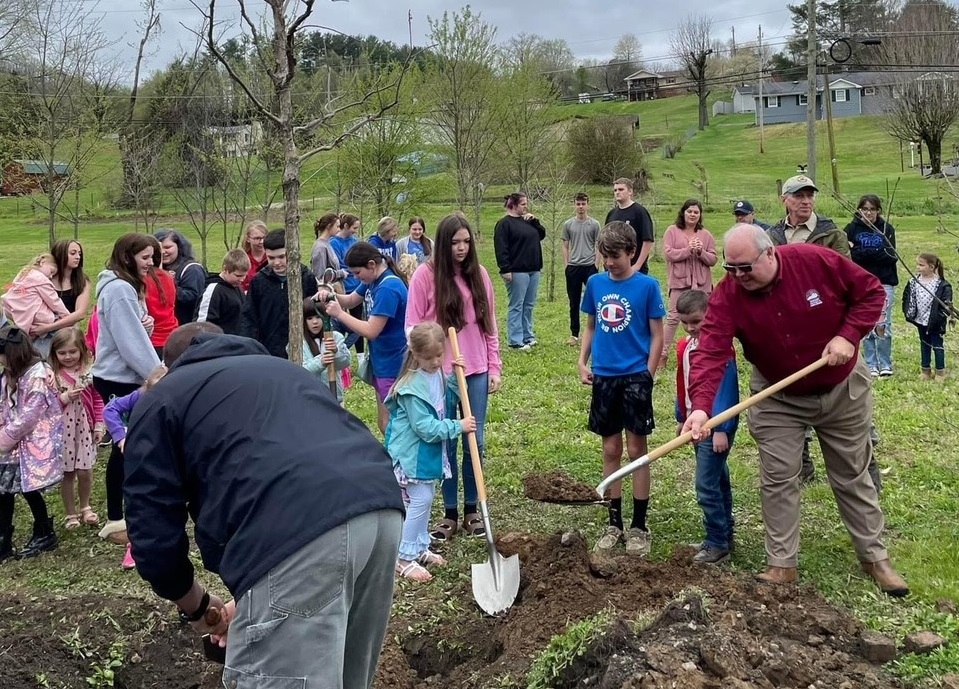 QUICKSAND, Ky.—
Arbor Day is a holiday dedicated to planting, maintaining and preserving trees and the environment. Throughout history, communities around the globe have honored Arbor Day in various ways. 
The University of Kentucky Department of Forestry and Natural Resources and the Kentucky Division of Forestry celebrated Arbor Day this year at the university's Robinson Center for Appalachian Resource Sustainability in Breathitt County. The celebration highlighted the role that trees play in storm protection and providing building materials, important for recovery after catastrophic flooding and other disasters. Organizers distributed a variety of native trees to attendees, including white oaks, persimmons, pawpaws and Eastern redbuds. 
"The event was geared toward the community and over half that attended were young people from local schools," said Chad Niman, forest products specialist for the UK College of Agriculture, Food and Environment. "Everyone learned about the many benefits trees provide, including cleaning our air, water, providing wildlife habitat, as well as the economic contribution the forest industry has in Kentucky." 
Special guests, such as Energy and Environment Cabinet Secretary Rebecca Goodman, state forester Brandon Howard, Smokey Bear and emergency management officials discussed the impact of recent natural disasters on Kentucky's trees and the importance of native trees and plants on the commonwealth's diverse ecosystems.  
Organizers conducted a swamp chestnut oak tree planting, chosen because of its survival ability in flood-prone areas.  
"RCARS was under several feet of water for a few days after Eastern Kentucky's catastrophic flooding and we know several months before that many people were affected by the tornadoes in the western part of the state," Niman said. "This event was not only about Arbor Day, but also about how the people have been able to bounce back from natural disasters."  
Arbor Day has a rich history at UK. Niman, the CAFE Forestry Club and community partners led the initiative to certify the campus as a Tree Campus USA in 2011.
This year's celebration also emphasized UK Cooperative Extension Service's reach across the state and its positive impact on agriculture and the environment. Speakers highlighted several Kentucky Division of Forestry services, including disaster response and woodland owner programs. 
"Attendees came away with a greater appreciation of the benefits of forests and the importance of native trees and plants," Niman said. "They were also inspired to take action by planting and managing trees on their own properties or in natural spaces around their home. The celebration showed that despite the challenges that Kentucky faces from natural disasters, we can celebrate the positive impact of trees and the environment, and people can take action to make a difference."  
---
Environment
Events
Forestry
Sustainability