2019 Kentucky Fruit and Vegetable Conference set for Jan. 7-8
2019 Kentucky Fruit and Vegetable Conference set for Jan. 7-8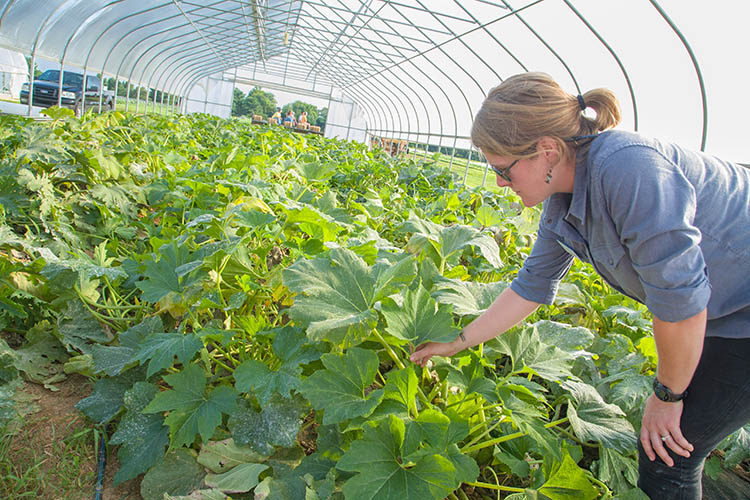 LEXINGTON, Ky., — Fruit and vegetable producers will find much information to help their enterprises at the 2019 Kentucky Fruit and Vegetable Conference Jan. 7-8 at Lexington's Embassy Suites Hotel.
Preconference sessions on Sunday, Jan. 6 will begin with a vegetable roundtable discussion from 6:30 to 7:30 p.m., and a tree and small fruit roundtable from 7:30 to 8:30 p.m.
"This conference will provide producers with valuable information that will help both business and production aspects of their operations," said Rachel Rudolph, extension vegetable specialist in the University of Kentucky College of Agriculture, Food and Environment. "We've tried to cater the conference to both new, less experienced growers and growers who have been farming for a long time. We have a wide range of presentations, including some topics that previous attendees have requested, such as talks on irrigation and new product development and marketing."
Participants may choose from several concurrent sessions with topics that include farmers markets, small fruit production, vegetable production, tree fruit production, high tunnel production, marketing and business management, organic production, the Grape and Wine Short Course and updates on Produce Best Practices Training and the Food Safety Modernization Act.
In addition to UK extension associates and specialists, speakers will include Bruce Bordelon, extension viticulturist from Purdue University; Carl Cantaluppi, retired North Carolina extension agent and East Coast asparagus expert; Maria Peterson, filtration media specialist at Scott Laboratories, Petaluma, California; Celeste Welty, The Ohio State University extension entomologist; and Annette Wszelaki, vegetable extension specialist at the University of Tennessee.
An Exhibitor/Grower Luncheon will be offered on Jan. 7, with an optional wine tasting that evening. The luncheon on Jan. 8 will feature Kentucky Proud products. Participants will be able to explore exhibits on both days during the trade show.
The conference is a joint meeting of the Kentucky State Horticulture Society, the Kentucky Vegetable Growers Association, the Organic Association of Kentucky, the Kentucky Wineries Association, and the Kentucky Horticulture Council, in cooperation with the UK College of Agriculture, Food and Environment, Kentucky State University and the Kentucky Department of Agriculture.
Conference preregistration is $40 per person, while registration after Dec. 14 or at the door is $60. Registration includes a one-year membership in the Kentucky Vegetable Growers Association, Kentucky State Horticulture Society or the Organic Association of Kentucky and entry to the Grape and Wine Short Course.
The conference program and registration information are available online at http://www.uky.edu/hort/node/1985.
---
Crops
Events
Extension
Horticulture