23rd Annual Big Sandy Women's Symposium May 3 in Paintsville
23rd Annual Big Sandy Women's Symposium May 3 in Paintsville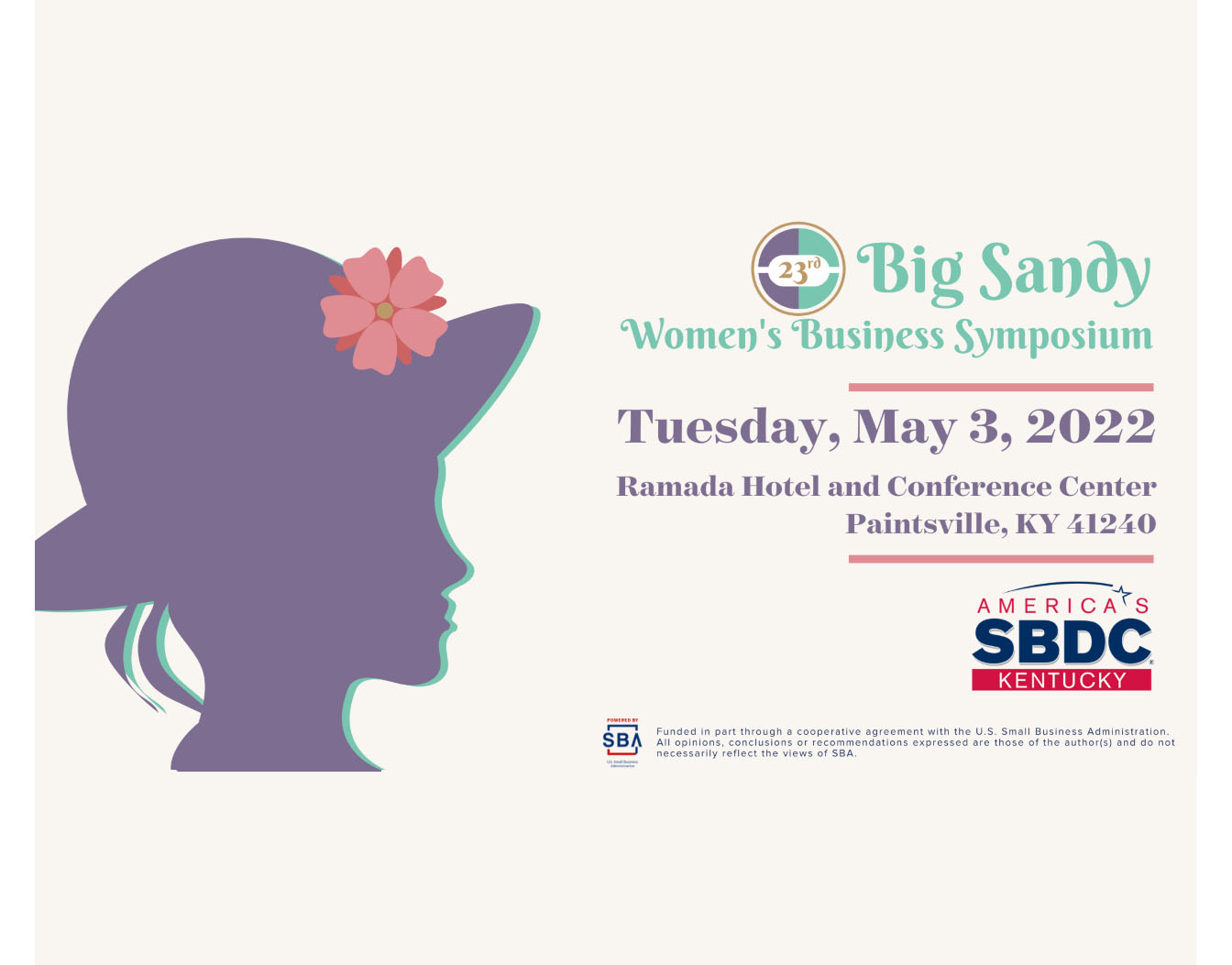 PAINTSVILLE, Ky. —
The Kentucky Small Business Development Center in Eastern Kentucky will host the 23rd annual Big Sandy Women's Symposium Tuesday, May 3 at the Ramada Hotel and Conference Center in Paintsville. 
This year's Symposium theme is "Opening Up." After registering, attendees will have time to network and socialize before opening remarks from Trish Adams, agency ambassador, board and industry liaison for the Eastern Kentucky Concentrated Employment Program. 
Attendees may choose between two breakout sessions including "Creating the Bait," presented by Brittany Lamb, owner of Hook, Line and Social, and "Healthy, Minds, Healthy Workflow," presented by Dr. Kinga Mnich, award-winning international social psychologist, educator and speaker.  
 Rachelle Burchett, author, leader, and creative business professional will deliver the morning keynote titled "We Conquer by Continuing." Burchett said she leads teams by allowing them to develop innovative and trailblazing ways of thinking. Along with professional development, she will discuss her faith. 
JJ DiGeronimo, an award-winning author of two books, and the creator of global tech group Tech Savvy Women & Together We Seek, will deliver the afternoon keynote, "The Whispers Inside Your Work." DiGeronimo will share her story and her desire to professionally and personally empower women.   
Holly Elizabeth Forbes, vocalist from Catlettsburg, Kentucky, will provide musical entertainment for the event. This Morehead State University alumna is best known for her  Top 10 finish on team Ariana Grande in season 21 of The Voice. Forbes plans to record and release an album soon, and tour as much as she can.  
Registration begins at 9 a.m. The cost of the event is $40, which includes all keynotes, workshops, lunch, and entertainment. While the event is targeted to women entrepreneurs, all are invited to attend the symposium. 
Pre-registration for this event is available online at: http://ow.ly/3GbF50IogT8 
Sponsors for this year's event include: AAA Real Estate, Appalachian Wireless, American Electric Power, Appalachian Regional Healthcare,  Big Sandy Community & Technical College, Bluegrass Care Navigators, Community Trust Bank, Daffodils Boutique, Eastern Kentucky Concentrated Employment Program, Foothills Communication, Foundation for Appalachian Kentucky, Morehead State University, Mountain Apothecary, Mountain Enterprises, Peoples Bank, Prestonsburg Tourism, Q95FM, Southeast Kentucky Economic Development Corporation, Shaping Our Appalachian Region, Toyota, Women's Business Center of Kentucky and WSIP radio. 
The Kentucky Small Business Development Center has been assisting the Commonwealth's small-business community since 1981. Through its statewide growing network of centers and an experienced and knowledgeable staff, the Kentucky SBDC provides unparalleled business coaching and training services that help existing business owners and potential entrepreneurs succeed. Our services include one-on-one business coaching, training workshops, market research, loan packaging help, assistance with financial projections and information needed to make informed business decisions.  
Kentucky SBDC is co-sponsored by the U.S. Small Business Administration and is administered by the University of Kentucky's College of Agriculture, Food and Environment in partnership with regional academic institutions, economic development organizations, the private sector, and the commonwealth of Kentucky. 
---
Economics
Events
Extension