Agribusiness and Industry Career Fair successfully connects University of Kentucky students to employers 
Agribusiness and Industry Career Fair successfully connects University of Kentucky students to employers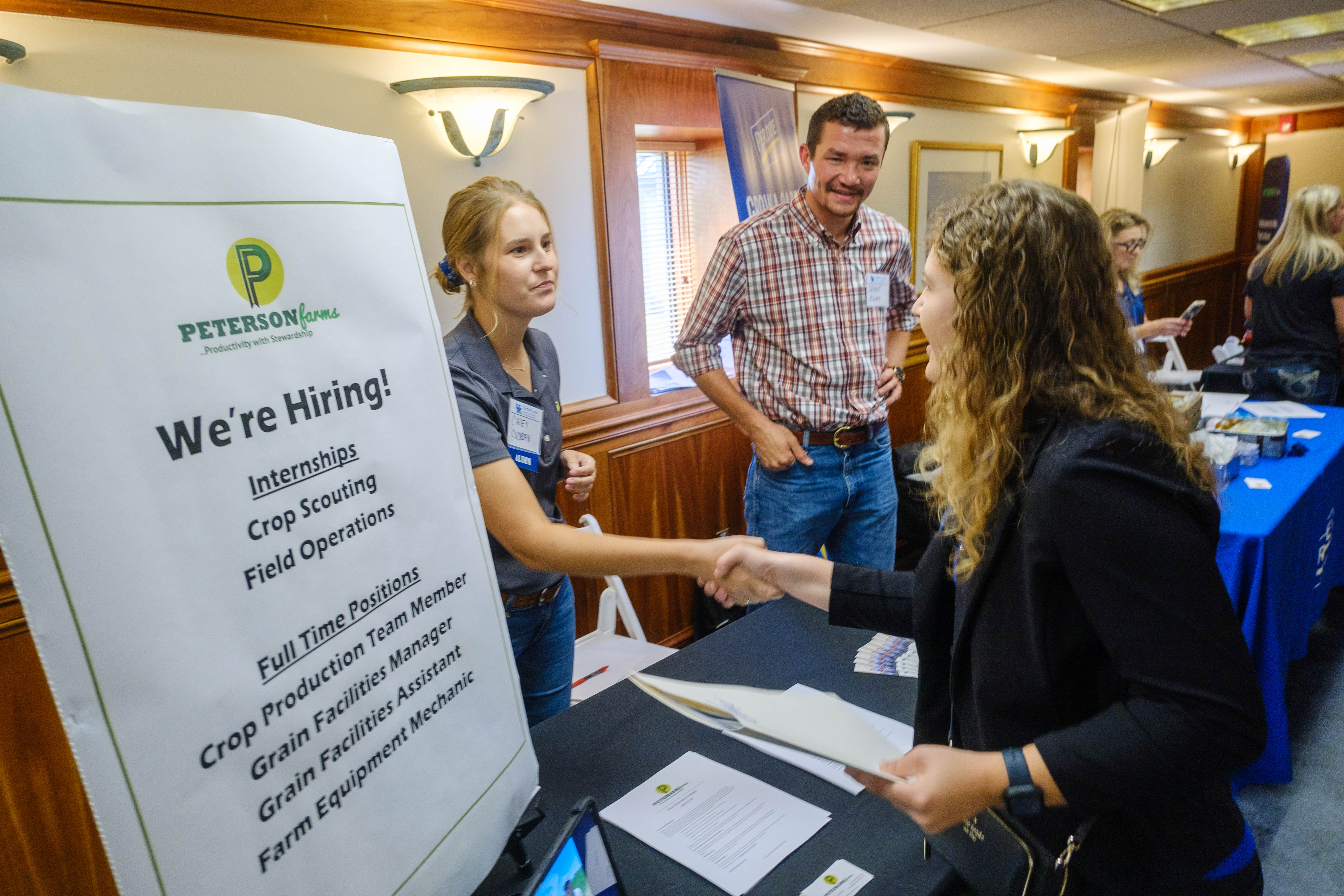 LEXINGTON, Ky.—
The recent University of Kentucky 2023 Agribusiness and Industry Career Fair brought together numerous employers, industry partners and students to connect at E.S. Good Barn on campus. 
Organized by UK Department of Agricultural Economics and the UK chapter of Minorities in Agriculture, Natural Resources and Related Sciences (MANRRS) at the Martin-Gatton College of Agriculture, Food and Environment, this public event was open to any college student or alumni with an interest in agriculture and agribusiness as well as finance, sales, supply chain and more. 
Audrey Wirasakti, dual-degree student in the college's food biosciences and agricultural economics programs attended and shared her experience. 
"The career fair was a great experience to network with individuals and companies in the agriculture industry and get a better idea of what I want to do after graduation," she said. "It was a great opportunity to share my resume and interests with different people, and gain so much information and feedback. I'm happy I went." 
UK student Benjamin Williams, who is pursuing a double major in agricultural economics and management, also attended and took something meaningful with him. 
"This year's career fair was truly an amazing opportunity to engage with many big agricultural companies across our state and our region," he said. "I am now more confident in my networking skills and have made valuable connections which will hopefully prove beneficial soon." 
UK graduate Abigail Calender ('23) participated in the career fair as an employer, representing CGB Enterprises, where she is currently a grain leadership trainee. Calender graduated from Martin-Gatton CAFE and the Gatton College of Business and Economics with bachelor's degrees in agricultural economics and management. 
"As a recent graduate and somebody who found their career at this exact fair last year, it was a full circle moment for me," she said. "Having the opportunity to recruit students and explain how they would be a part of CGB was remarkable." 
Ben VanHook ('22), who studied agricultural economics with a minor in business at UK, now works as a loan officer at Central Kentucky Ag Credit. Ben expressed gratitude returning to campus as an employer at the career fair and connecting with students. 
"It's special to see young professionals take the steps to reach their personal and career goals," Vanhook said. "Ag Credit is proud to be a part of student events that help to shape future farmers and agricultural leaders." 
Kendriana Price, director of diversity, equity and inclusion in the Office of Diversity at Martin-Gatton CAFE, says that for students, attending a career fair is just the beginning. 
"After attending a career fair, following up with the companies is key for students," she said. "This could include connecting and sending a personalized message on LinkedIn, introducing yourself by email, asking questions or setting up a brief chat. In addition, students need to start applying for opportunities they are most interested in. You can do it, and we are here to help." 
The following employers attended this year's event: 
The Martin-Gatton CAFE offers myriad career resources and enrichment services for students. Visit https://students.ca.uky.edu/careers to learn more.
– 30 –                                                      
The Martin-Gatton College of Agriculture, Food and Environment is an Equal Opportunity Organization with respect to education and employment and authorization to provide research, education information and other services only to individuals and institutions that function without regard to economic or social status and will not discriminate on the basis of race, color, ethnic origin, national origin, creed, religion, political belief, sex, sexual orientation, gender identity, gender expression, pregnancy, marital status, genetic information, age, veteran status, physical or mental disability or reprisal or retaliation for prior civil rights activity.
---
Events
Students