Beef Bash set for Sept. 25
Beef Bash set for Sept. 25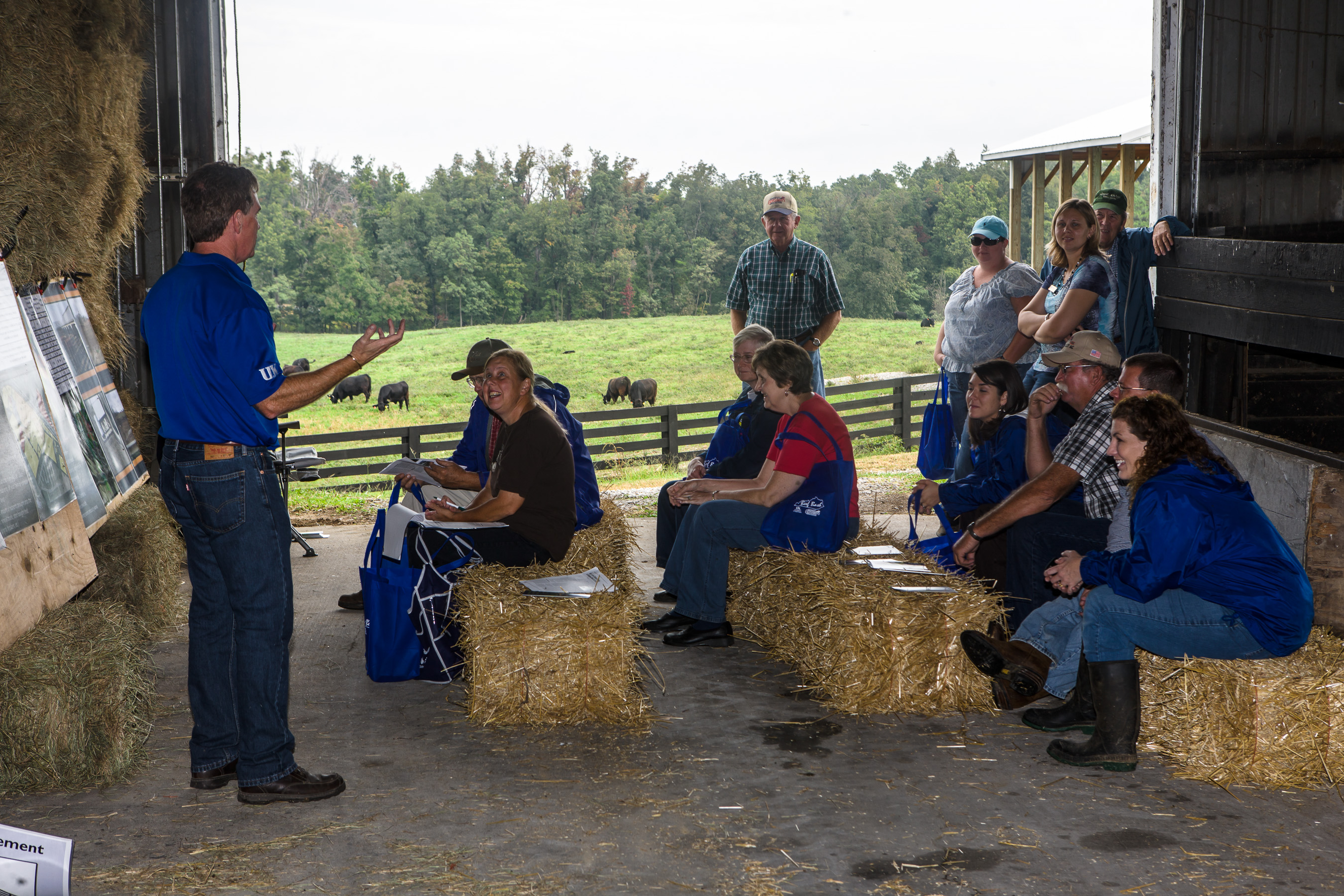 PRINCETON, Ky.—
The University of Kentucky College of Agriculture, Food and Environment and the Kentucky Cattlemen's Association will host the fourth biennial Beef Bash, a unique field day for Kentucky beef cattle producers, on Sept. 25 at the UK Research and Education Center in Princeton.
"Research and outreach efforts such as Beef Bash are an important means of providing up-to-date information to cattle producers," said Roy Burris, UKAg extension beef specialist. "We also are keenly aware of the importance of the social and business aspects of cattle production."
Demonstrations and educational exhibits will focus on beef markets, minerals, hay storage, feedlot performance, genetics, pasture management, grazing and free Beef Quality Assurance training and certification. Beef Quality Assurance is a national program that provides guidelines for beef cattle production. The program raises consumer confidence through offering proper management techniques and a commitment to quality within every segment of the beef industry.
"This field day is a good opportunity to learn more about the current issues we are facing in the beef industry and to talk with fellow cattlemen about the beef industry," said Dave Maples, KCA executive vice president.
Registration begins at 8:30 a.m. CDT, and programs and tours start at 9 a.m. A meal will be available for purchase. No preregistration is required. The noon program features Nancy Cox, dean of the College of Agriculture, Food and Environment, and John Paterson, executive director of producer education for the National Cattlemen's Beef Association.
The UK Research and Education Center is on Kentucky 91 South, 1.5 miles southeast of the Caldwell County Courthouse in Princeton.
For more information, contact Blair Knight at 270-365-7541, ext. 297 or blair.knight@uky.edu or contact a local UK Cooperative Extension Service office. You may also visit http://www.facebook.com/KyBeefIRM.
Commercial exhibitors include ABS, Alltech, Barenbrug Seed, Boehringer Ingelheim, Callicrate Banders, Caudill Seed Co., Christian County Livestock, CPC Livestock Nutrition, Dow AgroSciences, Fencing By Frank, First Farmers Co-op, Gold Standard Labs, H&R Agri-Power, Hubbard Feeds, Immvac, Kentucky Beef IRM, Kentucky Cattlemen's Association, Kentucky Farm Bureau, Kentucky Tennessee Livestock, Kentuckiana Livestock, Micronutrients, Mix 30 Liquid Feed, Multimin 90, Schaeffer Manufacturing, Smoky Mountain Cattle, Triple Trust Feed and Seed, Turner Seed, United Livestock Commodities, United Producers, Vigortone, VitaFerm, Whayne Agri-Business and Zoetis.
---
Events
Extension
Livestock
Research
Sustainability