Beekeeping interest soaring in Pulaski County
Beekeeping interest soaring in Pulaski County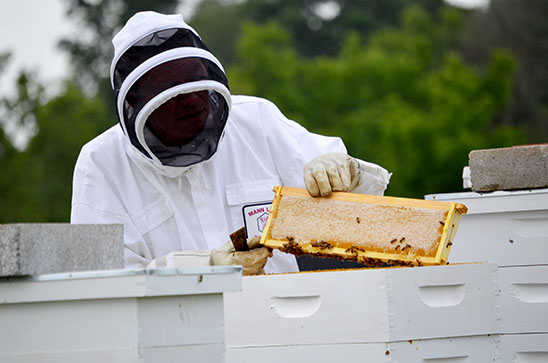 SOMERSET, Ky.—
The hills around Lake Cumberland are all abuzz, and it's not with the sound of speedboats. More and more individuals in the area are coming to the county's office of the University of Kentucky Cooperative Extension Service and Lake Cumberland Beekeeper's Association to learn how to become apiarists.
Last winter's beginning beekeeping school outgrew the extension office's meeting facilities. Even with a move to the local public library that accommodated 100, individuals remained on a waiting list. This was a large increase in attendance from the previous two schools that had seen a steady stream of new participants in 2010 and 2012.
"The growth that has occurred in the school has really blown me away," said Beth Wilson, the county's horticulture extension agent and beekeeper. "It's even more popular than I ever dreamed it would be."
She believes the reasons beekeeping has skyrocketed in the area are multifaceted.
"There's a lot of interest in coming back to the farm in Pulaski County from people that have either retired here or moved here," she said. "We really do see a lot of people wanting to become sustainable in their lives and on their farms, and our local beekeepers association has a large presence in the community."
David Gilbert fondly remembers his father and grandfather keeping bees in Harlan County as a child. When he retired from a career in law enforcement five years ago, he decided that's what he wanted to do along with gardening. For the past three years, he has served as president of the Lake Cumberland Beekeeper's Association, which has seen its membership increase during the same time.
He believes people in the area are becoming more aware of the declining pollinator populations around the world and want to do something to save the bees and ultimately the food supply, which relies heavily on pollinators for production.
"People understand that we are in a situation with our honeybees and other pollinators that requires mankind to take notice, understand the problem we are causing and find solutions to these problems," he said.
An additional benefit to beginning beekeepers is the association's mentorship program that is offered to those who attend the school. In the program, beginning beekeepers are paired with experienced apiarists who provide advice and on-site instruction to help the new beekeepers work out problems as they establish their hives.
Stephen Shepard, who recently moved to Jabez from Colorado, was able to attend the school last winter and got involved with the mentorship program. He moved to Kentucky to get into the commercial blueberry business and plans for his hives to help with crop pollination.
"I learned quite a bit at the school," he said. "You can read so much about bees this way or that way, but the school pretty much gave me an all-round picture of the beekeeping business," he said.
---
Environment
Extension
Horticulture
Sustainability