Building prosperity home and abroad, students bring back inspirational lessons from Scotland and Western Kentucky
Building prosperity home and abroad, students bring back inspirational lessons from Scotland and Western Kentucky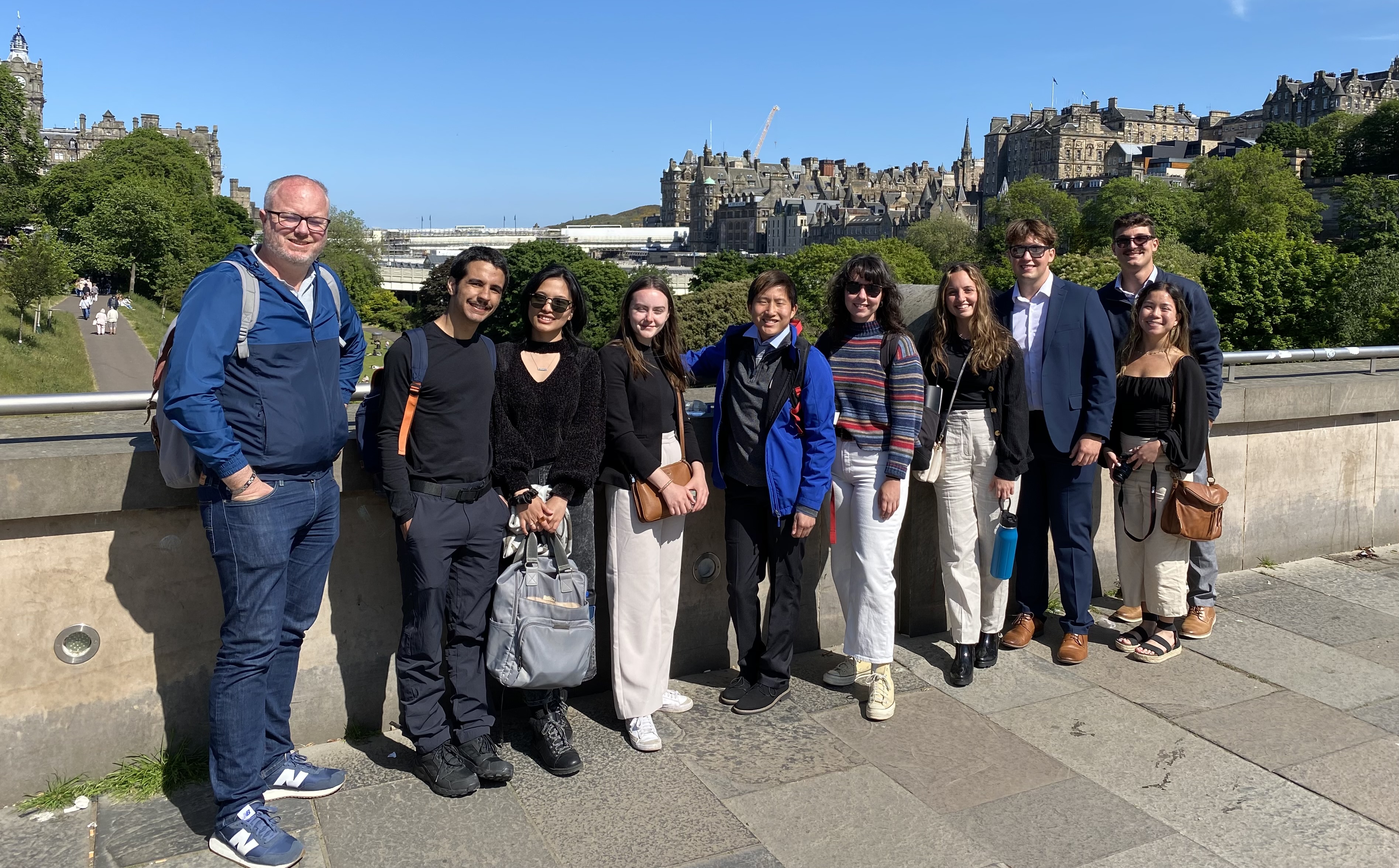 Lexington, Ky.—
Studying abroad and supporting local communities often leaves a lasting impression on students' personal and professional lives. For University of Kentucky fellows, studying in Glasgow, Scotland provided unique insights and lessons to shape future endeavors for some Western Kentucky communities. The students traveled to Scotland for two weeks, spending the first week touring the city and meeting with local leaders, and the second week partnering with locals on a public space design project. 
Orchestrated by the UK Martin-Gatton College of Agriculture, Food and Environment Community Design program at the Community and Economic Development Initiative of Kentucky (CEDIK), the Building Prosperity in Rural Communities summer fellowship program is making noteworthy strides in rural communities across Kentucky.  
The program emphasizes how design and planning are fundamental to economic development in often-overlooked areas.  
"Design can be seen as something frivolous, or unattainable, in many rural communities," said Ryan Sandwick, UK Department of Landscape Architecture community design program manager. "However, bringing a multi-disciplinary team of students into these communities not only provides a fresh set of eyes to remind our local partners of what cool things they already have but also helps the students apply their studies to the real world." 
The program's diverse composition included students from arts administration, agricultural economics, architecture, community leadership and development and landscape architecture.  
The students traveled to Scotland for two weeks, spending the first week touring the city and meeting with local leaders, and the second week partnering with locals on a public space design project.  
Sandwick explained how Glasgow has charted a journey of transformation that holds valuable lessons for rural communities across Kentucky. 
"When Glasgow was at its economic rock bottom in the 1970s following de-industrialization, the first step to regenerate the city wasn't flashing pieces of architecture, but rather cleaning buildings of a century of industrial soot," he said. "This is a lesson I've since embedded into all of our design work in rural Kentucky, where we identify what's great in a community and figure out how to amplify that greatness rather than focus on the new and flashy." 
In the decades since Glasgow began its regeneration, it centered its investments on the area's unique culture, prioritizing people and places. This put the city into the international spotlight for all the right reasons, from being the third United Nations Educational, Scientific and Cultural Organization City of Music to hosting the 2021 COP26 Climate Change Conference. 
From Scottish to Kentucky communities 
Interns collaborated with Kevin Murray Associates and the Rosemount Development Trust during their trip. Together, they undertook a transformative project: converting a Royston neighborhood vacant lot into a community park.  
Since the late 1800s, Royston has been the first stop for many immigrant and refugee populations when they arrived in the United Kingdom. Seeking to honor this ongoing history, Glasgow residents painted a neighborhood wall into a mural mosaic. This mosaic depicts the national flowers of the numerous immigrant groups, fostering a sense of belonging and representation. 
"Studying in Scotland and working on the Royston neighborhood site prepared me to take community feedback into account within my work," said Lee Owen, a junior studying agricultural economics, finance and public policy. "It's so easy to lose track of what's important. Focusing on what the communities' citizens truly desired and felt would enrich their home community; we could deliver proposals they could call their own." 
Armed with new skill sets, the interns partnered with Western Kentucky communities affected by the 2021 tornados and the U.S. National Park Service's River, Trails and Conservation Assistance Program. Together, they facilitated projects aimed at re-imaging public spaces in the host communities. Fellows were organized into teams, each assigned to projects in Mayfield, Fulton and a regional trail system. Their engagement spanned several phases, from preliminary orientation to hands-on design work and collaborative endeavors with community leaders. 
Students said this work will help them succeed in the future. 
"This experience helped expand my global perspective and how I approach various communities from where I'm from and of other backgrounds too," said architecture senior Makayla Koon. "It also helped me grow my ability to work cross-disciplinary and adapt to various working styles of co-workers and teams." 
This material is based upon work that is supported by the National Institute of Food and Agriculture, U.S. Department of Agriculture, under award number 3200004031. Any opinions, findings, conclusions or recommendations expressed in this publication are those of the author(s) and do not necessarily reflect the view of the Department of Agriculture. 
---
Students