Chop Shop fills a void for Eastern Kentucky
Chop Shop fills a void for Eastern Kentucky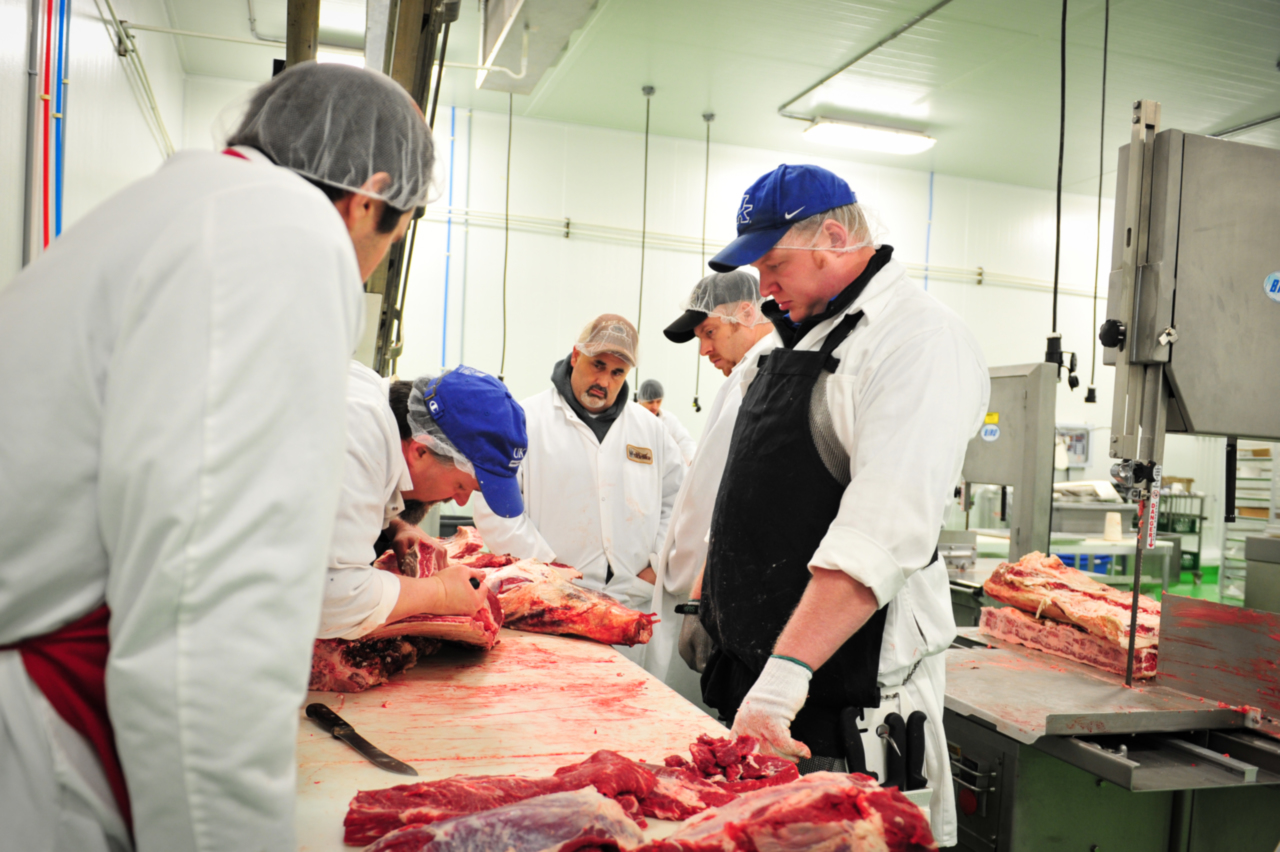 HELACHAWA, Ky.—
Cattle quality has been on the rise in Eastern Kentucky for several years now. Beef producers have a local stockyard to sell their animals, and now there's a place for those cattle to be processed and sold to Kentucky consumers.
Jonathan Whitt of JSW Farm in Wrigley had a dream to own a stockyard and a processing facility. He already owned Lee City Stockyards, so his dream came true last fall when he opened The Chop Shop, now the largest U.S. Department of Agriculture inspected processing facility in Eastern Kentucky.
Plant manager Paul Marsillett has been with Whitt since the beginning.
"All livestock coming into the plant are local," he said. "Everyone is looking for a top-quality cut of meat, and they want their dollar to stretch further. We like to have samples and recipes available to customers, so they know how to cook our items at home."
University of Kentucky Cooperative Extension agents for agriculture and natural resources Daniel Wilson, Wolfe County, and Sarah Fannin, Morgan County, wrote a grant to gain funds from the Kentucky Agricultural Development Fund so the shop could build freezer facilities. They received state funds of $280,000 and about $70,000 from other funds.
"We were fortunate to have local government in this region recognize the importance of the agricultural economy of East Kentucky by designating the 100-acre Agricultural Industrial Park in 2009. The Chop Shop is the first tenant in the park," Wilson said. "To gather support for the processing facility, ag leaders from Wolfe, Morgan, Breathitt, Elliott, Perry, Rowan and Lawrence counties were able to secure the matching funds we needed."
The UK College of Agriculture, Food and Environment meat specialist Gregg Rentfrow and UK Meat Lab manager Ryan Chaplin recently traveled to Hazel Green to train some of the employees in cutting techniques.
"We were basically teaching the workers about different cuts of meat and how to cut them safely," Rentfrow said. "We were also talking to them about quality and how to help them with their market chain."
Rentfrow said he's seen the interest in locally grown and produced food, which used to be confined to more urban areas, become more rural.
"This shop fulfills that need for locally produced meat," he said. "We want to teach them to have a mindset of not just cutting meat, but cutting for profit. Maybe you don't throw so much into ground beef. Maybe you take some of those things and cut them for cube steak, stew meat or fajita meat, basically anything that adds value to the product. I was always taught if you take care of the pennies, the dollars take care of themselves."
The facility has already added about 20 jobs to the area—a welcome boost to the struggling economy. The shop hopes to add more workers as they grow. Beyond supplying products to their own retail store, The Chop Shop also processes private and commercial orders.
"In addition to jobs at the shop, they have opened up a whole new marketing outlet for livestock producers in Eastern Kentucky," Wilson said. "They now have another way to put the product back into the local market, rather than just selling at the stockyards and not knowing where the final product ends up."
With that new marketing comes the need for educating producers, which Cooperative Extension agents are ready to do. Wilson said they are already planning some training classes for livestock producers. Most producers raise their animals to a certain age or weight and sell them at auction. Then the animal goes to another location to finish growing.
"We just need to teach them how to finish their animals in preparation for this facility," Wilson said. "It's a completely different way of doing things than what they are used to. It takes a little more time and personal investment, but with a processing facility like this one, they should see a good return on that investment and have the satisfaction of knowing they are producing for their neighbors."
The Chop Shop retail store offers a variety of fresh beef, pork, lamb and goat as well as many spices and is open to the public. It is located just north of the Mountain Parkway at the Lee City exit and is open Monday through Friday 10 a.m. to 5 p.m. and Saturdays 10 a.m. to 3 p.m.
---
Community Development
Extension
Food Science
Livestock
Sustainability