Community developers gather from around the world in Lexington
Community developers gather from around the world in Lexington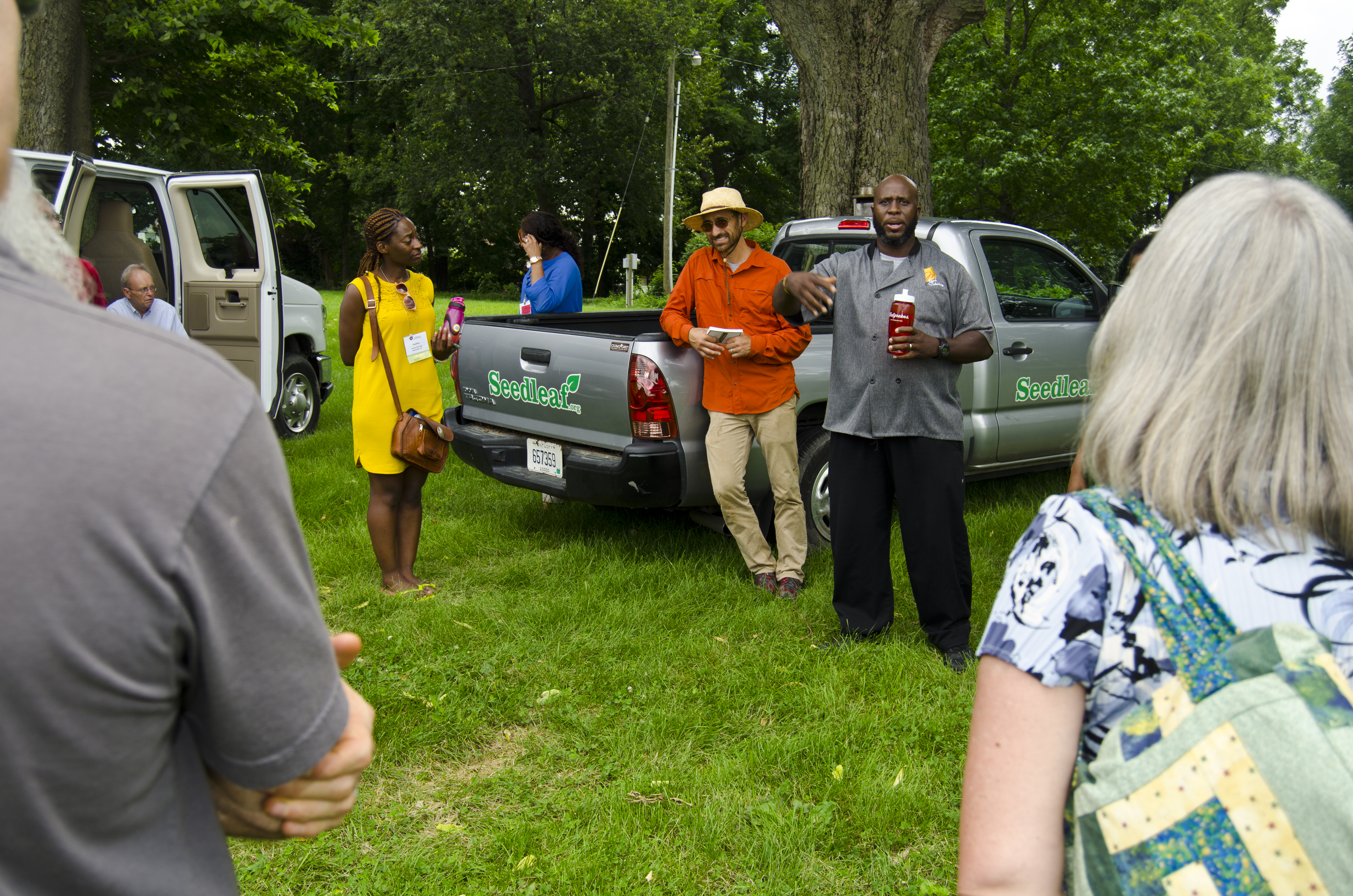 LEXINGTON, Ky.—
More than 350 experts in community development converged on Lexington recently to discuss the roles of creativity and culture in the creation of strong communities. What better place for the international Community Development Society to experience examples of those very things than here in Kentucky, said University of Kentucky professor and chair of the host committee, Ron Hustedde.
Hustedde, from the Department of Community and Leadership Development in the College of Agriculture, Food and Environment, was excited to be able to show off Lexington's many achievements.
"This city is alive and vibrant with creativity in terms of community development, community change," he said. "Arts are quite alive, and there are so many innovative things occurring here; issues around food, the lesbian/gay community, the East End developments that involve people. This is a good laboratory in a sense for people to learn—not that we're doing things perfectly here, but people can come here and learn, and we in Kentucky can learn from them too."
Lexington showed its best colors to the visitors who toured the city during mobile workshops on the first afternoon of the conference. The community development field is very broad, encompassing everything from health care, economic development, social justice, environmental issues, the arts, food and LGBTQ issues. Participants could choose from seven workshops, each focused on a different aspect of development. Some learned about the development of bicycling trails in town, while others toured the many murals and public art in the downtown area. One group discussed lesbian and gay issues, while others toured the London Ferrell community garden; Food Chain, a nonprofit urban aquaponic farm; and ended the afternoon at Greenhouse17, a domestic abuse shelter that serves 17 Kentucky counties.
Samson Tarpeh, a UK community and leadership development graduate student from Liberia, said he was surprised to learn on his tour of Lexington's East End that items were much more expensive in the stores in low income communities as compared to other areas of town.
"One of the presenters said they had a plan to renovate that area and rebuild it and bring in more businesses that would bring the prices down," he said. "It was a great thing getting to evaluate a community, getting to know the people, getting to know some of the challenges they're facing and some of the things that need to be done."
Tarpeh plans to put his education to work back home in Liberia, a country he said has been ravaged by two decades of civil crisis.
"The country is currently recovering from the effects of the civil war and trying to rebuild education, trying to build infrastructure and trying to build so many things," he said. "As a young fellow, I believe that getting the training in the field of international development, I will be prepared to go home and make a lot of changes there and help my nation in the rebuilding process."
Tarpeh was not the only international participant in the conference. Participants came from as far away as Japan, Korea, South Africa, Australia and India, as well as Great Britain, continental Europe and Canada.
"Insights from someone in Australia or India can be quite relevant," Hustedde said. "We can really learn from each other. I think especially those of us in the Western World can learn from those outside our continent. It's a common language, common ground, common interest."
In the 46 years the Community Development Society has been in existence, this is the first time they've held their annual conference in Kentucky.
"The society is made up of practitioners, academics and others who are concerned about building the capacity of communities of place, communities of interest, identifying their own problems, acting on their own dreams," Hustedde said.
The host committee was comprised of 15 members from UK, North Limestone Community Development Corporation and Yates Elementary School. Conference sponsors included the UK College of Agriculture, Food and Environment and its Community Innovation Lab, Community Economic Development Initiative of Kentucky and the Center for Leadership Development; the UK Office of the Vice President for Research, Transylvania University, Federal Reserve Bank of Cleveland, Farm Foundation, Community Trust Bank, Good Foods Co-op, Minnesota Rural Partners Round-Up, Regional Rural Development Centers, the Illinois Institute for Rural Affairs at Western Illinois University and Community Development Council.
---
Community Development
Economics
Environment
Events
Extension
Sustainability