Corn and Soybean Field Day to showcase Central Kentucky Farms
Corn and Soybean Field Day to showcase Central Kentucky Farms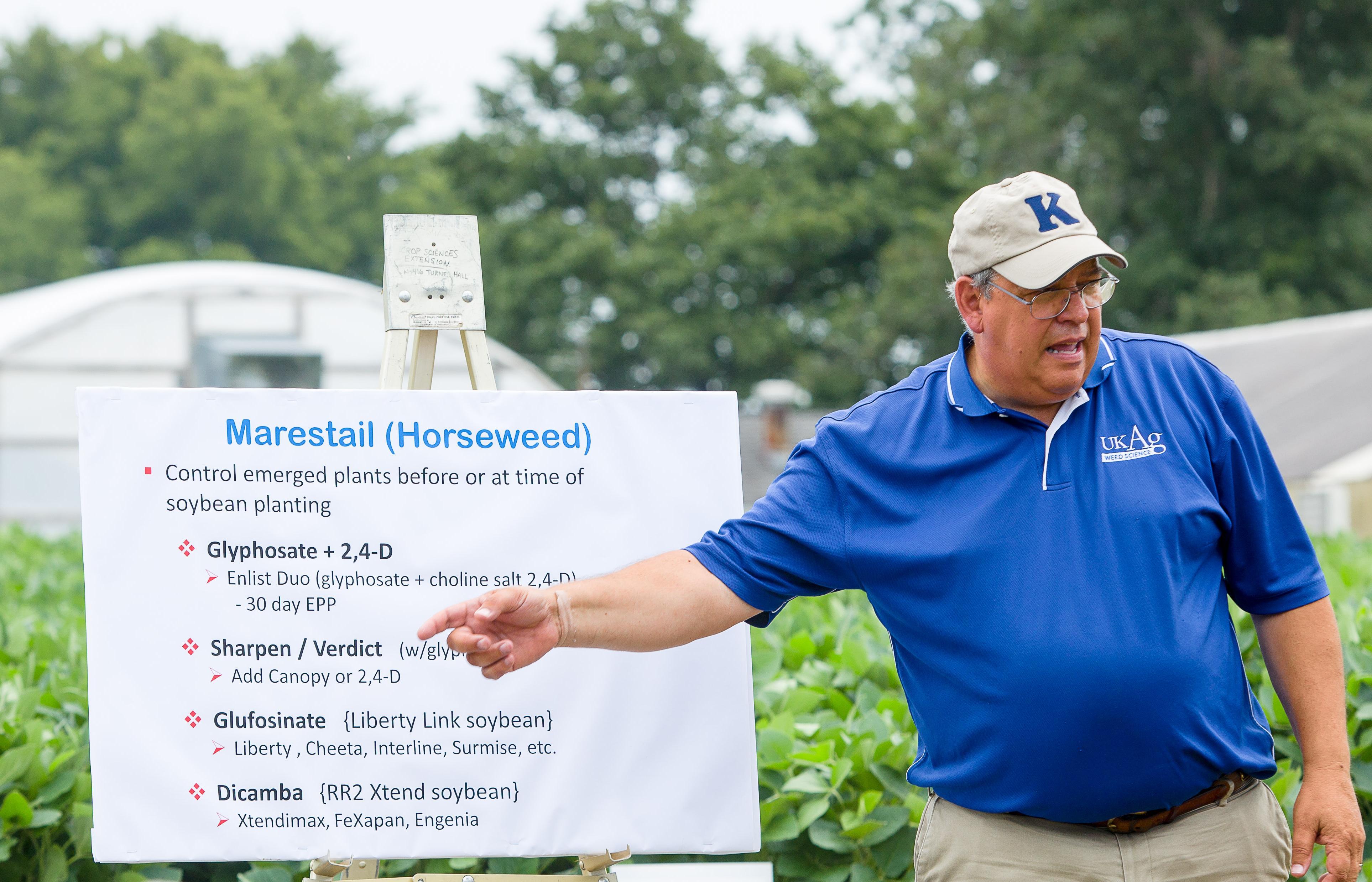 LEXINGTON, Ky.—
The University of Kentucky Grain Crops Group will showcase work on two Central Kentucky farms during the Corn and Soybean Field Day and Farm Tour July 26. The summer field day usually happens at the UK Research and Education Center in Princeton, but challenges from the December 2021 tornado caused organizers to make a change for 2022. 
"We work closely with farmers across Kentucky and with our commodity organizations," said Chad Lee, director of the UK Grain and Forage Center of Excellence. "This field day and farm tour will allow us to highlight some of that research and two of the farms where we collaborate." 
UK College of Agriculture, Food and Environment specialists will discuss a wide range of topics including agronomics, cover crops, variable-rate nitrogen, plant diseases, contemporary pest problems, grain storage and more. 
Lee said the discussions may benefit agriculture industry professionals, especially farmers. 
"Farmers have the largest amount of money ever invested into this year's crop," Lee said. "This crop season has been challenging so far. A lot of the research we will highlight is directly impactful to the farmer's bottom line." 
The tour will begin at Fresh Start Farms in Larue County, where owner Ryan Bivens will host the group during four speaker sessions before attendees travel to Hardin County for a stop at Richard Preston Farms. Participants will end the tour at the Hardin County Cooperative Extension Office for lunch and three additional speakers.  
"We understand the decision to shift UK's summer field day from Princeton to Central Kentucky and look forward to a unique opportunity to showcase on-farm partnerships between UK and Kentucky's grain commodity associations," said Joseph Sisk, president of Kentucky Corn Growers Association and Christian County farmer. "We also believe that it is vital for the rebuild at Princeton that going forward all usual activities occur at the research station." 
Kentucky Soybean Board chairman and Hardin County farmer Larry Thomas agrees.  
"We know as famers that we have to continuously adapt in order for our operations to survive and grow. Weather, crop conditions, technology – farmers are the best I know at overcoming obstacles and adapting to change. I'm glad, but not surprised, to see the university adapting and overcoming its challenges to provide research findings to the farmers even after the December tornado," Thomas said.  
"Hosting on-farm research tours and then getting everyone together for a presentation on next steps moving forward with the rebuilding of the Grain and Forage Center of Excellence is a smart move, and I look forward to seeing everyone back in Princeton next year."  
The tour begins at 8:30 a.m. EST, and each stop will last approximately an hour. Attendees can receive 2.5 hours in continuing education units for Certified Crop Advisers. These include one hour for nutrient management, one hour for crop management and half an hour for integrated pest management. Pesticide applicators can receive one general and one specific hour in categories 1A and 10. 
To secure a lunch, attendees should register before July 18. To learn more, visit https://www.kygrains.info/events/2022/7/26/corn-and-soybean-field-day-an.... 
---
Crops
Horticulture