DHN graduate student wins UK thesis competition
DHN graduate student wins UK thesis competition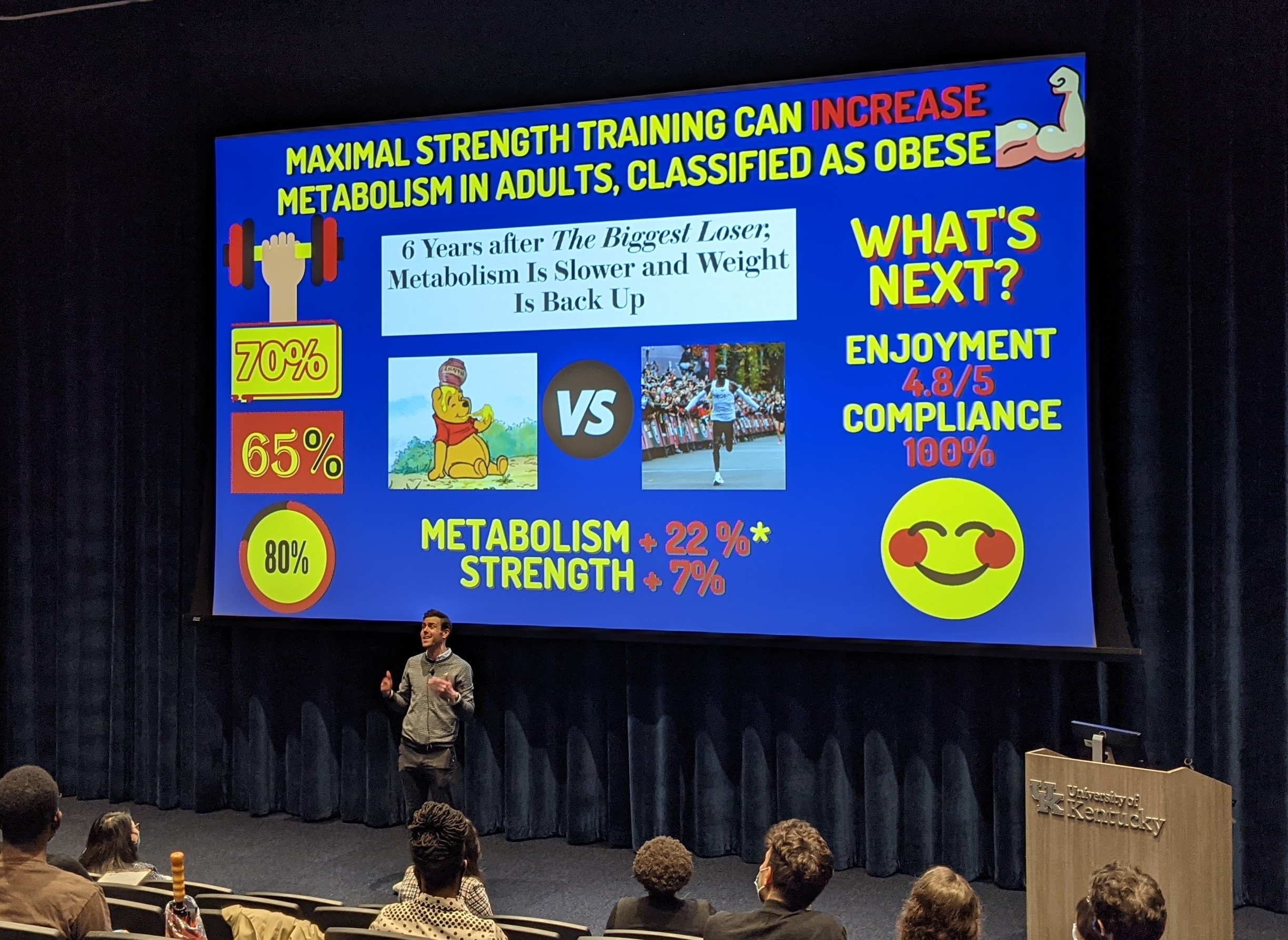 LEXINGTON, Ky.—
Robert Anderson, a graduate student in the University of Kentucky College of Agriculture, Food and Environment, won the UK Three-Minute Thesis Competition. Anderson's thesis studied the effects of maximal-strength training on adults with obesity and found that even small sessions could make a significant impact. 
Under the guidance his advisor, Kyle Flack, an assistant professor in the Department of Dietetics and Human Nutrition, Anderson put five adults with obesity on an eight-week strength training intervention. The five participants met with a certified personal trainer three days a week for a 20-minute personal training session. Each session consisted of six exercises. Each exercise began with one set and increased until the participant could do no more. Anderson found that doing these types of heavy lifting routines was enough for these participants to lose weight. 
"The exercise regimen increased metabolic rate, which was a statistically-significant finding and we were really encouraged to see that," Anderson said. "The exciting thing that we found was that the increase was per unit of fat-free mass. We would normally expect that exercising would increase a person's metabolism, but we discovered that per unit of lean mass, metabolic burn was increased. This is important because we know that as a person loses weight, metabolism can slow down per unit of lean mass." 
"Rob is a model graduate student," said Dawn Brewer, director of graduate studies in the Department of Dietetics and Human Nutrition. "He has taken advantage of the opportunities offered by our department as well as the UK Graduate School to hone his research and communication skills. We are all so proud of Rob and are thrilled that he will be representing us at the regional competition." 
The Three-Minute Thesis contest challenges graduate students across the globe to summarize their research projects within three minutes to a general audience. After facing a panel of judges, the student with the best presentation is deemed the winner and will move on to compete in their respective regional competition. The UK contest hosted graduate students on a wide range of topics from the economics of climate change to the chemistry of sunscreen. 
"It was really a surprise," said Anderson, who plans to use this experience in his ultimate quest to become a university professor. "There were many people from all across UK discussing a lot of great topics, and I feel really honored to just be in the competition, much alone win it." 
The next stop for Anderson is the regional competition at the Conference of Southern Graduate Schools Feb. 17-19 in Raleigh, North Carolina, where he will compete against other students from across the South. 
---
Extension
Nutrition