Facing Inflation Part II: UK Experts Cover Kentucky Agriculture and the Grocery Store
Facing Inflation Part II: UK Experts Cover Kentucky Agriculture and the Grocery Store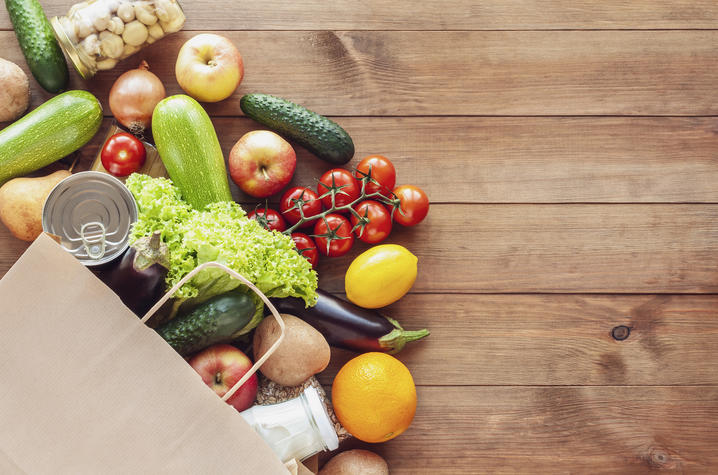 LEXINGTON, Ky.—
rom gas prices to groceries, it seems like everything is going up lately. And it's weighing on you — the consumer.
Naturally, many have questions about what the impact will be on their finances and futures.
In a Q&A series, we asked University of Kentucky experts — from the Gatton College of Business and Economics and the College of Agriculture, Food and Environment — to tackle those tough questions.
In the second part of this series, Kenny Burdine, Ph.D., UK Cooperative Extension professor and member of the Kentucky Agricultural Finance Corporation; Gregg Rentfrow, Ph.D., Cooperative Extension professor and meat science specialist; and Alison Gustafson, Ph.D., professor in the Department of Dietetics and Human Nutrition and the UK College of Nursing, provide insight into the current reality Kentuckians are facing at the grocery store and in the kitchen.
UKNow: What is the driving force(s) behind the current rate of inflation?
Burdine: Inflation is being seen across a wide range of markets. There are also a wide range of causes including post-COVID consumer spending, supply chain challenges limiting production, as well as rising production costs related to input costs like fuel, feed, fertilizer, etc.
Rentfrow: The price of fuel seems to really drive the costs of goods and services, and when the price of fuel increases we typically will see this type of inflation. With that being said, we are also in a perfect storm situation, high fuel, higher inputs (fertilizer, pesticides, feed, etc.), lower animal inventories, reduced labor force and drought. Plus, global conflict and disruptions from the pandemic are contributing to these things as well, and in some cases may be the cause. So, as you see, a perfect storm.  
UKNow: What role does the supply chain play in rising costs?
Burdine: Supply chain challenges such as labor and availability of inputs and materials limit the supply of goods, which also puts upward pressure on prices.
UKNow: What trend(s) in the U.S. economy are agricultural economists most concerned about? 
Burdine: Ag producers are dealing with risings costs of many things — most notably feed, fuel and fertilizer that are increasing farm level production costs. In some cases, commodity prices have risen enough to offset this, but not in all markets. 
UKNow: Could you briefly explain what the agricultural market and supply chain looks like right now, and what that means for consumers?
Burdine: Farmers are resilient and continue to produce, but are also being impacted by supply chain issues and rising production costs — feed, fuel, fertilizer, etc. Additionally, the war in Ukraine has brought about additional uncertainty. Finally, a good portion of the U.S. is dealing with significant drought, which has the ability to impact production. For example, we are seeing a lot of cows exit cow-calf operations as a result of dry weather.
UKNow: How high will prices go, and how long will this inflation persist? Could it get worse before it gets better?
Burdine: There is no clear answer as to when inflationary pressures will subside. Certainly, as consumers feel their disposal incomes are impacted, they respond with different purchasing patterns, which sends a signal to the markets. On the supply side, high prices do encourage production, but factors such as the weather impact production levels, too. For example, the decreases in beef cattle inventory that we are seeing will result in lower beef production levels in the next couple of year, which will have a price impact as well.
UKNow: With inflation rising, consumers are paying more for things like weekly groceries. What are the biggest factors impacting what we pay at the cash register?
Burdine: Food prices are being impacted by the same factors as all markets — production challenges, increased production costs, and certainly transportation costs. The war in the Ukraine has been another shock to markets that has led to questions about production and availability of inputs. Plus, a good portion of the U.S. is dealing with drought, which has the potential to impact production.
UKNow: When meat prices rise, there appears to be a trend with beef rising higher than say, chicken or pork. Why is that?
Rentfrow: Beef prices tend to increase faster than pork or chicken due to supply and demand. Typically, cows and heifers have one calf per year and take 16 to 18 months to reach market weight. Thus, the beef industry takes longer to recover from supply issues. Whereas, sows can have two litters per years and pigs can reach market weight in five to six months. Broilers are fast growing as well and can reach market weight in eight to 10 weeks. 
UKNow: What advice do you have for people who want to eat healthy, get all their fruits and veggies in, but are facing rising prices at the grocery store?
Gustafson: Prices of produce have risen sharply in the past several months for various factors. One way to purchase produce that is affordable is to shop for fruits and vegetables that are in season right now. The Kentucky Department of Agriculture has a great resource so you can see what weeks foods are available at lower prices. Right now, peaches are in season and a great option for an affordable and healthy fruit. 
Frozen and canned fruits and vegetables are also a budget friendly alternative to fresh produce. Lastly, try shopping at farmers' markets or join a Community Supported Agriculture (CSA) to help support local farmers while also buying in season. 
UKNow: How can we make smarter choices while balancing the budget?
Gustafson: Plan out your meals so that you're not throwing away food at the end of the week. Be thoughtful about how much time you have to prepare food and what you and your family will actually consume. On Sunday you can think about what activities you have where you might not be home for dinner and then plan meals where there can be leftovers for another night so as to not throw away food. Plate It Up Kentucky Proud has a lot of recipes focusing on local ingredients. There are also other great apps and resources for recipes on your phone, in grocery store, and from your Extension office. 
Rentfrow: Only shop on a full stomach! You tend to impulse buy foods on an empty stomach. Shop by yourself and have a meal plan. You're less likely to binge buy when you're shopping by yourself. In addition, buying in bulk can be cheaper in the long run. Bulk items can be repackaged into small portions. Coupons are great, as long as you use coupons for items you buy regularly. Finally, loyalty cards and club stores can be a great way to help.
UKNow: What are some healthy and affordable food staples that anyone can add to their shopping cart/keep on hand?
Gustafson: Food prices are 9.4% higher in April 2022 compared to a year ago, April 2021. "In 2022, food-at-home prices are predicted to increase between 7 and 8%, and food-away-from-home prices are predicted to increase between 6 and 7%," according to the USDA. With these historic increases in price and the reality that these trends are continuing, consumers need to think about what are good options for helping to maximize their food budget. Some suggestions are to cook larger meals with affordable ingredients. Meats, fish, dairy and eggs are expected to see the largest increase while fruits and vegetables are experiencing a lower increase compared to those items. Thus, choose meals with less meats and more plant-based options such as vegetable soups, pasta with vegetables, fruit salads. Also think about having more meals with rice, beans and whole grain pasta as the base instead of the focus being on meats or eggs. 
UKNow: Any other ideas or recommendations?
Gustafson: Although gas prices have risen, grocery stores are offering deals on different food categories on different days of the week. This is a great time to think about online shopping as a supplement to in-store shopping, that way you are saving time by only making one in-store trip and the other is a quick pickup or delivery. This also might be a time where folks shop at stores they normally wouldn't such as Aldi or Costco. Lastly, think about partnering up with neighbors or friends to make grocery trips to save on gas and then take advantage of the sales inside stores where they're offering buy one, get one. 
---
Economics