Fall Grazing Conference to focus on profitable grazing systems
Fall Grazing Conference to focus on profitable grazing systems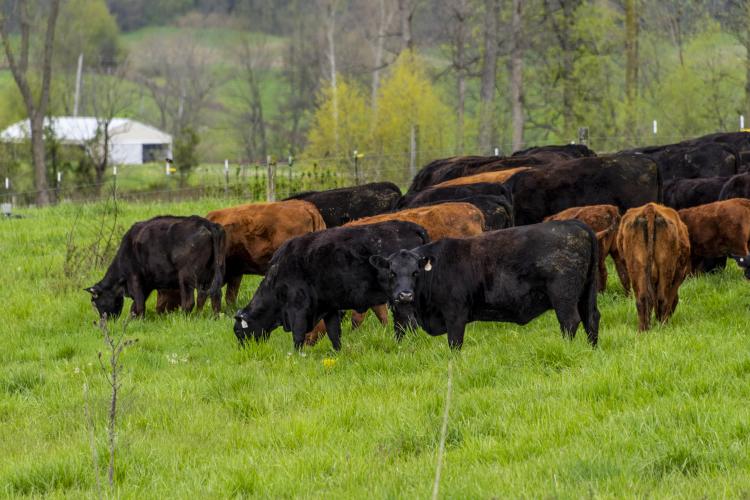 Princeton, Ky—
Cattle producers have two opportunities this fall to learn more about profitable grazing systems. The University of Kentucky College of Agriculture, Food and Environment, with the Kentucky Forage and Grassland Council and the UK Master Grazer Program will offer the Kentucky Fall Grazing Conference Oct. 26 in Leitchfield and Oct. 27 in Winchester.  
"This year we are looking forward to some excellent speakers from UK, Missouri and as far away as Idaho," said Chris Teutsch, associate professor for the UK Department of Plant and Soil Sciences, stationed at the UK Research and Education Center in Princeton. "Profitable ruminant livestock production systems include the soil, plant, and animal and conference participants are going to hear from experts specializing in all three."  
Ray Archuleta will speak about the living portion of the soil at both events. Archuleta is a certified professional soil scientist with the Soil Science Society of America with more than 30 years of experience as a soil conservationist, water quality specialist and conservation agronomist with the Natural Resources Conservation Service. During his tenure with the NRCS, he served in New Mexico, Missouri, Oregon and North Carolina. 
After his retirement from the NRCS in 2017, he founded Understanding Ag, LLC, and Soil Health Academy. He also owns and operates a 150-acre farm near Seymour, Missouri with his wife and family. 
Jim Gerrish, an independent grazing lands educator, consultant and writer from May, Idaho, will speak about the role of extended grazing in profitable ruminant livestock operations.  
Gerrish currently lives in the Pahsimeroi Valley in central Idaho and works with numerous ranchers using both irrigated pastures and native rangeland. He also works with livestock farmers in high natural rainfall environments. His experience includes more than 22 years of beef-forage systems research and outreach while on the faculty of the University of Missouri.
Kentucky speakers include UK beef specialist Les Anderson, UK agricultural economist Greg Halich, Adair County agricultural and natural resources extension agent Nick Roy and Adair County farmer Fred Thomas. Topics include right-sizing cows for profit, grazing myths and hay feeding strategies to build grazing system fertility.  
Events begin at each location with registration at 7:30 a.m. local time and run until 3:15 p.m. Participants should preregister. Advance registration is $35 per person; day-of registration is $50 per person and student registration is $15. Use the following links to register: https://2022GrazingLeitchfield.eventbrite.com; https://2022GrazingWinchester.eventbrite.com. For more information about the grazing conference and other events, visit https://forages.ca.uky.edu/.  
---
Crops
Economics
Events
Extension
Livestock