For graduating senior, path to Google went through UK
For graduating senior, path to Google went through UK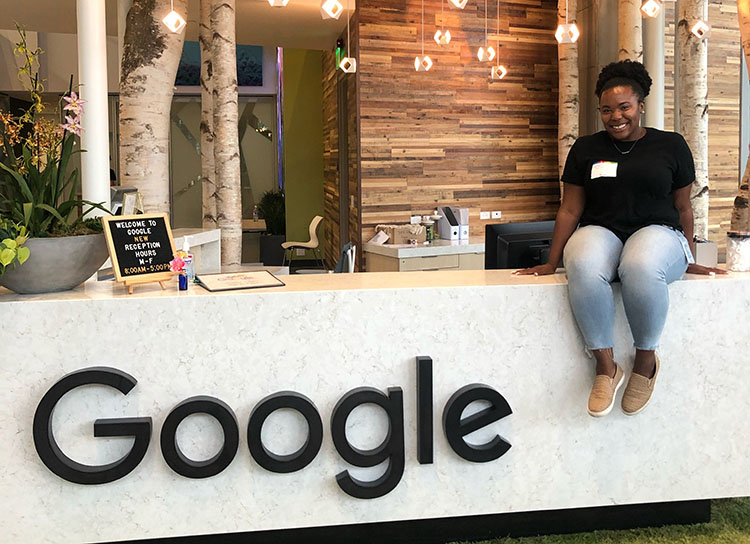 LEXINGTON, Ky.—
University of Kentucky senior Kymberley Johnson capitalized on every opportunity she received during her four years as a college student. Her initiative and drive served her well as she will soon graduate and head to her job at Google in Colorado.
Originally from Memphis, Johnson's family moved to Union in Boone County when she was in high school. Her interest in fashion design and the fashion industry led her to the UK's Department of Retailing and Tourism Management.
"The Department of Retailing and Tourism Management gave me so many opportunities, from seeing the fashion industry first hand in places like New York City, Atlanta and Italy to teaching me about the science behind merchandising and the importance of timing in marketing a product," said Johnson, a student in the UK College of Agriculture, Food and Environment.
At UK, the merchandising, apparel and textiles major grew passionate about the business side of the fashion industry and credits department faculty Mika Pryor, Scarlett Wesley and Vanessa Jackson with giving her the tools and motivation she needed to succeed in the industry.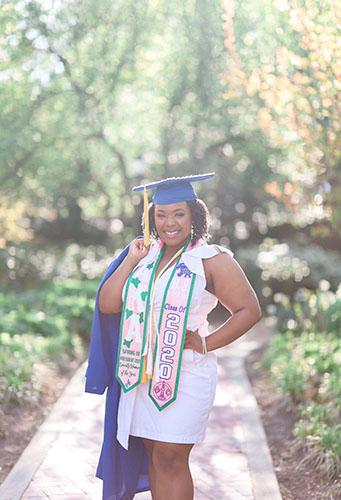 Her work ethic caught the attention of her professors, who encouraged her to seek out opportunities to further her education and career.
"I love her enthusiasm for whatever she is doing," said Wesley, associate professor and Johnson's advisor. "With anything she tackles, she always gives 110% effort."
Before her path led to Google, she interned with the UK Cooperative Extension Service during the summers before her sophomore and junior years. She credits those internships with helping her strengthen her communication skills, so she could be competitive in the job market.
"Those were some of my most fun summers," Johnson said of her internships at the Kenton and Fayette Extension offices. "I learned so many soft skills that helped me get my Google internship and now my job, like how to effectively communicate with many different groups of people that I didn't know beforehand. I learned how to answer interview questions in a way that showed my skills and my personality, and I learned a lot about creativity."
It was through the Management Leadership for Tomorrow program that she connected her education and experience with her future career. She was one of nine UK students accepted into the national program that strives to empower a new generation of diverse leaders. Through this program, she gained exposure at Fortune 500 companies including Google.
She was selected to intern with the technology company during the summer of 2019 as part of their Build Opportunities for Leadership and Development Internship Program. While at Google's Boulder, Colorado, office, Johnson worked in Global Customer Care, helping marketing companies and small businesses that advertise with Google optimize their experience.
"I worked with clients to make sure their ads showed up at the right time and the right place and helped them find marketing tools that worked for them," she said.
A month after her internship ended, Johnson was offered a full-time position with the company as an advertising specialist. She starts in July.
"Kymberley has always been a model student in our program who strived for the best," said Jackson, who is the chair of the department. "We are so proud of her success at Google."
---
Extension
Family Consumer Sciences