On July 26, learn from the specialists at the UK Horticulture Research Farm
On July 26, learn from the specialists at the UK Horticulture Research Farm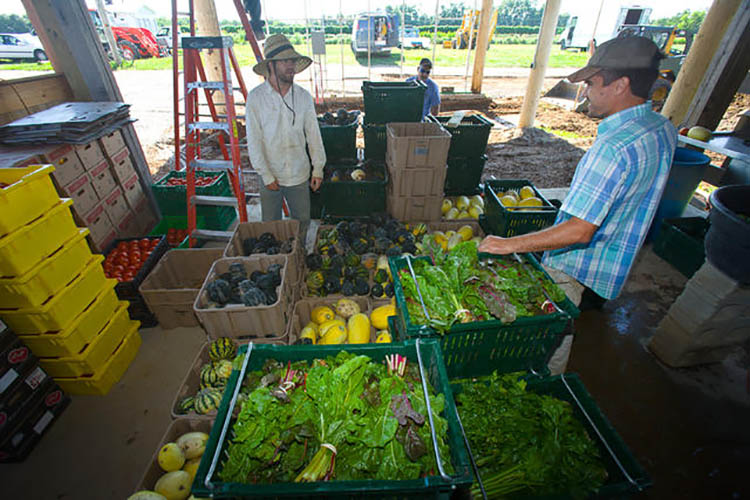 LEXINGTON, Ky., — Significant, applied research is ongoing at the University of Kentucky's Horticulture Research Farm in Lexington. With projects and trials covering traditional and organic vegetable production, high tunnel production, fruit production, variety trials for disease and pest resistance, cover crops and hops, Central Kentucky producers can learn a lot by attending the free 2018 Horticulture Research Farm Twilight Tour July 26.
Concurrent tours covering vegetables, sustainable vegetable agriculture and fruit will begin at 6 p.m. on the research farm located at 4320 Emmert Farm Lane. Tours will continue until dark, and participants should have time to take two of the three tours offered.
"They'll get a concept of our latest research, get some new ideas and also have a chance to ask questions about their own operations," said John Strang, UK extension horticulture specialist in the College of Agriculture, Food and Environment. "There are not too many places where you'll find all these extension specialists in one spot to get all your questions answered."
High tunnels will be featured on several of the tours.
"We've got 800 high tunnels in the state now, so there are a lot of people interested in that type of production," Strang said.
He said fruit growers will be interested in hearing about the new threat to blackberries and blueberries from the spotted wing drosophila, an invasive species from Asia.
Participants will also be able to see a modern, high-density trellised orchard and learn about new varieties of apple that are particularly good for making hard cider.
Vegetable tour stops include:
High tunnel ground cherry and squash production. Ground cherries are related to tomatoes, but the small, bright orange fruit is contained within a tomatillo-like husk, which protects the ripe fruit when it falls to the ground.
Uba Tuba pepper breeding
Bacterial spot resistant bell pepper variety trial
Cover crops
Sweet sorghum
Tomato and squash production using soil amendments
Tomato breeding for mite resistance
Hop production
Tour stops on the Sustainable Agriculture Vegetable tour include:
Acquired resistance for sustainable agriculture
Controlling cucumber beetles in muskmelons with meso tunnels and ground cover treatments
Organic hemp production
Trap crops for stink bugs
Heirloom corn
Moveable high tunnels
High tunnel tomatoes
The UK Sustainable Agriculture's CSA project
Fruit tour stops include:
Matted row strawberry and Haskap variety trials
Apple bagging and bitter rot in apples
Hard cider apple cultivars
Spotted wing drosophila in blackberries
Grape production
Kentucky wine
The UK Horticulture Research Farm is located on the south side of Lexington, approximately one block west of the intersection of Man O' War Boulevard and Nicholasville Road (U.S. 27). The entrance to the farm is off Man O' War at the traffic light opposite the entrance to Lowe's. For more information, contact Pam Compton, 859-257-2909 or pscomp1@uky.edu.
---
Events
Extension
Horticulture
Sustainability