Kachroo, Tanaka Photographed for '56 Lexington Women of Color'
Kachroo, Tanaka Photographed for '56 Lexington Women of Color'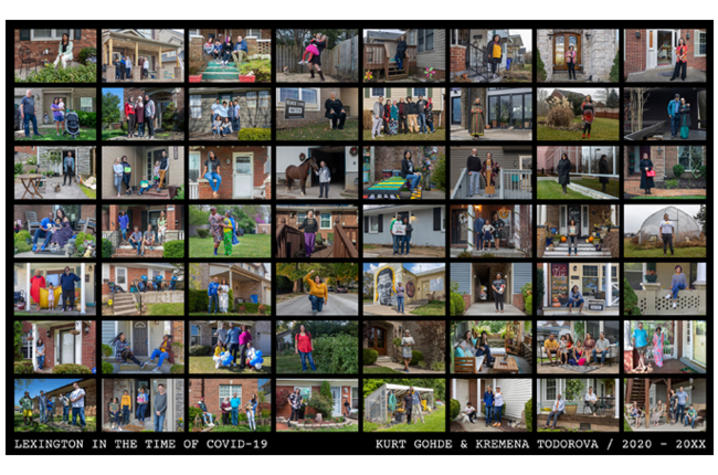 LEXINGTON, Ky.—
A portrait series by Lexington artists Kurt Gohde and Kremena Todorova titled, "56 Lexington Women of Color: In Honor of VP Kamala Harris," features a number of University of Kentucky faculty and staff members. The series serves as a tribute to Kamala Harris, the first woman of color to be elected to the office of vice president.
"On the day Senator Kamala Harris made history as the first woman and the first woman of color to become Vice President-Elect, Kurt and I started work on a series of 46 photographs to celebrate Harris and to honor Lexington women of color who lead," wrote Todorova on the project website. "We began by recognizing we had already photographed many women of color who are leaders in our community for the project "Lexington in the Time of COVID-19". So we wrote to each of them to share about what we were doing and to ask if we could include the portraits we had taken of them."
In addition to UK faculty members, doctors and nurses from UK HealthCare and staff members, the project features Lexington teachers, community leaders, business owners and other women who seen as pillars in the Lexington community. As with "Lexington in the Time of COVID-19" project, the women were photographed from a social distance outside their homes, businesses or organizations.
Rikketta Franklin, violence prevention coordinator, UK VIP Center, had participated in a previous Gohde and Todorova project and was moved by the showcasing of women of color who were making a positive impact in Lexington.
"I was honored to be seen and recognized as a leader within our community," said Franklin. "The pandemic has been difficult in many ways but in the midst of all this uncertainty, someone "saw" me and it felt great to be seen. Once the project was made public, I saw that there were several of my friends that were showcased as well. It feels good to be in good company."
Each of the subjects were asked how they came to be in their roles within the community. With each conversation, Gohde and Todorova were introduced to more women and the project continued to grow.
"It is impossible to say no to an offer to be introduced to more amazing women," wrote Todorova. "Which is why this series highlights the stories of 56 Lexington women of color, even though Kurt and I initially set out to capture 46. We are taking this as a sign of who our next ten Vice Presidents and maybe Presidents may be."
"It is a great honor to have a Vice President that is a woman of color but there are many like her right here in Lexington and we deserve the same respect," added Franklin. "We deserve our flowers NOW. The womxn showcased in the project are the fabric that hold this community together and our time is now to be recognized and celebrated. Listen to womxn of color and believe their experiences. It is incredibly hard to speak to ears that never intended to listen. We are not a monolith and we all have varied experiences. Ask us about our experiences with the intent to understand so that we may all be seen and heard."
Aardra Kachroo, professor of plant pathology in the College of Agriculture, Food and Environment and classical Indian dancer, saw how the art community in Lexington was suffering from the effects of social distancing and mandates on gatherings and jumped at the chance to be part of the project.
"We are fortunate to be living in such an artistically active community here in Lexington," said Kachroo. "There is a whole network of artists and organizations that jump at the opportunity to support a worthy project. Art is uniquely positioned to showcase beauty, but also the stuff that needs fixing. Use your unique talents, artistic or otherwise to do just that, it can be very rewarding."
Kachroo hopes that people within the community will draw inspiration from seeing so many prominent figures featured.
"For people of color and immigrants it can sometimes be difficult to envision becoming pillars of strength for your adopted community," said Kachroo. "Many of us continue to fight everyday battles and that can make you lose sight of all that is possible. There is no one way to contribute, you just have to find the things that speak to you. Speak up and work towards what you believe in, and do so with kindness, acceptance and beauty."
Janeth Ceballos Osorio, a pediatrician for UK HealthCare, saw the list as a great opportunity for advocacy. 
"I hope this project raises awareness of the importance and fundamental role that Women of Color play in our community," she said. "I also hope that it is an inspiration for girls and young Women of Color to see how much women can accomplish." 
UK participants include:
Srimati Basu – professor of gender and women's studies and anthropology, UK College of Arts and Sciences
Seema Capoor – opthamologist, UK College of Medicine
Nirmala S. Desai – neonatologist, UK College of Medicine
Isabel Escobar – professor of chemical and materials engineering, UK College of Engineering
Rikketta Franklin – violence prevention coordinator, UK VIP Center
Aardra Kachroo – professor of plant pathology, UK College of Agriculture, Food and Environment
Analia Loria – professor of pharmacology and nutritional science, UK College of Medicine
Huajing Maske – executive director of the University of Kentucky Confucius Institute and the director of the UK Office of China Initiatives (OCI).
Janeth Ceballos Osorio – professor of pediatrics, UK College of Medicine 
Keiko Tanaka – professor of rural sociology, UK College of Agriculture, Food and Environment; professor of sociology, UK College of Arts and Sciences
Crystal Wilkinson – professor of creative writing, UK College of Arts and Sciences  
---
Awards
Community Development
Crops
Extension
Research