Kentucky vineyards showing effects of harsh winter
Kentucky vineyards showing effects of harsh winter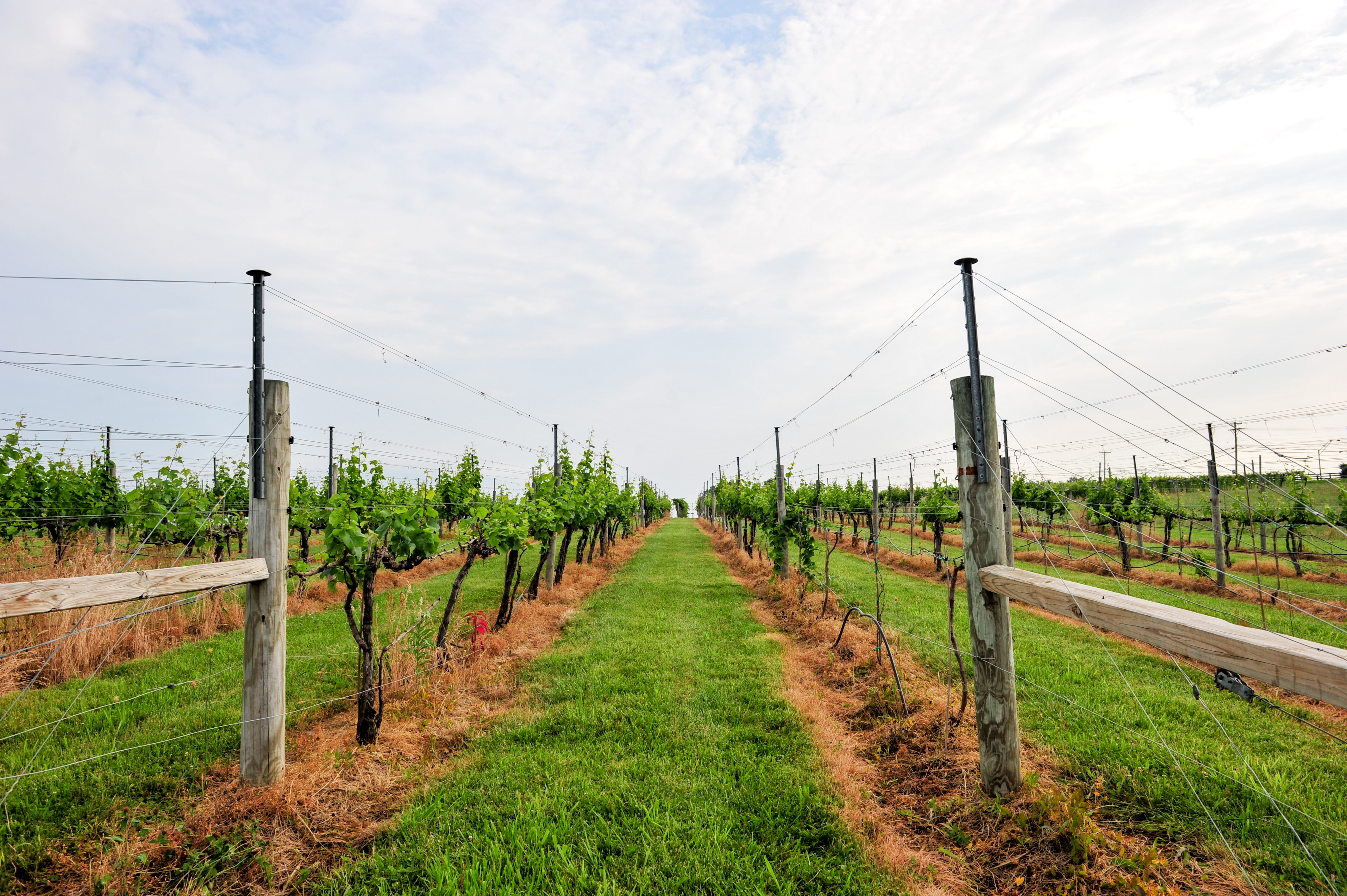 LEXINGTON, Ky.—
This past winter was a hard one for many Kentucky farmers, with long periods of below normal temperatures and above normal snowfall. A short walk through the University of Kentucky Horticulture Research Farm's vineyard revealed that the grape and wine industry might have taken the brunt of the winter blow, especially if vineyard owners planted a majority of vinifera grape varieties.
Vinifera are primarily European varieties that do not tolerate the cold. Some damage is very apparent now, but the full extent may not be realized for months or even years.
"A grapevine's cold hardiness is genetically predetermined," said Patsy Wilson, viticulturist for the UK College of Agriculture, Food and Environment. "American varieties are the most cold tolerant followed by hybrids, with vinifera being the least cold hardy."
Vinifera vines can sustain damage at temperatures just slightly below freezing. It's not all about the cold though. Other factors contribute to the vines' ability to survive a long, cold winter including their ability to handle drought, disease stress and overcropping. Wilson said that all those factors combine and can greatly reduce any vine's cold hardiness.
"We had several weather events in early 2014 where we had a slight warming followed by extended periods of below-freezing temperatures," Wilson said. "Cold, tender vinifera vines and vines that were weak going into the freeze event were likely going to have moderate to severe damage."
Wilson said hybrid varieties fared much better, because they are able to compensate for winter injury; whereas vinifera varieties usually suffer damage in the current season and often in the long term.
"Although some hybrids have the potential for damage at the temperatures we saw in January, they have highly fruitful secondary shoots," she explained. "This means that in the event that the primary bud is killed, there is still a secondary bud that will likely push out a shoot that will bear fruit. Although vinifera vines also have a compound bud, if a secondary bud does push out it is generally not fruitful. This is one of the main reasons we recommend hybrid grapes for this region."
The vinifera varieties that did have some surviving vines were Rkatsiteli, Riesling, Pinot gris, Chardonnay and Lemberger. Even those expressed between 30 and 50 percent of normal crop yields this year due to substantial damage to primary fruit buds from cold weather events.
Cabernet Franc, Cabernet Sauvignon, Viognier, Malbec, Tannat, Petite Verdot, Mourvedre, and Petite Manseng all suffered nearly 100 percent bud mortality.
"It may take a year or two to realize the full extent of the damage to perennial vine structure of well-established vineyards," Wilson said. "Many vineyards planted within the last three years to tender Vitis vinifera cultivars have reported a large percentage of outright vine death.  Growers will still have to expend a large amount of labor to properly maintain the canopy of these damaged vines despite the fact that shoots from these vines will bear little to no marketable fruit during the 2014 vintage."
This past winter highlighted the importance of good site selection, disease control and sound canopy management practices. Wilson said that given appropriate vineyard management practices, there are some sites in which Vitis vinifera cultivars can be grown successfully in Kentucky; however, a large percentage of Kentucky vineyards may want to focus on hybrid cultivars that are capable of producing wines of a quality equal to, or better than, wines made from Vitis vinifera vines.
"There will most definitely be a reduction in the volume of wines produced this year using Vitis vinifera cultivars," Wilson said.  "Many wineries that rely on wines made from these grapes will likely need to source fruit from other grape growing regions that did not experience crop losses due to winter injury. However, these wines cannot be labeled as Kentucky wines."
---
Crops
Extension
Horticulture
Weather