Lafayette Seminar focuses on local food questions
Lafayette Seminar focuses on local food questions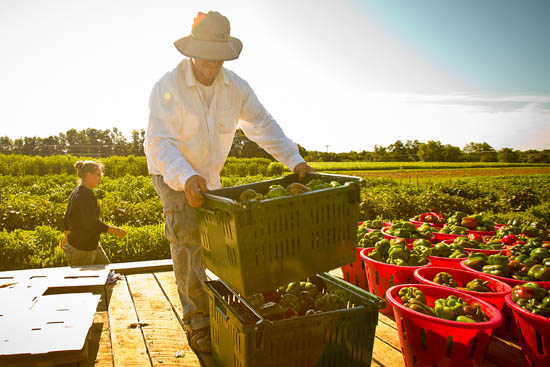 LEXINGTON, Ky.—
The subject of food has garnered much of the public's attention in recent years, whether through discussion of health and nutrition, environmental sustainability or social justice. The Lafayette Seminar in Public Issues will address three aspects of the food issue over the course of three weeks in September and October.
The University of Kentucky Gaines Center for the Humanities will present the Lafayette Seminar: The Power of Food in three sessions that are free and open to the public. The seminar series has, for about 20 years, presented opportunities for the town and the university to come together to focus on pressing local issues. Previous seminars have given attention to such topics as neighborhood revitalization, downtown development and other food topics.
"It seemed a particularly germane moment to revisit the food issue in the wake of the hiring of a local food coordinator for Lexington," said Philip Harling, Gaines Center director. "There is a big discussion going on in the Bluegrass area about local food. We think the Lafayette programming offers folks the chance to get together and perhaps advance the discussion in various ways."
Keynote speaker Robert Egger will kick off the series at 5:30 p.m. Wednesday, Sept. 24 at the Lyric Theatre Community Room, 300 E. Third St. Egger, whose presentation is titled Revealing the Power of Food, is the founder of the D.C. Central Kitchen, a 25-year-old organization that gathers and prepares local food for underserved communities in Washington, D.C. Using leftover and surplus food, D.C. Central daily produces 5,000 balanced meals and distributes them to more than 100 homeless shelters, transitional homes and nonprofits. It also provides about 2,000 low-income school children with scratch-cooked meals every day. On top of that, they offer culinary job training for the unemployed. Egger recently relocated to California, where he has initiated L.A. Kitchen in Los Angeles.
Part 2 in the seminar series will explore the question of how to make local and healthy foods affordable while still making it worthwhile for producers.The panel discussion Whose Farm to Whose Table will begin at 5:30 p.m. Wednesday, Oct. 1 and be moderated by Rona Roberts, the host of Savoring Kentucky. Panel members will include Jim Embry, founder and director of Sustainable Communities Network; Karyn Moskowitz, director of New Roots, Inc. and the Fresh Stop Project; Mac Stone, Elmwood Stock Farm; and Ashton Potter Wright, local food coordinator with the Lexington-Fayette County Urban Government. This session will also take place in the Lyric Theatre Community Room.
The third session, Thinking Big: Local Food and Large Institutions, will include a panel discussion and reception beginning at 5:30 p.m. Thursday, Oct. 9 in UK's W.T. Young Library Auditorium and Gallery. Former UK College of Agriculture, Food and Environment Dean Scott Smith will moderate the conversation about moving local food onto a large stage.
"I see a key question being, is it possible for local foods to scale up and still conserve the values that local foods have," said Smith, faculty director of The Food Connection at UK. "If we ask a company like Aramark to invest in local foods, do they do it in a way that sustains the reasons that we all have—although they're different for everybody? I think it's a complicated question, and it depends on what your views are. Are you interested in promoting the success of Kentucky farmers, or are you interested in reducing fossil fuel use in agriculture, or are you interested in healthy, fresher foods? I think everybody has a bit of a different view on this."
Panelists will include Sarah Fritschner, coordinator of Louisville Farm to Table; John-Mark Hack, executive director of Local Food Association; Lee Meyer, UK agricultural economics professor and chair of UKAg's Sustainable Agriculture and Food Systems Working Group; and Tony Parnigoni, regional vice president for Aramark Corporation.
"We're trying to cover many of the issues. We have local, we have big institutional, and we have Robert Egger talking about food as a matter of social justice," Harling said. "We're hoping to have on tap something that's interesting to a pretty wide cross section of the community."
Co-sponsors for the Lafayette Seminar include Blue Grass Community Foundation, The Food Connection at UK and the UK College of Agriculture, Food and Environment. Parking information for the Lyric Theatre is available at http://www.lexingtonlyric.com/facility/faqs. For more information about the seminar series or other Gaines Center programming, visit http://www.uky.edu/GainesCenter.
---
Community Development
Economics
Environment
Events
Sustainability