Local food connects Kentucky and campus
Local food connects Kentucky and campus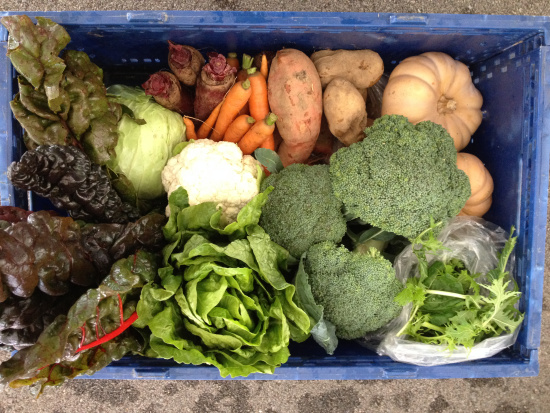 LEXINGTON, Ky.—
A local food movement is undoubtedly growing across the nation, and the University of Kentucky — surrounded by millions of acres of farmland and thousands of farmers throughout the Commonwealth — is poised to lead the way in sustainable solutions.
The Food Connection at UK, backed by a $5 million investment by Aramark and UK Dining, is housed in the UK College of Agriculture, Food and Environment. Partnering closely with the Kentucky Department of Agriculture, Kentucky farmers, community partners, and consumers, the Food Connection aims to enhance the production, distribution, and consumption of local and Kentucky Proud food products.
The partnership includes $1 million to endow undergraduate and graduate internships and fellowships as well as another $250,000 in one-time start-up costs for equipment and programmatic needs, and $250,000 annually over a 15-year term for staff, programming, research grants, and other initiatives.
"Currently, there is unprecedented interest in local foods both on and off the campus," said Scott Smith, faculty director of the Food Connection and former dean of the college. "We are building projects and partnerships to expand the opportunities in local foods for both farmers and consumers."
Some of those projects include research addressing the question, "How do we measure the impact of local foods purchasing?" and looking for tools to track the impact of UK Dining and other markets on farms and the local economy. The Food Connection also engages students in the education aspect of food systems and outreach, and offers student opportunity grants for related projects.
The Food Connection recently partnered with Lexington and Louisville stakeholders in the local food economy to host the Bluegrass Barn Raising, where more than 40 farmers, food processors, distributors, lenders and market leaders recently convened at UK to discuss strategies for expanding the supply of local foods.   Read more at UKNow
---
Sustainability