Nursery, landscape industry to meet in Louisville for 2018 Spring Training
Nursery, landscape industry to meet in Louisville for 2018 Spring Training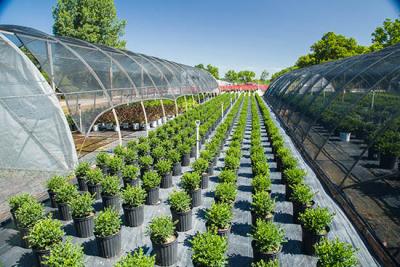 LEXINGTON, Ky.—
The green industry will gather in Louisville January 24-25 for the Kentucky Nursery and Landscape Association's annual Spring Training Conference. The University of Kentucky Department of Horticulture will co-sponsor the event, and many of the sessions are taught by UK College of Agriculture, Food and Environment experts.
"KNLA is thrilled to partner with UK Horticulture for the 2018 Spring Training," said Kim Fritz, KNLA president. "Not only does UK provide outstanding education and research, UK professors serve on our board of directors."
The 2018 conference will be held at the Ramada Plaza Louisville Hotel and Conference Center, 9700 Bluegrass Parkway in Jeffersontown.
"We are pleased to participate in this year's Spring Training," said Dewayne Ingram, UK horticulture professor. "The green industry has vital economic impact in the state and individual communities. These educational sessions have been designed to help position the individual businesses to take advantage of the current economic climate and environmentally conscious consumer."
Keynote speakers will open each day's sessions at 8 a.m. Steve Foltz, from the Cincinnati Zoo and Botanical Garden, will speak on Jan. 24 and Irvin Etienne, from the Indianapolis Museum of Art, will speak on Jan. 25.
On Jan. 24, classes in the crew academy track will include pruning; CMV Safety in a World of Landscaping; Plants Under Stress, a Predisposition to Plant Disease; and Implementing and Evaluating Monarch Conservation Practices in the Urban Landscape. The production track classes will include Increasing Production Efficiency and Marketing Ecosystem Services; Water Use and Conservation in Nursery and Greenhouse Production; The Science of Tree Risk Assessment; and Blue Hydrangea Flowers and More Consistent Release of Nutrients by New Controlled Release Technology.
On Jan. 25, the pest management track will include Fungicides 101, Rain-fastness and Efficacy; What's Bugging You? A Closer Look at Nursery Inspections and Invasive Pests; and What Will Be Bugging You in 2018. The Plants and Design track will include Selecting Plants for Specific Sites; Blocking the View or Successful Screen Planting; Notable Plants that Brighten Winter's Gloom; and Nativars – Strangers in a Strange Land.
Kentucky Nursery and Landscaping Association will hold its annual meeting and reception from 4 to 5 p.m. Jan. 24. The second day of the conference will conclude with a keynote speech by Paul E. Cappiello of the Yew Dell Botanical Gardens.
A full vendor showroom will be open both days.
For more information about the 2018 KNLA Spring Training or to register, visit http://knla.org.
---
Entomology
Events
Extension
Horticulture