Palli receives national entomology award
Palli receives national entomology award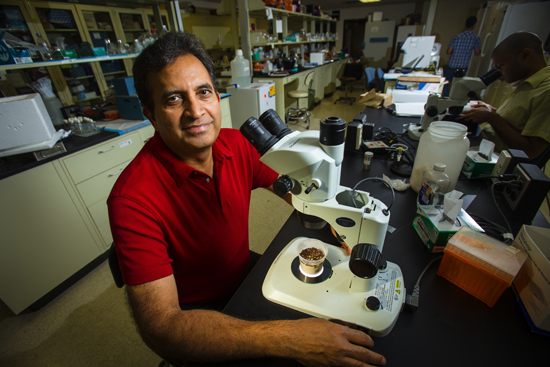 LEXINGTON, Ky.—
A University of Kentucky insect physiologist is being honored by his peers for his cutting-edge research involving gene expression in insects.
Professor Subba Reddy Palli is the recipient of the Entomological Society of America's Recognition Award in Insect Physiology, Biochemistry and Toxicology. He will receive the award during the society's annual meeting Nov. 10-14 in Austin, Texas.
"Reddy is a highly productive insect physiologist who has contributed and continues to contribute enormously to the advancement of the field of entomology," said Coby Schal, Palli's nominator and the Blanton J. Whitmire Distinguished Professor at North Carolina State University.
Palli's research in the UK College of Agriculture, Food and Environment focuses on hormonal regulation of gene expression in insects. His goal is to identify proteins and hormones and use them to develop environmentally safe pest management methods. Palli's lab achievements include developing RNA interference technology to kill insects and to fight resistance to insecticides and developing a gene-switch technology that could have major human health implications. He is also the co-director of the Center for Arthropod Management Technologies, a National Science Foundation Industry and University Cooperative Research Center Program.
"Dr. Palli is an outstanding researcher who has developed a highly innovative research program focused on understanding the molecular basis of the action of juvenile hormone, one of the major insect hormones involved in insect development and reproduction," said John Obrycki, chair of the UK Department of Entomology. "He is very deserving of this national recognition by the Entomological Society of America."
Palli has received numerous awards since joining the faculty in the UK Department of Entomology in 2002. He has published 125 peer-reviewed journal articles, 20 book chapters and has co-edited a book. He also has four issued patents and nine pending patent applications. In addition, he serves on the editorial boards of nine journals and has served on the grant review panels of the U.S. Department of Agriculture's National Research Initiative, National Science Foundation and the National Institutes of Health.
---
Awards
Entomology
Research