Palli receives national entomology honor
Palli receives national entomology honor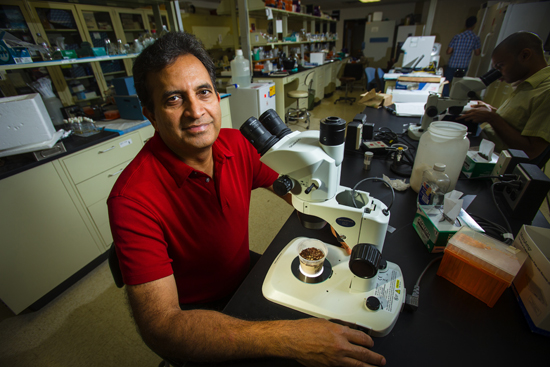 LEXINGTON, Ky.—
An entomologist in the University of Kentucky College of Agriculture, Food and Environment was recently named a fellow of the Entomological Society of America. Society members bestow this distinction on colleagues who have made outstanding contributions in research, teaching, extension and/or administration.
Professor Subba Reddy Palli is best known for developing RNA interference technology that kills insect pests and fights resistance to insecticides, particularly in beetles and bed bugs.
While his work is based in developing environmentally sound pest management tactics, it also could have tremendous public health implications. He played a key role in developing a gene-switch technology that is in clinical trials to determine if it will regulate cancer-fighting genes in humans. The technology is also being used to regulate genes in plants.
Palli also serves as co-director of the Center for Arthropod Management Technologies, a recently established National Science Foundation Industry/University Cooperative Research Center.
Within the Entomological Society, Palli has served as president of the Insect Physiology, Biochemistry and Toxicology Section and received its 2013 Recognition Award for his research accomplishments.
Palli has received numerous UK awards since joining the Department of Entomology faculty in 2002. He has published 130 peer-reviewed journal articles, 20 book chapters and has co-edited a book. He is a co-inventor on 28 patents.
In addition, he serves on the editorial boards of 10 journals and has served on the grant review panels of the U.S. Department of Agriculture's National Research Initiative, National Science Foundation and the National Institutes of Health.
Palli will be recognized along with the nine other recipients during the society's annual meeting Nov. 16-19 in Portland, Oregon.
Palli is the fifth UK entomologist to be named a fellow of the society. Additional fellows include current UK professors Dan Potter and Ken Yeargan. Professor emeritus Fred Knapp and the late Bobby Pass also received the distinction.
---
Awards
Entomology
Research