Patricia Krausman named 2014 KAED Allied Professional of the Year
Patricia Krausman named 2014 KAED Allied Professional of the Year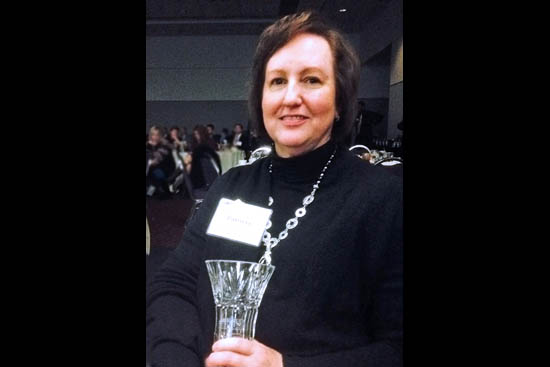 LEXINGTON, Ky.—
At the annual Kentucky Association for Economic Development Conference, held at the Kentucky International Convention Center in Louisville, one of Kentucky Small Business Development Center's own took the top honor. Patricia Krausman, University of Kentucky Elizabethtown SBDC director, was named the 2014 Allied Professional of the Year.
This prestigious award was established to recognize economic development professionals who play a key role in the success of economic development via their assistance and expertise in areas such as utilities, job training, construction, education, government and research.
The Kentucky Association for Economic Development consists of more than 600 members that include professionals who share an interest in growing Kentucky's economy through education, advocacy and developing connections between industry professionals and state and local government officials.
"Given the prestige of this award and the distinguished individuals who have previously received it, I am extremely honored to be this year's recipient," Krausman said. "My work wouldn't be possible without the constant support of our many partners and devoted colleagues at the Kentucky Small Business Development Center, and for that I am particularly grateful. Recognition of the value of the KSBDC's role in economic development is a testament to the cohesive partnerships that are present in Kentucky."
Krausman was also inducted into the exclusive Kentucky Small Business Development Center's Million Dollar Loan Club, having secured more than $8 million for start-up and expanding businesses in 2013. Additionally, her Elizabethtown center was awarded the Michael Rodriguez Traveling Trophy, which acknowledges service goals being met and exceeded during the past year.
The UK Elizabethtown Small Business Development Center serves Breckinridge, Grayson, Green, Hardin, Larue, Marion, Meade, Nelson, Taylor and Washington counties. The Kentucky Small Business Development Center, part of the UK College of Agriculture, Food and Environment, is a network of 15 offices located throughout the state that helps existing and start-up businesses succeed by offering high quality, in-depth and hands-on services. The KSBDC is a partner program with the U.S. Small Business Administration. For more information on KSBDC services, visit their website, http://www.ksbdc.org/. To learn more about the Kentucky Association for Economic Development, visit their website http://www.kaedonline.org.
---
Awards
Community Development
Economics