Public seminars to throw light on urban forests
Public seminars to throw light on urban forests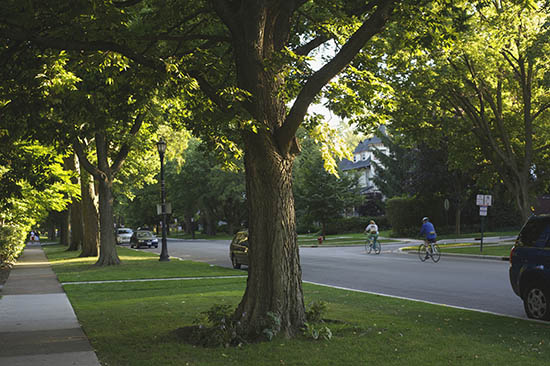 LEXINGTON, Ky.—
It may feel urban or suburban to many, but the plants, animals and fungi found in cities and towns make up a unique ecosystem. Research shows urban forests benefit built-up areas not only environmentally, but also socially and economically. As in all forests, herbaceous plants and trees are vital to a functional urban forest, and this will be the focus of two public seminars hosted by the University of Kentucky Urban Forest Initiative.
Nina Bassuk, a professor and program leader of the Urban Horticulture Institute at Cornell University, will lead the seminars. Bassuk has developed a method for lessening soil compaction beneath pavement and has organized the Student Weekend Arborist Team, SWAT, at Cornell, which employs students to carry out street tree inventories in New York towns.
She will deliver Creating a Sustainable Urban Forest: Great Plants and Great Soils from 1 to 2 p.m. EDT April 5 in room 217 of the Thomas Poe Cooper Building on the UK campus and Moving Beyond the Native/Exotic Debate: Best Practices for a Healthy Urban Forest from 6 to 8 p.m. EDT that evening at the Fayette County Extension office, 1140 Harry Sykes Way, formerly Red Mile Place, Lexington.
A Q&A session will follow both seminars. A social gathering at 6 p.m. will kick off the event at the Fayette County Extension office. It will include light refreshments and exhibits by local tree organizations.
The seminars are part of an ongoing series by the Urban Forest Initiative. Past speakers in the seminar series included environmental sociologist Kathleen Wolf and ecosystem services expert David Nowak.
The Urban Forest Initiative is a working group of UK's Tracy Farmer Institute for Sustainability and the Environment, whose mission is to advocate for and elevate the function, value and perception of urban forests in the Bluegrass region. The initiative's founding members, Mary Arthur and Lynne Rieske-Kinney, professors of forest ecology and forest entomology, respectively, are on the faculty of the UK College of Agriculture, Food and Environment. More information about the Urban Forest Initiative can be found at https://ukntrees.ca.uky.edu/.
---
Entomology
Environment
Events
Extension
Forestry
Horticulture