Rivalry aside, UK and UT undergrads study hydroponic lettuce
Rivalry aside, UK and UT undergrads study hydroponic lettuce LEXINGTON, Ky.—
The relationship between the University of Kentucky and the University of Tennessee is commonly seen as a sports rivalry, but not for some undergraduate agriculture students who put the competition aside this summer to jointly study how light affects hydroponic lettuce.
Garrett Owen, assistant horticulture professor for the UK College of Agriculture, Food and Environment, teamed up with Kellie Walters, assistant professor for the UT Department of Plant Sciences, to give students this research opportunity. "One of our seniors, Natalia Wright, was looking for a capstone project, and she is very interested in hydroponic food crops," Owen said. "I'm interested in lettuce, so we came up with this project. Kellie Walters and I were trained by the same major professor in graduate school, and we've remained friends. She had a student interested in a capstone project as well."
Owen's team planted red and green lettuce in the greenhouse at UK's Horticulture Research Farm in south Lexington. The plants take about 14 days to grow to transplant size and then another 14 days until harvest.
Hydroponic plants do not need soil. They use a growing medium, water and nutrients in a controlled greenhouse environment. Researchers control light, water and temperature as plants mature toward harvest.
"I brought up doing lettuce for this project because it's fast and easy for hydroponics," said Wright, who grew up in St. Louis, Missouri. "I've never done a project in a greenhouse before or had any greenhouse experience. It's really interesting, even something as simple as shade makes a difference that you can see pretty quickly."
The UK team is leading an applied research study of how daily light influences plant growth and quality, and the UT team is taking samples of the lettuce and looking at secondary phytonutrients within the plant leaf tissue. Researchers see benefits for commercial growers, greenhouse growers and students learning how to conduct laboratory and field research.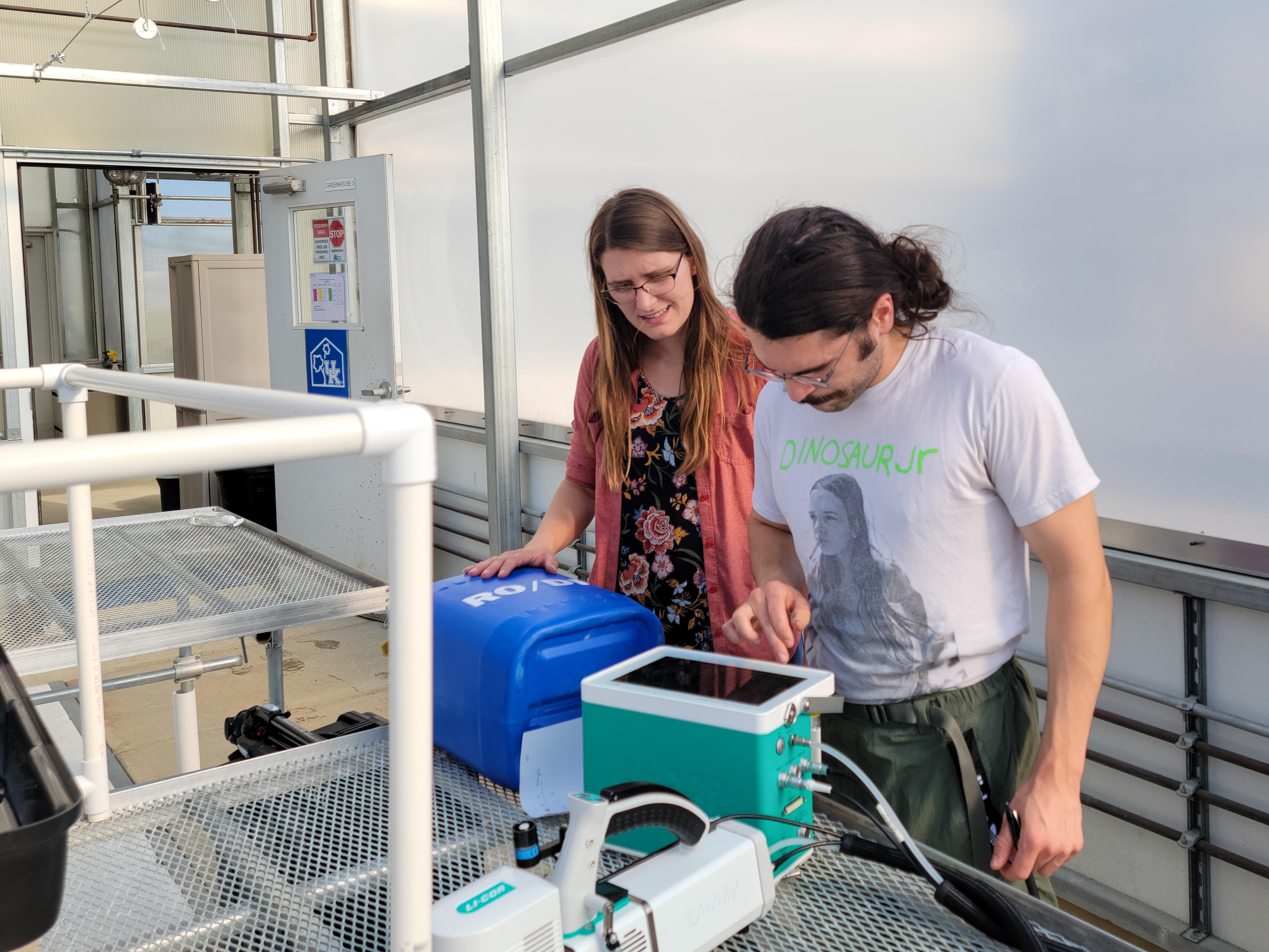 Recently, the UT team came to the UK farm to collect plants they will take back to Knoxville for further study. Walters said the collaboration helps students in multiple ways.
"Learning how plants are grown and different lab analysis techniques are a really rich hands-on experience regardless of what the focus of that experience is," she said. "Sometimes they don't get that during their undergraduate career. The other part that I think is really unique about this collaboration is that the students can work together. So, it's not just in our UT bubble or the UK bubble, but we're collaborating across institutions where the students can meet each other and expand their networks and learn how to be professionals and collaborate with other folks."
UT plant science senior William Smith is concentrating his studies in plant genetics and biotechnology. Originally from Raleigh, North Carolina, Smith is looking forward to the results of the joint research.
"This is the first harvest we're doing; we're doing two more later in the fall," he said. "I will be performing the lab tech lab analysis extracting water soluble vitamins, recording photosynthetic measurements and more. It's a really neat way to get exposure to these biological processes."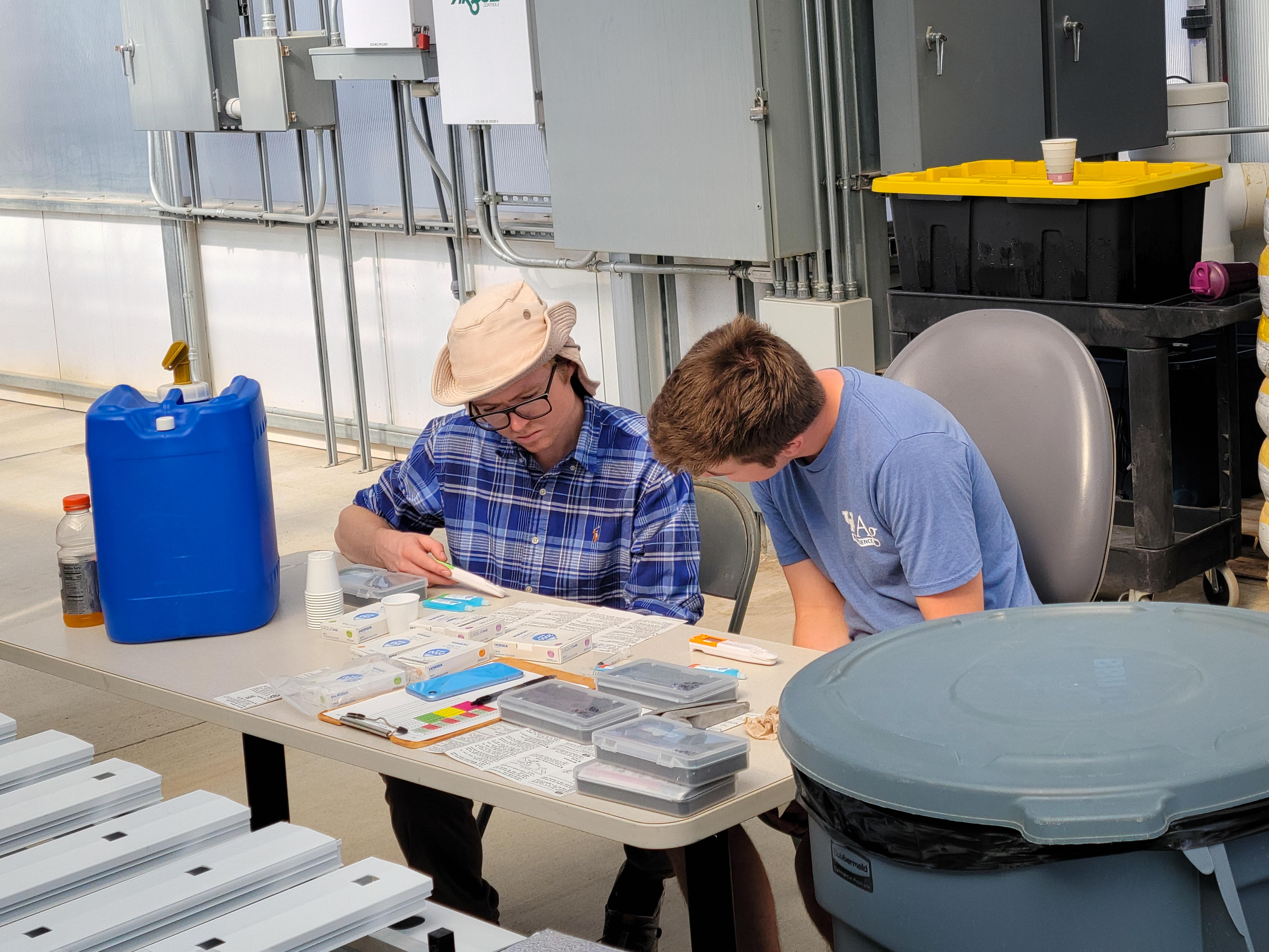 Owen said the results could benefit the commercial greenhouse industry.
"We're hoping that we can determine the optimal daily light interval for red or green oak leaf lettuce grown hydroponically for the state of Kentucky, but we are also looking at some of the health benefits that these lettuces are producing under different daily light intervals," he said. "So overall we're really looking at how we can manipulate the light environment to improve overall quality from a grower perspective, but also from a human health and quality perspective."
---
Research