Seasonal food resource hub offers easy ways to use local veggies
Seasonal food resource hub offers easy ways to use local veggies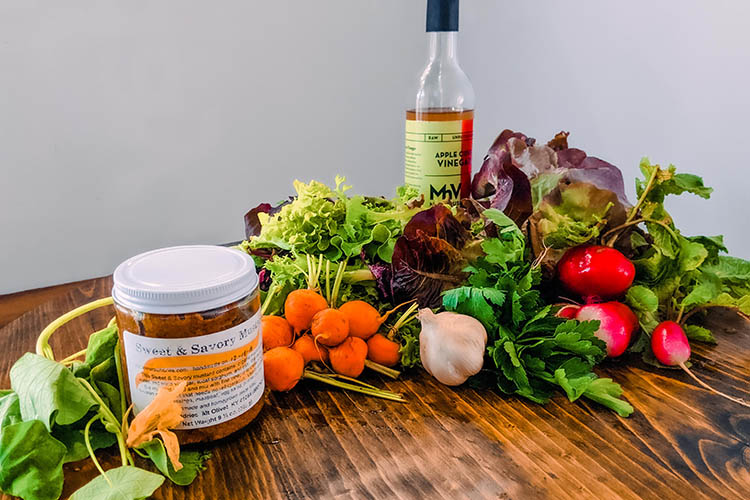 LEXINGTON, Ky., — A weekly share from a local Community Supported Agriculture program can hold familiar foods like tomatoes and surprising treasures like squash blossoms or kohlrabi. Customers often turn to the farmer with questions like "What in the world do I do with squash blossoms?" and "What is this strange green bulb?" The Kentucky Seasonal Food Resource Hub, from the Food Connection at the University of Kentucky, benefits both farmers and customers by answering those types of questions and more.
Food Connection executive director Lilian Brislen said the idea came about when they learned that people concerned about the food supply during the pandemic were gobbling up CSA shares this year. Across the state, CSAs sold out rapidly.
"A lot of new people are exploring local seasonal eating for the first time, but there's a learning curve when you get that weekly basket of fresh food. It can be daunting. We want to support people, so they feel comfortable and confident when working with local seasonal produce," Brislen said.
The website is organized by fruits or vegetables participants could see in their boxes. It offers recipes, photos, videos and social media cards that give storage tips and quick ideas on how to use the products. Farmers are welcome to download material from the site for their newsletters, social media accounts or websites, and anyone looking for a little help or a new recipe is encouraged to browse the site.
The Food Connection has always specialized in offering in-person programming, but the pandemic made them rethink how they would offer instruction in a virtual format. Chef Tanya Whitehouse has recorded food preparation instructions and selected easy, flavorful recipes for a variety of produce. Because some local producers offer CSAs year-round, the resources on the site will continue to expand as the seasons progress.
"Our emphasis is on basic food preparation, simple ingredients, accessible recipes and very little in the way of kitchen equipment," Brislen said. "We tried to get a mix of things that you might be familiar with, but have a limited repertoire, and things that might be less familiar. That way, people can feel like they have an entry point for a new vegetable or find new ways to make the most of familiar vegetables."
Though the site focuses on Kentucky produce, people throughout the country will find handy information for much of the produce they find in their own regions. The Kentucky Seasonal Food Resource Hub is online at https://foodconnection.ca.uky.edu/seasonalhub.
The Food Connection at UK is an applied food systems center housed in the College of Agriculture, Food and Environment and in partnership with UK Dining Services. It serves farmers, food producers, students and community members by supporting the development of vibrant and sustainable food systems on campus and across Kentucky.
---
Nutrition