Small Ruminant Grazing Conference set for Feb. 18 in Elizabethtown
Small Ruminant Grazing Conference set for Feb. 18 in Elizabethtown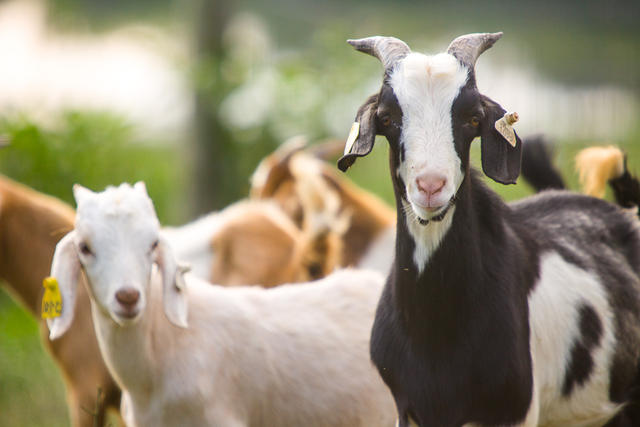 LEXINGTON, Ky.—
The Kentucky Department of Agriculture reported that sheep and goat numbers in the state are nearly equal at 53,000 and 59,000 head, respectively. New and established producers can benefit from educational opportunities at the upcoming annual Kentucky Small Ruminant Grazing Conference.
The University of Kentucky College of Agriculture, Food and Environment is teaming up with Kentucky State University, the Kentucky Sheep and Goat Development Office, the Kentucky Goat Producers Association and the Kentucky Sheep and Wool Producers Association to offer the 2017 conference Feb. 18 at the Hardin County Extension office in Elizatbethtown.
"We have some great speakers lined up and, of course, the popular producer panel," said Tom Keene, UK agronomy specialist. "The focus this year is on the central third of the state; each year we move the conference around to try and reach the most people. We will offer science-based research that producers can apply in their own operations."
The daylong event begins with registration at 7:30 a.m. EST. The conference begins at 8:30 with a welcome and information on the new Veterinary Feed Directive. Focused sessions begin at 9:15 a.m. Morning topics include: establishing small ruminant pasture, parasites and dewormers, and rotationally grazing small ruminants. Keene will present information on plant identification during lunch. Afternoon sessions include fence, water and infrastructure for small ruminants and a producer panel consisting of Kathy Meyer, Kenny Fenwick, Dee Daniels and Eileen O'Dononhue. The conference officially ends at 2:30 p.m. but interested participants may stay to attend an optional FAMACHA training at 2:45 p.m. FAMACHA is a program designed to help producers of small ruminants diagnose parasite infection.
Preregistration, due Feb. 10, is $35 for the conference and an additional $18 for the FAMACHA training. The program and registration are available online at the UK Robinson Center for Appalachian Resource Sustainability website at http://rcars.ca.uky.edu/small-ruminant-grazing-conference.
Those planning to attend the conference should send name, address, phone number and email address along with payment to UK Robinson Center for Appalachian Resource Sustainability, attn. Jackie Allen, 130 Robinson Road, Jackson, KY 41339. To pay with credit card, contact Allen via phone at 606-666-2438, ext. 291.
---
Crops
Events
Extension
Livestock
Research
Sustainability