Spray Clinic helps producers make better informed applications
Spray Clinic helps producers make better informed applications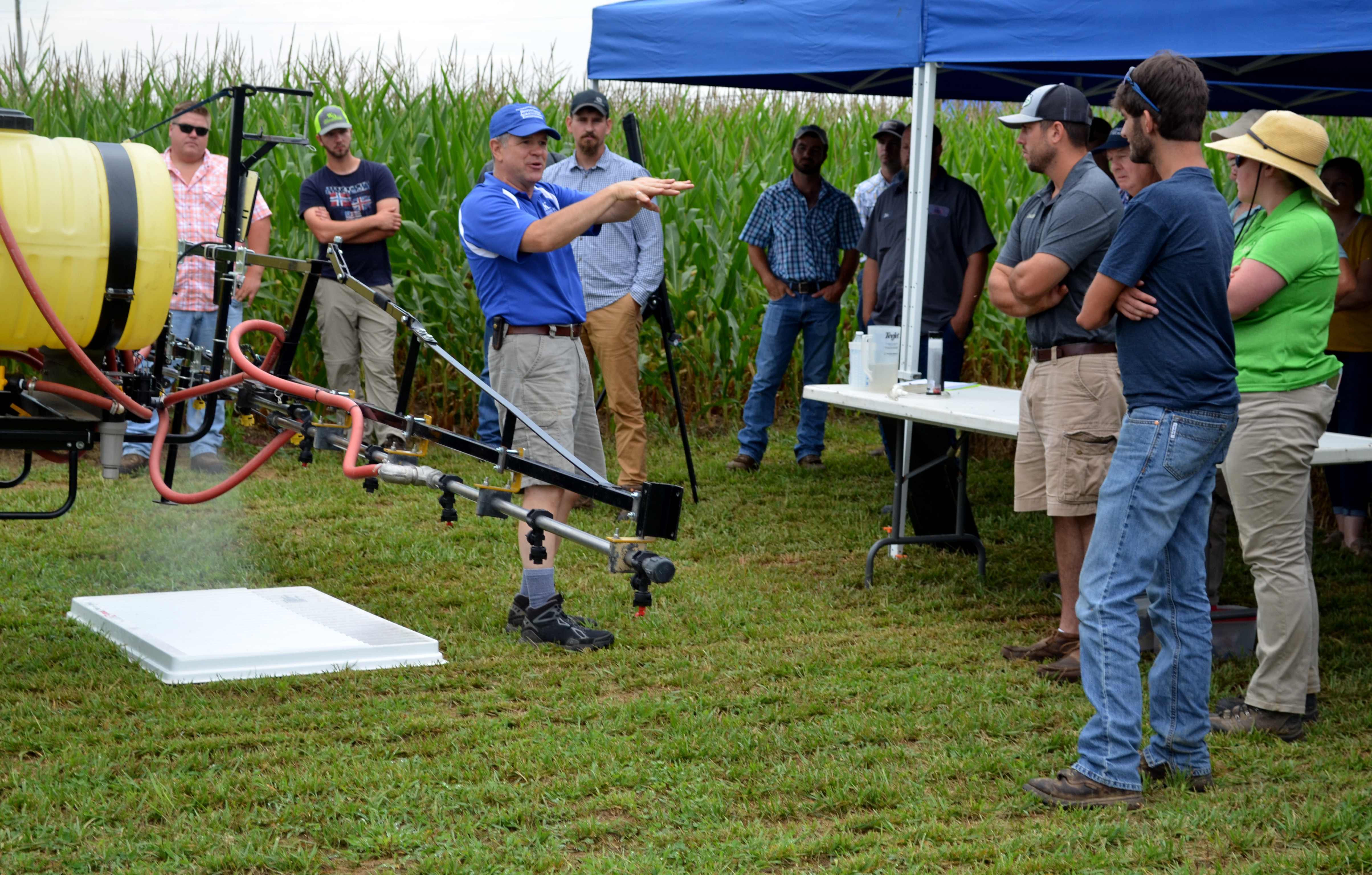 PRINCETON, Ky.—
Grain crops producers learned ways they can make the most accurate, efficient and environmentally conscious chemical applications during the University of Kentucky Spray Clinic.
The clinic, in its second year, is one offering of the Kentucky Agricultural Training Schools, which are part of the UK Grain and Forage Center of Excellence in Princeton.
"The whole idea of the schools is to create a better environment for interaction between small groups of producers and UK specialists, so the producers are more comfortable asking questions to our specialists and our specialists can spend more quality, hands-on time in the field with them," said Travis Legleiter, UK weed scientist and clinic organizer.
During the daylong clinic, UK College of Agriculture, Food and Environment and industry specialists talk to producers about ways they can improve their herbicide and fungicide applications to not only save on their input costs but to have as little environmental impacts as possible.
"Producers are bombarded by company advertising every day. The universities have the responsibility to provide farmers with factual information about these products. I came here today to get good information," said Henry Birrell, a Caldwell County producer.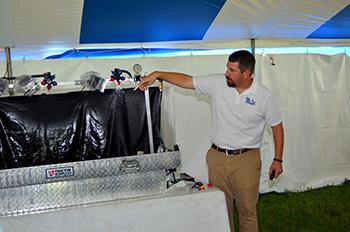 Discussion topics included sprayer set-up, calibration and maintenance, ways to make more efficient herbicide and fungicide applications and tips to prevent herbicide drift. Producers watched demonstrations and learned about the mathematics and science behind UK researchers and industry experts' recommendations for sprayer applications.
"I'm a low-acreage farmer, so I want to use the resources that I have the best way that I can," said Beau Rogers from Caldwell County. "I came to this clinic to learn more about the equipment involved in making the applications and whether it would be in my best interest to purchase the equipment, so I can make applications myself, or continue to pay a commercial operator to do it for me."
The Kentucky Agriculture Training Schools, which are held throughout the growing season, are aimed at providing producers timely information when they need it the most.
"Specialists at the Grain and Forage Center of Excellence want to bring information to our clients as well as let producers know about the types of research projects that we are ramping up because of the center. These schools are a good way for us to do this," Legleiter said.
More information on upcoming schools is available at http://kats.ca.uky.edu/.
---
Biosystems Ag Engineering
Crops
Events
Extension
Research