Students design sustainable landscape architecture solutions for tornado-ravaged town
Students design sustainable landscape architecture solutions for tornado-ravaged town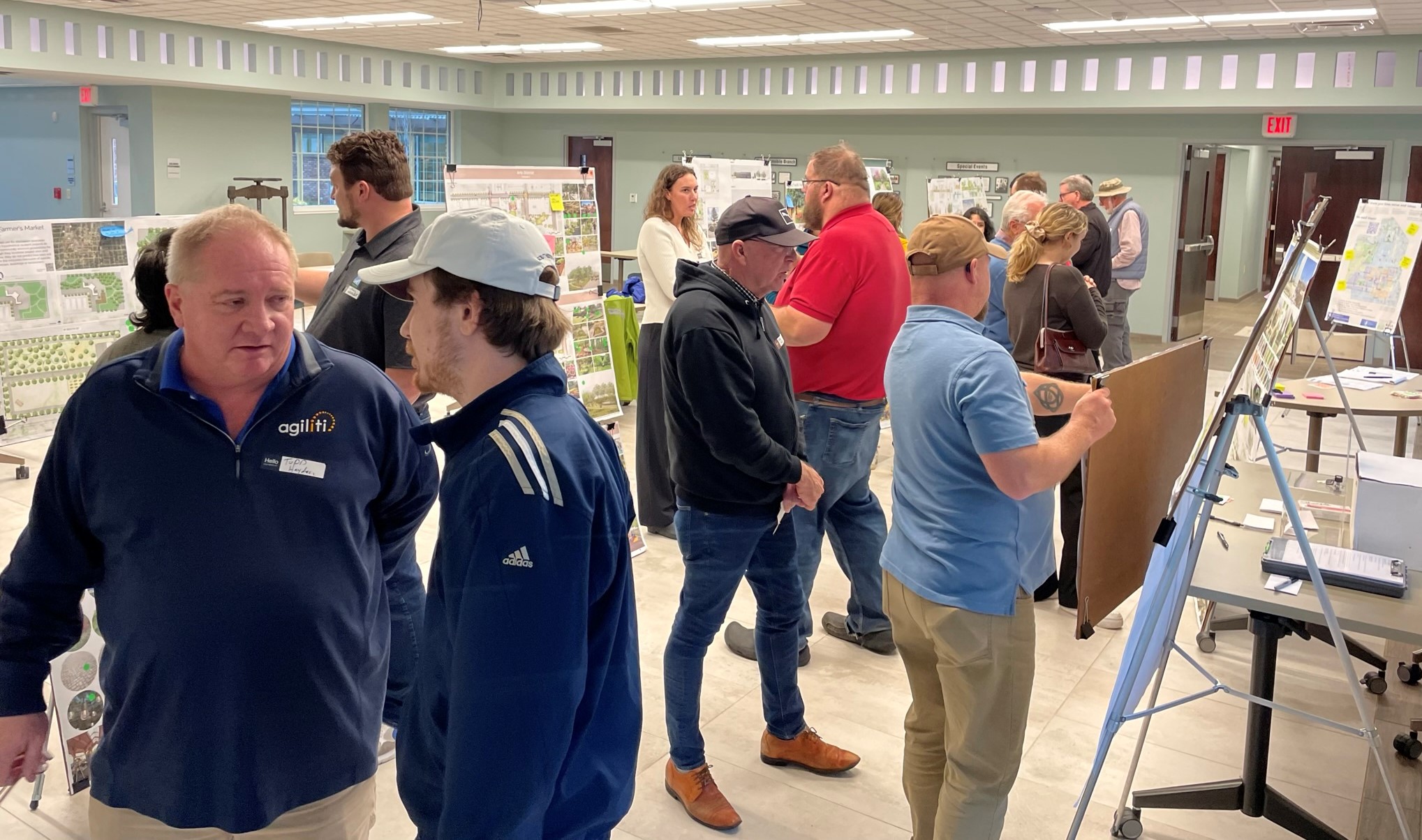 Lexington, Ky.—
After a devastating tornado ripped through Mayfield, Kentucky in 2021, the community was left reeling. Now, several University of Kentucky College of Agriculture, Food and Environment students are helping the community.
As part of their coursework, UK Landscape Architecture seniors worked with local community members designing to design new downtown concepts to help the area recover. The students learned about Mayfield's sense of community and place, researched other post-disaster recovery and planning efforts, and used this knowledge to create their landscape design concepts. Their goal was to enhance the functionality and visual attractiveness of Mayfield's public spaces.
"The project was a challenge for the students because it affected the lives of real people," said project leader Jordan Phemister, lecturer in the UK Department of Landscape Architecture. "The loss, trauma and damage that the community continues to face are hard, making it even more challenging. However, they also learned first-hand about Mayfield's warmth and resilience. The students rose to the challenge and created thoughtful, inspiring designs that met the town's needs and gave them hope and possibility for the future."
The students' designs included proposals for new parks, playgrounds and outdoor gathering spaces, as well as improvements to existing infrastructure such as sidewalks and bike paths.
"The best part of all this was being able to talk to community members on numerous occasions via multiple methods, such as in-person and online surveys," said Felix Lowery, a student who worked on the project. "On our second trip to Mayfield, we could see citizens' reactions to our ideas. Often, we work on projects that are a little bit made up and a little bit pretend, but this project was a lot more than that. It was rewarding."
The UK Student Sustainability Council and the American Society of Landscape Architects Kentucky Chapter funded student travel. They visited Mayfield multiple times, seeing the devastation first-hand and sharing their ideas with residents. The team also traveled to Joplin, Missouri, to observe landscape architecture projects in another tornado-hit community. A 2011 tornado devastated Joplin, but since, the town has made a steady recovery.
Students say they learned a lot from the experience, gaining valuable skills in community engagement, design brainstorming and project management. They also learned the importance of working on real-world projects that positively impact lives.
"I think we will all be able to use the experiences we gained going forward," graduate Abby Phelps said. "This brought together huge community engagements. We got to see and understand members of the town and have the chance to improve their homes. This is something that we all will use in our future careers."
Phemister said her goal was to ground students and their work in a Kentucky community to cultivate a sense of empathy, purpose and service.
"They deeply listened to the community and responded with sensitive design solutions that reflected their aspirations and needs," she said. "The students felt a tremendous sense of purpose and commitment to their work, and hearing the positive feedback and sense of hope and possibility from Mayfield community members was incredibly rewarding for all of us."
---
Community Development
Students