Travel show featuring UK students, professor to air on KET
Travel show featuring UK students, professor to air on KET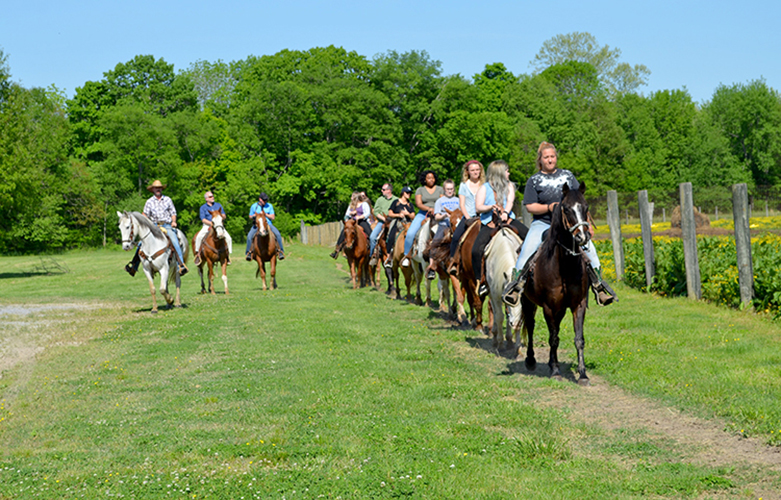 LEXINGTON, Ky.—
To view the video, click here.
University of Kentucky students and their professor are the subject of a new KET reality series that explores travel's effect on individuals.
The show, "Transformative Travels: Exploring Kentucky," will air in six episodes during December and January on the KET network. It features Jason Swanson, associate professor in the UK College of Agriculture, Food and Environment, and 10 UK students from diverse majors and backgrounds who were a part of his Transformative Travels class.
The show explores tourist attractions in Western Kentucky and discusses the impact that each destination and experience has had on their lives.
"It's been life-changing," said Imani Conwell, a junior hospitality management and tourism major from Lexington. "Most of us did some things for the first time. We repelled off a cliff. Most of us were scared, but we conquered our fears. Some of us got to horseback ride for the first time."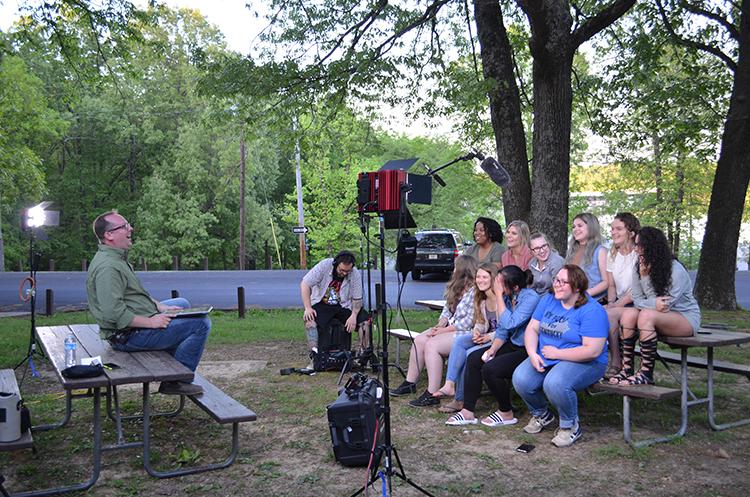 The class met during the 2018 spring semester. Swanson taught the students about transformative traveling concepts and provided background information on the locations that they would visit. Swanson had video cameras in class each week to help make the students more comfortable being filmed.
"I'm hoping that they pick up something that changes them," said Swanson, a faculty member in the UK Department of Retailing and Tourism Management. "It could be something that they hadn't thought of before, maybe it is something that is an inspiration or causes them to look at the world in a different way."
The program's producers filmed as the class traveled for a week from Lexington to the Mississippi River with many stops in between this past May.
"Being here, I've come to appreciate the simple life and the peacefulness of rural areas again," Haley Evans, a senior family sciences major from Cynthiana while she was on location in Western Kentucky. "When I get back to Lexington, I'm definitely going to take on some activities that help me maintain this peacefulness."
High Impact Productions, in conjunction with Wrigley Media Group produced the miniseries.
"I've done a lot of travel programming but nothing from this perspective before," said Doug High, executive producer and director. "It's been enlightening to have 10 millennial-aged college students leading the way and blazing their own trail. Our viewers will see a perspective of Western Kentucky that has not been showcased on television before."
In addition to fronting High Impact Productions, High is also the morning news anchor at WTVQ-TV ABC 36 in Lexington.
"Transformative Travels: Exploring Kentucky," will air at the following days, times and channels:
KET: 3:30 p.m. EST on Saturdays, Dec. 8-Jan. 12
KET2: 11:30 p.m. EST on Mondays, Dec. 3-Jan. 7
KET Kentucky: 9:30 p.m. EST on Thursdays, Dec. 20-Jan. 24
The show's trailer is available online at https://bit.ly/2PwAaW8.
Show sponsors include the Kentucky Department of Agriculture, Kentucky State Parks, Bowling Green Area Convention and Visitors Bureau, Paducah Convention and Visitors Bureau, Ariat Brand Shop-Lexington, and the UK College of Agriculture, Food and Environment. The Kentucky Film Office provided support for the production.
---
Events
Family Consumer Sciences