Two University of Kentucky students accepted to famed Irish National Stud program
Two University of Kentucky students accepted to famed Irish National Stud program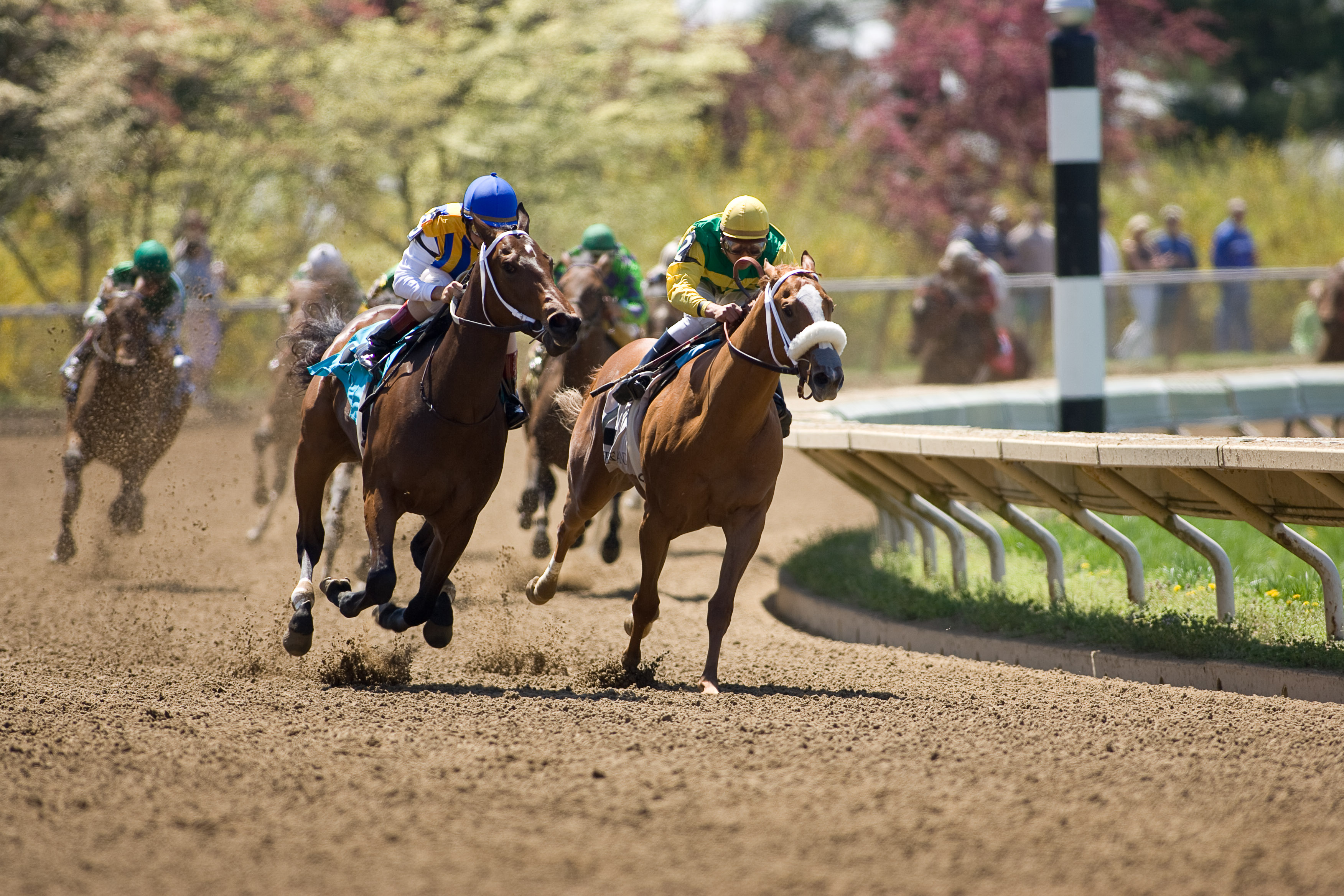 Lexington, Ky.—
Two University of Kentucky students, Grace Hamilton and Luis Ettedgui, both equine science and management majors, achieved a remarkable milestone by securing spots in the world-renowned Irish National Stud program. This prestigious six-month initiative begins in January and offers a unique opportunity for students around the globe to gain hands-on experience in the world of Thoroughbred racing, breeding and management.  
"The Irish National Stud program provides a framework for teaching students the technical and managerial skills necessary for working in the equine industry, with a focus on the Thoroughbred breeding industry," said Savannah Robin, internship coordinator in the UK Martin-Gatton College of Agriculture, Food and Environment Ag Equine Programs. "Students go through a rigorous educational process that includes a variety of assessment methods such as continuous assessment, practical skill demonstrations, projects and final examinations." 
The program's defining feature is its strong emphasis on practical and applied skills, primarily facilitated through work-based learning experiences. This approach ensures graduates possess theoretical knowledge and practical abilities they can apply in the field. 
Hamilton, a South Carolina native who will graduate in December, began her journey with minimal experience in the Thoroughbred industry. However, her passion for horses led her to volunteer with off-the-track Thoroughbreds, giving her an initial glimpse into the world of Thoroughbred racing and breeding.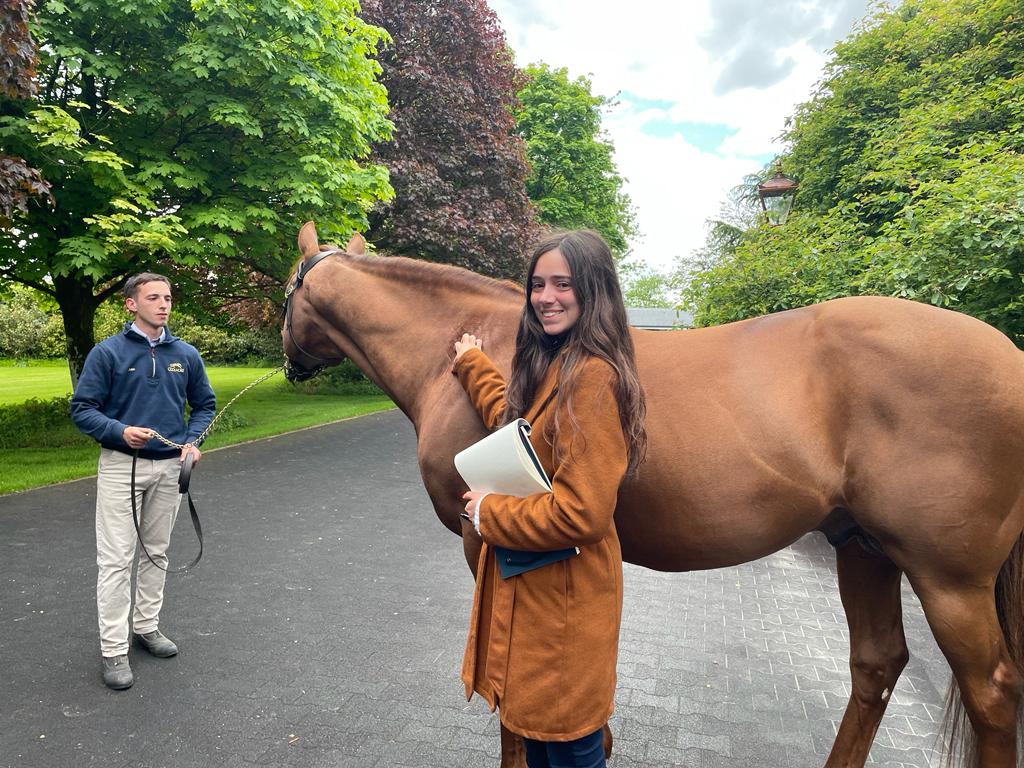 While on a UK study abroad program, Hamilton had the opportunity to visit Irish National Stud. The experience left an indelible mark on her, solidifying her desire to apply for the program. 
Upon arriving at the University of Kentucky, Hamilton's exposure to the industry was limited compared to many of her peers. However, her drive and commitment to expanding her knowledge set Hamilton apart.  
"Grace jumped in and began immersing herself into the experience as soon as she stepped foot on campus," Robin said. "She's worked on breeding farms, at the Keeneland sales, you name it. She has really tried to diversify herself." 
As Hamilton continued to explore various facets of the industry, she uncovered her passion for breeding and sales.  
"Long term, I'd love to do something on the breeding and sales side because I truly find that part fascinating," she said. 
Ettedgui's journey to the Irish National Stud program began in Venezuela where his family had deep roots in the Thoroughbred industry. They later relocated to Florida, where he continued to nurture his passion for Thoroughbred racing and breeding.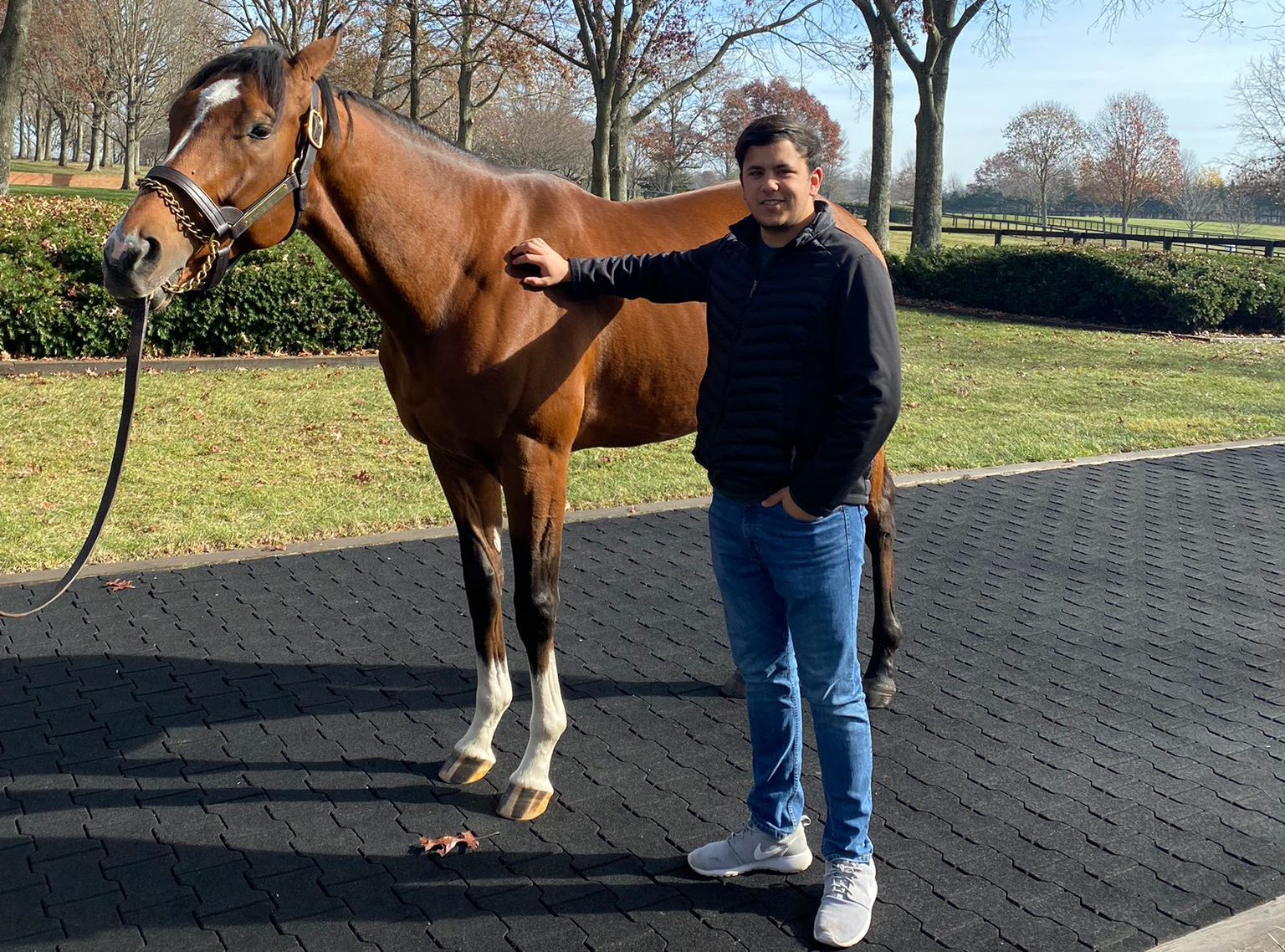 After moving to Lexington, he worked in various sides of the Thoroughbred industry. Ettedgui spent two breaking seasons at Juddmonte Farms' yearling division, one year working under trainer Brad H. Cox, and a breeding season at Godolphin's Stonerside Farm. He also attended yearling sales throughout the year and developed an eye for picking new racing prospects.  
"UK provided me with some amazing professors, mentors, and great support to fulfill a successful learning experience during my four years at the university," said Ettedgui, who graduated in May. "From career fairs, to taking numerous courses, to receiving the best counseling advice, I could not be more thankful to have had such an extraordinary equine department staff." 
"For Luis, participating in the Irish National Stud program was a natural progression in his journey," Robin said. "With his strong background in the industry, he aimed to enhance his understanding of the business from an international perspective. The program presented an excellent opportunity for him to do just that." 
Both Hamilton and Ettedgui were also recipients of the Gerry Dilger Scholarship. The equine scholarship, established in Gerry Dilger's memory, honors his industry legacy. Dilger, originally from County Clare, Ireland, pursued his passion in the United States, founding Dromoland Farm in Lexington in 1994. The scholarship aims to continue his legacy by providing young people a "leg-up" in their equine careers. 
"Grace and Luis may hail from different backgrounds and possess varying levels of experience in the Thoroughbred industry, but they share a common passion for horses and an unwavering commitment to excel in the industry," Robin said. "They both stand as shining examples of students who have embraced opportunities to further their careers in the Thoroughbred world." 
– 30 –                                                                     
The Martin-Gatton College of Agriculture, Food and Environment is an Equal Opportunity Organization with respect to education and employment and authorization to provide research, education information and other services only to individuals and institutions that function without regard to economic or social status and will not discriminate on the basis of race, color, ethnic origin, national origin, creed, religion, political belief, sex, sexual orientation, gender identity, gender expression, pregnancy, marital status, genetic information, age, veteran status, physical or mental disability or reprisal or retaliation for prior civil rights activity.  
---
Equine
Students