UK's Heart-2-Heart campaign expands to agriculture
UK's Heart-2-Heart campaign expands to agriculture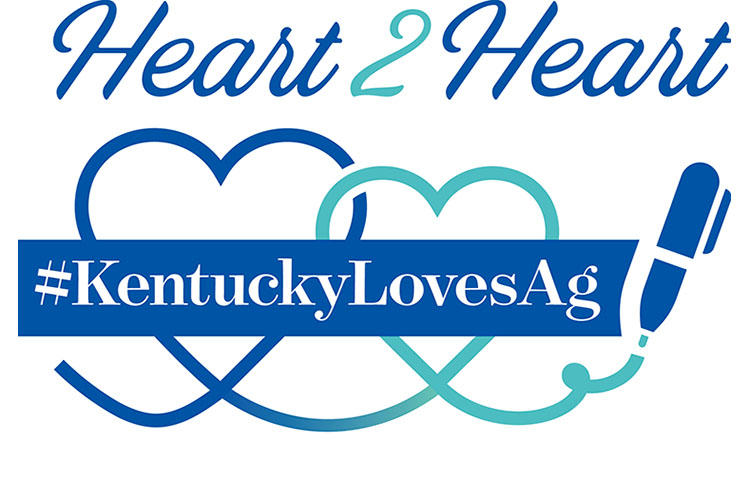 LEXINGTON, Ky.—
They go to work bright and early every morning regardless of the day of the week or the weather conditions to help ensure Americans have the safest, freshest food supply in the world. To thank them for their tireless work, the University of Kentucky is expanding its Heart-2-Heart campaign to the state's farmers July 1.
"Farmers are critical to Kentucky's economy and represent an essential industry," said Nancy Cox, dean of the UK College of Agriculture, Food and Environment. "We are thankful for them and are excited to partner with the College of Nursing to offer this opportunity for the general public to show their appreciation to some of the hardest working men and women in Kentucky."
The Heart-2-Heart campaign started earlier this year through a partnership between the College of Nursing and the Fayette County 4-H youth development program, which is part of the of the UK Cooperative Extension Service. It is a way for the public to send letters of appreciation, compassion and encouragement to health care workers who are battling COVID-19. To date, the program has mailed more than 1,200 letters and cards to 80 hospitals across 15 states.
"We started the Heart-2-Heart campaign as a way to compassionately say to health care workers, we see you and we are with you," said Camille Burnett, associate professor at the UK College of Nursing and founder of Heart-2-Heart. "We also know that the essential work doesn't just exist in health care, and that is why we are so happy to expand this campaign to show support for the valuable workers in Kentucky's agricultural industry as well."
Individuals who work in the agriculture industry are crucial to maintaining America's food supply. They play an integral part in local economics and have faced challenges during the pandemic.
The campaign has tremendous support from the state's numerous commodity groups who understand the challenges Kentucky producers face each day and support them in their efforts to produce quality products.
"The University of Kentucky's Heart-2-Heart campaign provides an excellent opportunity to say 'thank you' to those working on the front lines of our food supply. Let's make sure the hard-working men and women who provide the food we so desperately need know, without a doubt, that we appreciate them," said Nathan Lawson, director of the Kentucky Beef Council.
With the expansion of Heart-2-Heart, not only will Kentuckians be able to write letters of appreciation to producers, but they can share on social media how they have been impacted by farmers and the reasons why they love agriculture. The College of Agriculture, Food and Environment has developed a Facebook profile picture frame for people to use to show they support Kentucky's farmers as well as the hashtag #KentuckyLovesAg.
County extension offices have #KentuckyLovesAg signage, stationary, coloring cards and note cards for individuals interested in thanking the Kentucky agriculture industry. Materials also are available online at https://www.ca.uky.edu/heart2heart.
 Individuals can return completed items to their local extension office or mail them to Family and Consumer Sciences Extension, 102 Erikson Hall, Lexington, 40506. UK will distribute items to Kentucky producers, food processors and livestock auction staff.
More information about the project is available at https://www.ca.uky.edu/heart2heart and https://www.uky.edu/nursing/heart2heart.
---
4 H Youth
Community Development
Crops
Events
Extension
Family Consumer Sciences
Horticulture
Livestock