UK Ag programs receive $1.46 million to revitalize coal communities
UK Ag programs receive $1.46 million to revitalize coal communities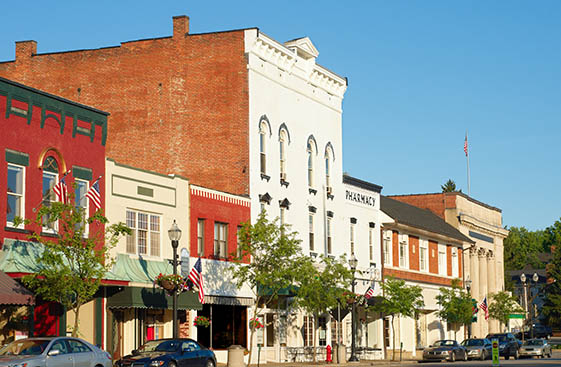 LEXINGTON, Ky.—
A $1.46 million grant awarded to the University of Kentucky College of Agriculture, Food and Environment will help revitalize the downtowns of economically challenged southeastern Kentucky.
The funds are part of $38.8 million in federal grants awarded to 29 entities as part of an effort by POWER, Partnerships for Opportunity and Workforce and Economic Revitalization, to invigorate economic growth and opportunity in regions hit hard by the loss of coal-related jobs. The Appalachian Regional Commission, the U.S. Economic Development Administration and the U.S. Department of Labor's Employment and Training Administration announced the awards today. The college's Community Economic Development Initiative of Kentucky, the Kentucky Small Business Development Center and the Department of Landscape Architecture, in partnership with the Foundation for Appalachian Kentucky and the Kentucky Main Street Program, will use the funds to support comprehensive downtown revitalization efforts in the Kentucky Promise Zone. The zone is comprised of eight counties that received a 10-year designation by the Obama administration to focus resources and expertise in areas in need of economic growth.
"In our work throughout the Promise Zone for the past two years, it became evident that elected officials wanted to diversify their existing economic development strategies by focusing on existing small businesses and creating a culture for new entrepreneurial activities," said Alison Davis, CEDIK director. "This downtown revitalization program focuses on just that."
The groups will focus on several areas for improvement.
·       The First Impressions Program will enlighten communities on the existing strengths and weaknesses of their downtown areas through the eyes of the first-time visitor, which will enable them to develop a vision and plan.
·       A Downtown Mentor program and a Downtown Network will be implemented.
·       Volunteers will survey rural businesses to understand expansion opportunities and identify growth constraints. CEDIK will then analyze the results and suggest actions to invigorate the local economy.
·       CEDIK and KSBDC will provide high-end technical assistance and business resources through Grow Kentucky, Kentucky's Economic Gardening program, for eligible businesses within a 10-mile radius of downtown.
·   CEDIK will provide a retail sales and leakage analysis and a consumer profile for each community to identify residents' shopping behavior.
·   The Foundation for Appalachian Kentucky will focus on building capacity for philanthropic giving to promote private investment in the region.
"Our partnership with the Kentucky Small Business Development Center and the Foundation for Appalachian Kentucky is natural," Davis said. "Both provide absolutely essential expertise and existing relationships that will allow this program to achieve optimal and sustainable outcomes."
Because increased foot traffic is key to developing a downtown that serves as an economic engine for the community, Jayoung Koo, UK assistant professor in landscape architecture, will work with six communities to create accessible, aesthetically pleasing places within the city center. Arts are also important to revitalization efforts, so CEDIK, though its Art Extension program, will suggest ways to infuse performance and visual arts, learning opportunities, and restorations and activities that reflect the heritage and culture of the community.
In addition, CEDIK recognizes that young people are a vital asset to small downtowns and rural communities.
"We insist that the youth voice be included in community and economic development work," Davis said. "Their infusion of creativity and hope is essential for these Eastern Kentucky communities to survive and thrive."
In line with this thinking, a regional and community-level youth task committee will be formed to serve on the Regional Downtown Development project.
Davis and her partners believe that if they are successful in empowering these downtowns, the communities should see an increase in new businesses, the successful recruitment of new firms, and job creation and retention in existing businesses. In addition, new entrepreneurs will be drawn to the area, and the region should see increased visitors and tourism dollars.
---
Awards
Community Development
Economics
Extension