UK CAFE Alumni Plaza celebrates college mission
UK CAFE Alumni Plaza celebrates college mission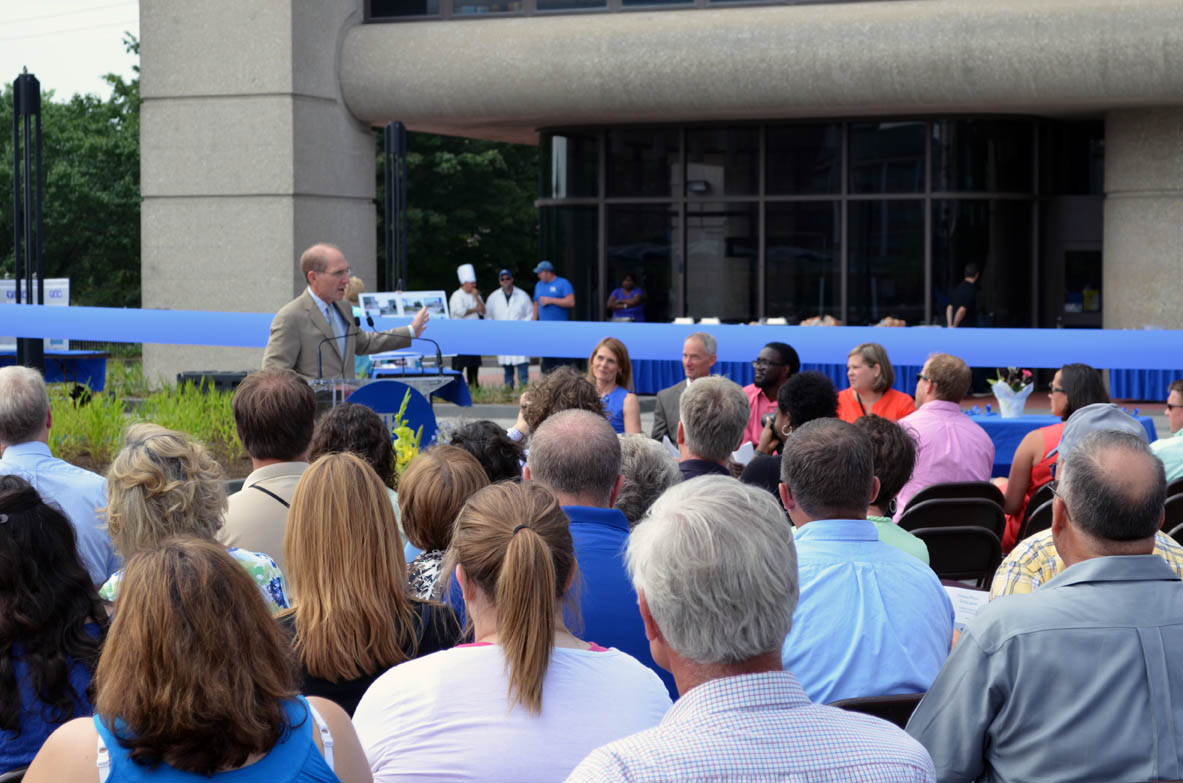 LEXINGTON, Ky.—
Everyone agreed; the approach to W.P. Garrigus Building had seen better days. Well, better days are here again, with the completion of the new College of Agriculture, Food and Environment Alumni Plaza.
University of Kentucky President Eli Capilouto, CAFE Dean Nancy Cox and former dean Scott Smith were on hand June 24 to cut the ribbon. Also included in the dedication ceremony were Kevin Kreide, Physical Plant Division director; Boyd Sewe, landscape architecture student; and Ramona Fry, principal at element design and project manager for the plaza renovation. Fry and design team members, Liz Piper and Mark Arnold are alumni of the college's Department of Landscape Architecture.
"The completion of our Alumni Plaza is cause for celebration—celebration of our college alumni, celebration of our students and celebration of our threefold land-grant mission of teaching, research and extension," Cox said.
The diversity, beauty and seasonality of Kentucky's agriculture inspired the plaza's design. The plantings, in raised beds, are not just aesthetically pleasing, but have the practical function of providing spatial separation and controlling surface runoff. Along with agricultural plantings, a "demonstration forest" was planted, using 13 potentially blight-resistant sapling American chestnut trees 1.0 and 50 pure American chestnuts, which have started to sprout from planted nuts. The trees were donated by The American Chestnut Foundation, which has a breeding program that strives to restore the American chestnut to the Appalachian Mountains.
Fry told the gathered crowd that the plaza is now "a place that provides for outdoor classrooms, learning, socialization and research, with a meaningful investment in stewardship and greening our campus. It's a place for large gatherings and for small, everyday conversations, a place to meet colleagues and make lifelong friends. It's a place that celebrates the environment of education."
The idea to renovate the space came from Kreide, who thought a revitalized plaza could make an important difference to that part of the college. He and now-retired vice president for UK Facilities Management Bob Wiseman kept the door open for local firms to submit innovative designs for the plaza. The selection committee unanimously approved element design's vision, saying it successfully reflected the image of UK and the college. Now that the work is done, Kreide believes the nine-month construction process was worth it.
"I think it's outstanding. It's money well spent. It's going to be a place that students, staff and faculty can enjoy and take pride in and use everyday," he said.
For Fry, Piper and Arnold, the opportunity to give back to the college that gave them so much as undergraduates is something they'll always value.
"To stand today in this vibrant, beautiful Alumni Plaza is both wonderful and humbling. The opportunity to help transform this place, to give something back of ourselves and our education here, where it all happened, is beyond measure. We are honored to be a part of this experience," Fry said.
---
Events
Forestry
Horticulture