UK CAFE graduate student receives prestigious award for thesis
UK CAFE graduate student receives prestigious award for thesis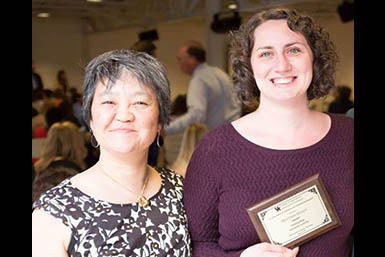 LEXINGTON, Ky.—
University of Kentucky graduate student Heather Hyden will receive the Conference of Southern Graduate Schools' 2018 Master's Thesis Award in the Social Sciences, Education and Business category Feb. 24 in Fayetteville, Arkansas.
Hyden received her master's degree from the Department of Community and Leadership Development in the UK College of Agriculture, Food and Environment. Hyden's thesis, Cultivating a Culture of Food Justice: Impacts of Community Based Economies on Farmers and Neighborhood Leaders in the Case of Fresh Stop Markets in Kentucky, focuses on cooperative food buying, a growing movement in Kentucky. The Kentucky model is recognized throughout the country as a model for guaranteeing farm incomes and building food sovereignty. Food sovereignty is people's right to access healthy and culturally appropriate food produced through ecologically sound and sustainable methods, as well as to define their own food and agriculture systems.
"Through participant research, we learned investing in food justice movements benefits both farmers and consumers beyond just financial savings, and that it also provides cultural, social and human capital to sustain efforts beyond farm-to-table transactions," Hyden said.
Hyden's adviser, Professor Keiko Tanaka, feels the award is well-deserved.
"Heather's thesis makes a critical contribution to the literature in food and agriculture studies. Her project examines a new, community-based approach to providing food insecure households with an access to farm fresh foods," she said.
The award comes with $1,000 plus travel expenses to attend the CSGS meeting. Nominated theses were reviewed by faculty members from CSGS member institutions and evaluated on the basis of clarity of style and presentation, scholarship, research methodology and contributions to the discipline.
"What excites me the most about receiving this award is the opportunity to lift up the work of limited income and minority communities who are doing the hard work of rebuilding our food system every day," Hyden said. "A lot of times, best-practice models come from Western or Northeastern regions, but this innovative work is happening across the South and is led by women of color." 
Morris Grubbs, UK assistant dean of The Graduate School, said in a letter to Hyden, "I have served on the CSGS thesis selection committee in the past and know how fierce the competition can be. Your award-winning work helps draw attention to the stellar research that is transpiring in your college and across UK's campus."
---
Awards
Community Development
Research
Sustainability