The UK campus as a living laboratory
The UK campus as a living laboratory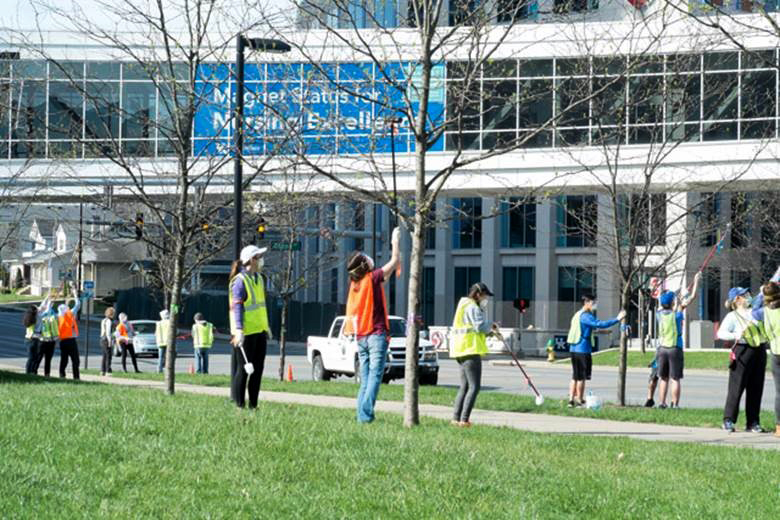 LEXINGTON, Ky.—
A distant look at the University of Kentucky's campus shows a beautiful environment enhanced by lush, healthy trees; but a closer look at these trees may bring a new perspective.
UK's Urban Forest Initiative took that closer look last year and noticed a large infestation of non-native calico scale, a rapidly reproducing, sap-feeding insect, on honey locust trees along Limestone.
"The trees along Limestone had yellowing leaves, thinning crowns, and blackened branches and stems from sooty mold, which grows on the scales' secretions," said Lynne Rieske-Kinney, UK forest entomology professor and initiative co-founder. "It was readily apparent to those who are keyed in on our campus trees."
The scales spread on stems and twigs as nymphs, sucking plant sap and depleting nutrients. They grow rapidly, leaving behind "honeydew," a sugary liquid that supports mold and is unsightly on stems and branches. Each female will lay more than 3,000 eggs. Their life cycle and feeding behavior make traditional foliar sprays and treatments difficult.
The faculty and staff of the Urban Forest Initiative, including co-founder Mary Arthur, professor of forest ecology, saw these scales as a chance to blend pest management and tree health with student engagement.
"UFI is very much keyed into student engagement and frequently conducts outreach projects involving students, including mulching events and tree plantings," said Rieske-Kinney.
The result of this was a "Scale Scrub" event; through intern and fraternity member Brianna Damron, the Urban Forest Initiative reached out to the Alpha Phi Omega service fraternity for the volunteer opportunity.
Forty-two students split into groups armed with toilet and deck brushes and personal protective gear. Each group implemented a different treatment: insecticidal soap and scrubbing, water and scrubbing or dry scrubbing. Each tree was scrubbed for 20 minutes.
The hard work of these volunteers was not without value. The students treated 68 infested trees over two mornings, and although they found no difference in the effectiveness of the treatments, UFI members noted a significant decrease in density of the calico scales three weeks after the scrub.
The event served as a rewarding opportunity for students to give back to their campus and bond as a team. In an online survey conducted after the scrub, many expressed a sense of accomplishment and pride over their involvement.
"I knew I was not only helping with a research project, but I was potentially helping find a way to eliminate the pest problem on campus and better our environment," one student wrote in a follow-up survey.
"Seeing students so clearly pleased with themselves and proud of their efforts after a morning of hard work is incredibly gratifying, as gratifying as improving the health of our campus trees," said Rieske-Kinney.
After the success of the event, the group intends to continue to strive to create opportunities for future student engagement in UK's natural living laboratory.
---
Entomology
Environment
Research