UK College of Agriculture, Food and Environment honors farm leader, researcher
UK College of Agriculture, Food and Environment honors farm leader, researcher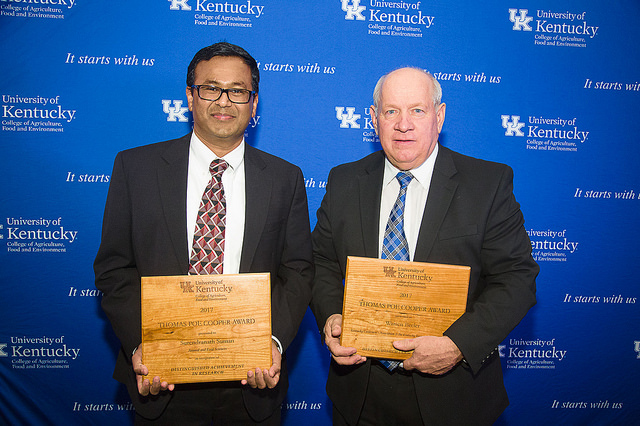 Published on Jan. 22, 2018
LEXINGTON, Ky.—
Each year, the University of Kentucky College of Agriculture, Food and Environment honors one outstanding farm leader and one faculty researcher through its Thomas Poe Cooper awards. The awards were endowed by Cooper, who was dean of the college from 1917 to 1951.
Warren Beeler, of Caneyville, is the recipient of the 2018 Thomas Poe Cooper Distinguished Farm Leadership. The award is presented to a Kentuckian who exemplifies leadership across the state in the areas of agriculture, 4-H, family and consumer sciences or community and economic development.
Beeler's achievements in agriculture are numerous and diverse. For the past two years, he has served as executive director of the Governor's Office of Agricultural Policy. Previously, Beeler worked for the Kentucky Department of Agriculture for 16 years. Beeler is also a well-respected and experienced livestock judge, having judged livestock shows for 37 years in 43 states.
He is a former president of the Kentucky Pork Producers Association and a Western Kentucky University Hall of Fame member and agriculture alumnus of the year. He is a member of the UK College of Agriculture, Food and Environment's Department of Animal and Food Sciences' Hall of Fame and Middle Tennessee State University Animal Science Hall of Fame. He is a recipient of the Kentucky Cattlemen's Association Service Award, Kentucky FFA Distinguished Service Award and the Agribusiness Industry Network's 2017 Harold Workman Agriculture Leadership Award.
Surendranath Suman, a professor of meat science in the Department of Animal and Food Sciences, is the recipient of the Thomas Poe Cooper Research Award. The award is presented to recognize outstanding career research achievement by a member of the College of Agriculture, Food and Environment faculty. Designed to recognize and encourage research excellence, the award is the college's premier award for distinguished scientific accomplishment.
His research interests focus on proteomics of meat quality, myoglobin chemistry and meat color, and novel strategies to improve meat quality. Since beginning his UK career in 2006, Suman has won several awards, including the 2016 Bobby Pass Excellence in Grantsmanship Award. He has served as principal investigator or co-principal investigator for five competitive grants from the U.S. Department of Agriculture's National Institute of Food and Agriculture over the past six years. He has published 65 peer-reviewed journal articles and has delivered more than 45 invited lectures in 12 countries. He received his doctorate from the University of Connecticut, after earning master's and bachelor's degrees in India.
---
Awards
Events
Extension
Livestock
Research