UK College of Agriculture, Food and Environment inducts 2016 Hall of Distinguished Alumni
UK College of Agriculture, Food and Environment inducts 2016 Hall of Distinguished Alumni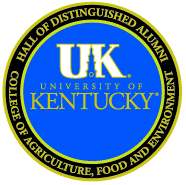 Published on Apr. 8, 2016
LEXINGTON, Ky.—
The University of Kentucky College of Agriculture, Food and Environment today inducted five new members to its Hall of Distinguished Alumni. This year's recipients - an entrepreneur, a NASA nutritionist, a Wall Street executive, a family and consumer scientist and an animal scientist - showcase the vast career options available to alumni from the college.
Robert Hall Jr. of Georgetown, received his bachelor's degree in agriculture in 1955. Upon graduation, he served in the U.S. Army as a food inspector and held herdsman positions in the Northeast and at UK. In 1964, he purchased a small business, Farmers Feed Mill, which through product development and service has grown into a company with worldwide markets. Hall continues to serve as president of the Lexington-based company. In addition to growing a successful company, he has a history of service to agriculture and his community. For example, he sponsored the first Honor Flight from Bluegrass Airport to Washington, D.C., for Central and Eastern Kentucky World War II, Korean and Vietnam veterans to visit the memorials dedicated to their service.
Barbara Landrum Rice of Bellaire, Texas, spends her days working with astronauts as a research dietitian at the Johnson Space Center. The Simpson County native graduated from UK with a degree in dietetics in 1962. She went on to receive her master's degree in nutrition at California State University. Rice directed the nutrition training program at the Los Angeles Children's Hospital, started a private practice in nutrition consulting for children and adults and taught at two universities before moving to Texas. At NASA, she has worked with both U.S. and Russian crews. Her expertise has been called on many times over the years including when NASA assisted in the rescue of trapped Chilean miners, as nutrition was an important component of their successful rescue. Rice is the author of numerous publications and has been the recipient of numerous awards.
Bonnie O. Tanner of Harrodsburg, received her bachelor's degree in home economics at UK in 1963 and master's and doctoral degrees in agricultural and extension education at the University of Maryland. During her career, she established a home economics program at a Kentucky mental hospital, creating training for community re-entry. She taught middle school students home economics, was an extension agent and associate professor in Maryland. She joined the U.S. Department of Agriculture where her work in women's leadership, dietary guidelines, farm to school and food and fitness were nationally and internationally recognized.  She returned to UK in 1999 and served for five years as assistant director for family and consumer sciences. She then transitioned to working on special projects for the college until her retirement in 2007. During her tenure at UK, she developed unique partnerships in the arenas of public health and is the co-founder of the Kentucky Women in Agriculture organization.
Myra Leigh Tobin, a native of Harned, received her bachelor's degree at UK in home economics in 1962, a master's degree in counseling psychology at Ohio State and an MBA from New York University. Involved in many activities while in school, she became a trailblazer in the business world. She began her career with Goldman Sachs and then moved to New York-based insurance firm Marsh and McLennan Companies, where she rose through the ranks to become senior vice president, then managing director, a position she held until retiring in 1998. Tobin, of New York, has been a leader in professional and community organizations and remained connected to her Kentucky roots through the family farm. She has served as president of the UK Alumni Association and served for six years on the UK board of trustees. She helped raise more than $2 million for First Presbyterian Church in New York City and supported UK HealthCare with the construction of the Myra Leigh Tobin Chapel in the UK hospital.
The late James D. Kemp, a native of Pickett, spent nearly 40 years teaching and advising undergraduate and graduate students in Department of Animal and Food Sciences at the University of Kentucky, many of whom today are well-recognized in their respective careers. He was instrumental in helping to establish the food science program in the UK College of Agriculture, Food and Environment. He also helped to initiate what is now a well-known event at the Kentucky State Fair – the annual grand champion ham auction. Kemp died on Feb. 17, 2015.
The Hall of Distinguished Alumni awards are presented annually and are a joint program of the UK College of Agriculture, Food and Environment and the UK Ag & HES Alumni Association. It is the highest alumni award bestowed by the college.
---
Awards
Events
Family Consumer Sciences
Food Science
Livestock