UK entomologist identifies new wasps; names two for students
UK entomologist identifies new wasps; names two for students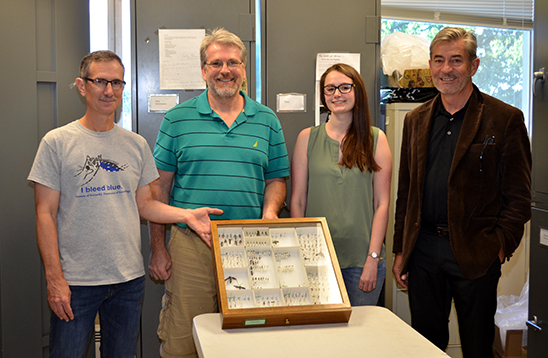 LEXINGTON, Ky.—
When University of Kentucky entomologist Mike Sharkey identified 10 new genera of parasitoid wasps, he had more than just naming rights. He had a way to motivate students.
Sharkey, a professor in the UK College of Agriculture, Food and Environment, and his lab team have spent several years identifying and grouping parasitoid wasps from Southeast Asia with funding from the National Science Foundation. Due to the beneficial insects' small size and the time and technology required to identify their unique characteristics, scientists have often placed them all in one genus. Sharkey and Eric Chapman, UK research analyst, set out on the complex task of identifying the wasps, matching both DNA and physical characteristics.
Sharkey saved the names of two species for exceptional students.
At the beginning of his Entomology Graduate Seminar 770 in 2015, Sharkey told his students that he would name a wasp after the one who won the jeopardy-style, insect trivia contest that ran throughout the course and another one for the student with the highest score on the final exam.
It was a huge motivator for Emily Nadeau, a current UK master's student from Port Orchard, Washington. Of all the insects, she wanted a parasitoid wasp to be her namesake. She won the trivia portion of the class.
"I was determined to win and spent many weeks preparing for the trivia contest," she said. "When I won, I was ecstatic that I now have my own personal piece of entomology."
Sharkey named Nadeau's wasp Scabagathis emilynadeauae.
Paul Baker, UK doctoral student and graduate research assistant, had the highest exam score. Sharkey named Leuroagathis paulbakeri for him.
This isn't the first time that Sharkey has named wasps for people. He named parasitoid wasps for his childhood friend Jimmy Temple (Agathigma templei) and for fellow researcher David Lohman, who assisted Sharkey in collecting the parasitoid wasps in Thailand (Chimaeragathis lohmani). The genus Chimaeragathis was named for the mythical green monster Chimera.
"In the past, we were very careful about using Latin or Greek for scientific names and never mixing the two languages," Sharkey said. "Today, perhaps because of our realization that there are millions more species to name, more latitude is given to whimsical epithets. I am sure that naming species after students would have been frowned upon 50 years ago, but we don't take ourselves quite so seriously anymore."
The recently identified parasitoid wasp genera, including Baker and Nadeau's species, are on display in The Queen Sirikit Botanical Garden in Thailand.
A full list of the new wasp genera are available in Sharkey's paper published in the academic journal ZooKeys, which is available at http://zookeys.pensoft.net/articles.php?id=12390.
---
Entomology
Research