UK entomologists to study insect in Antarctica
UK entomologists to study insect in Antarctica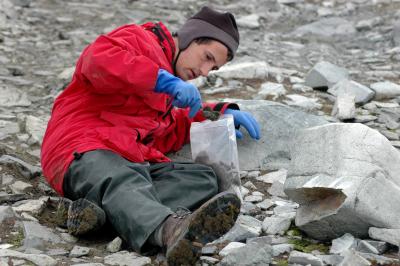 LEXINGTON, Ky.—
University of Kentucky researchers will soon travel to Antarctica to study an insect that can tolerate a wide range of extreme environments.
The Antarctic midge is the only insect endemic to the continent, and it is the largest terrestrial animal that spends its entire life there.
Nick Teets, UK assistant professor, and Leslie Potts, UK doctoral student, will travel to Antarctica as part of a group that also includes researchers from Miami University in Ohio and Gustavus Adolphus College in Minnesota. Researchers from The Ohio State University and Miami University, Ohio received a National Science Foundation grant that will fund the trip.
Teets is specifically interested in how the insect handles extreme environmental stressors, including brutally cold winter temperatures and lack of water. He is also interested in how changes in the continent's climate are affecting the insect. This will be his third trip to Antarctica. He went with the same group of researchers as a graduate student at The Ohio State University.
"This tiny midge spends nine months a year frozen solid, and we want to figure out how that works," he said. "There are over 1 million described species of insects in the world, yet only one is uniquely adapted to Antarctica's harsh climate."
Potts will study the midges' role in the ecosystem.
"I will be studying the midge's influence in the environment and how the environment influences its survival," she said. "I'll also be seeking to understand how it affects other organisms, such as bacteria and fungi, and vice versa."
While at Palmer Station, a U.S. research facility in Antarctica, Teets and Potts will conduct physiological experiments on the midges. They will collect insects to bring back to their lab in UK's College of Agriculture, Food and Environment.
They will also engage young people at Lexington's Living Arts and Science Center Monday, Jan. 15 through a live remote from Antarctica. They will offer additional educational opportunities to Kentuckians upon their return.
---
Entomology
Research