UK event considers coffee beyond caffeine
UK event considers coffee beyond caffeine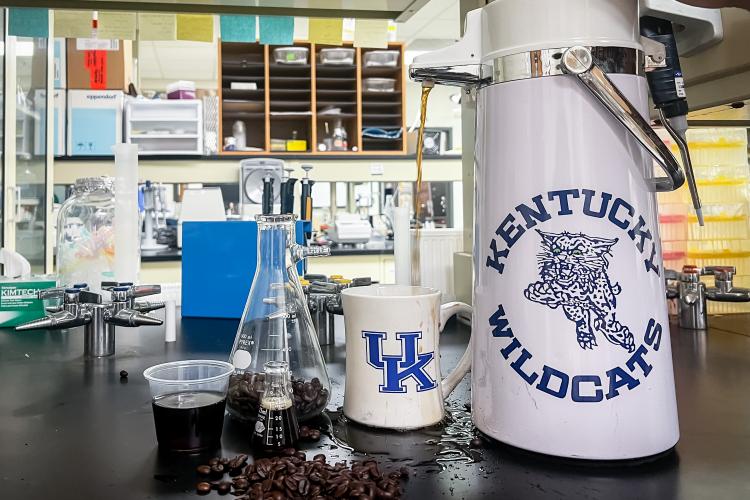 Lexington, Ky—
For many wildcats, coffee and science in the same sentence usually means a late-night chemistry cram at the library. Thanks to one group of campus researchers, however, coffee itself is becoming the subject of study.
On Thursday, Oct. 20, the University of Kentucky Department of Chemistry, the UK College of Agriculture, Food and Environment and the James B. Beam Institute for Kentucky Spirits are hosting Christopher Hendon, internationally recognized coffee researcher, for a day of exploring the caffeinated beverage.
"Coffee is one of the most traded commodities in the world and supports the livelihoods of millions of people around the world. It is also the perfect case study to teach a wide range of interdisciplinary topics, including chemistry, sensory science, economics, environmental sciences, geopolitics, food systems and much more," said David Gonthier, assistant professor in the UK Department of Entomology, a coffee Q-grader and UK coffee course instructor. "Particularly, how coffee is grown, processed, roasted and brewed can impact coffee quality through changes in chemistry. We are lucky to host Chris, an expert in coffee chemistry, to elaborate on exactly what is happening to make your perfect cup."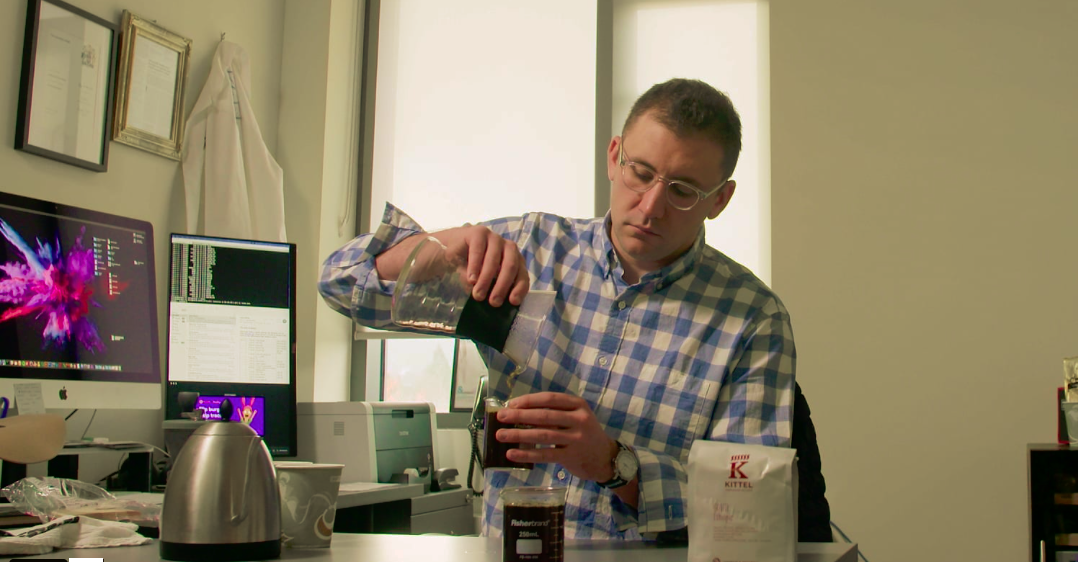 Known as Dr. Coffee, Hendon is an assistant professor in computational materials chemistry at the University of Oregon. His dynamic, experimental research group bridges inorganic materials chemistry with physical chemistry and several international media outlets, including The Wall Street Journal, The New York Times and The Atlantic, have cited his expertise.
From 12:30 to 1:45 p.m., all UK students are invited to an open coffee lab in the Agricultural Science Center N24J commonly known as Ag North. During the discussion, Hendon will introduce students to sensory analysis, coffee chemistry and "cupping," a comparative practice to describe different aroma and flavor attributes of coffee.
"Ultimately, we hope to encourage students to consider coffee beyond caffeine," Gonthier said. "The same goes for our faculty and researchers."
Later in the day, an interdisciplinary group of researchers and administrators will gather at the UK Horticulture Farm with Hendon. Guests whose expertise span everything from healthcare to humanities will learn more about Hendon's research, consider potential collaborations and enjoy an array of local tastings as diverse as the invite list.
"In my experience, the most fascinating research can be found in the most unsuspecting of partnerships," said Carmen Agouridis, UK CAFE senior associate dean. "Though not the primary purpose, a bit of caffeine couldn't hurt our effort in kickstarting some interesting coffee collaborations."
---
Beam Institute
Entomology
Events
Research