UK helps study troublesome insect in Oman
UK helps study troublesome insect in Oman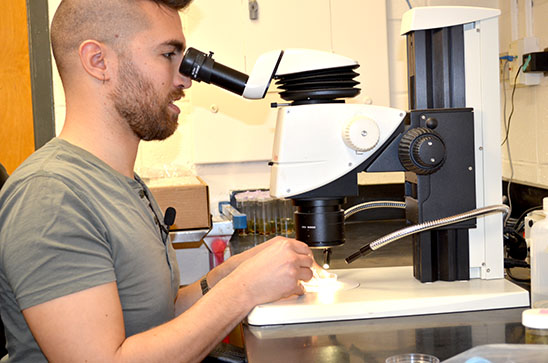 LEXINGTON, Ky.—
University of Kentucky scientists are helping answer research problems half-a-world away. Through a partnership with The Research Council of Oman, entomologists from the UK College of Agriculture, Food and Environment are looking at sustainable ways to control the dubas bug, a major pest in Oman and other Middle Eastern countries.
After a particularly devastating outbreak, The Research Council of Oman requested research proposals aimed at controlling the pest and then awarded the grant to UK insect ecologist James Harwood.
His lab is one of only a handful in the world specializing in molecular gut content analysis. Lab researchers dissect insect pests and predators to determine who is eating who in the bug world. They use the results to determine safe, effective ways to naturally control insect pests.
The dubas bug, only millimeters in size, is very harmful to the date palm plantations in Oman and surrounding countries. Losses of 25 percent have been reported in the worst cases, causing a substantial economic impact to the area's date farmers. Limited research exists on this bug.
"Through this research, we hope to find predators that consume the dubas bug to help control the population," said Jamin Dreyer, a UK post-doctoral scholar working on the project.
Since the research project began, UK scientists have collected DNA samples from dubas bugs. Soon, they will receive potential dubas bug predators collected by their collaborators in Oman. Once they receive the predatory insects and spiders, they will look for the genetic fingerprint of dubas bug inside each specimen.
 "The ultimate goal, after all the research is finished, is to get the predators to do the work for you, as biological control agents," Dreyer said.
Biological control is a more environmentally friendly form of pest control as it relies on natural predators instead of using harmful pesticides, which could have implications for plant and human health.
---
Entomology
Research