UK Martin-Gatton College of Agriculture, Food and Environment celebrates past and future at 50th Roundup
UK Martin-Gatton College of Agriculture, Food and Environment celebrates past and future at 50th Roundup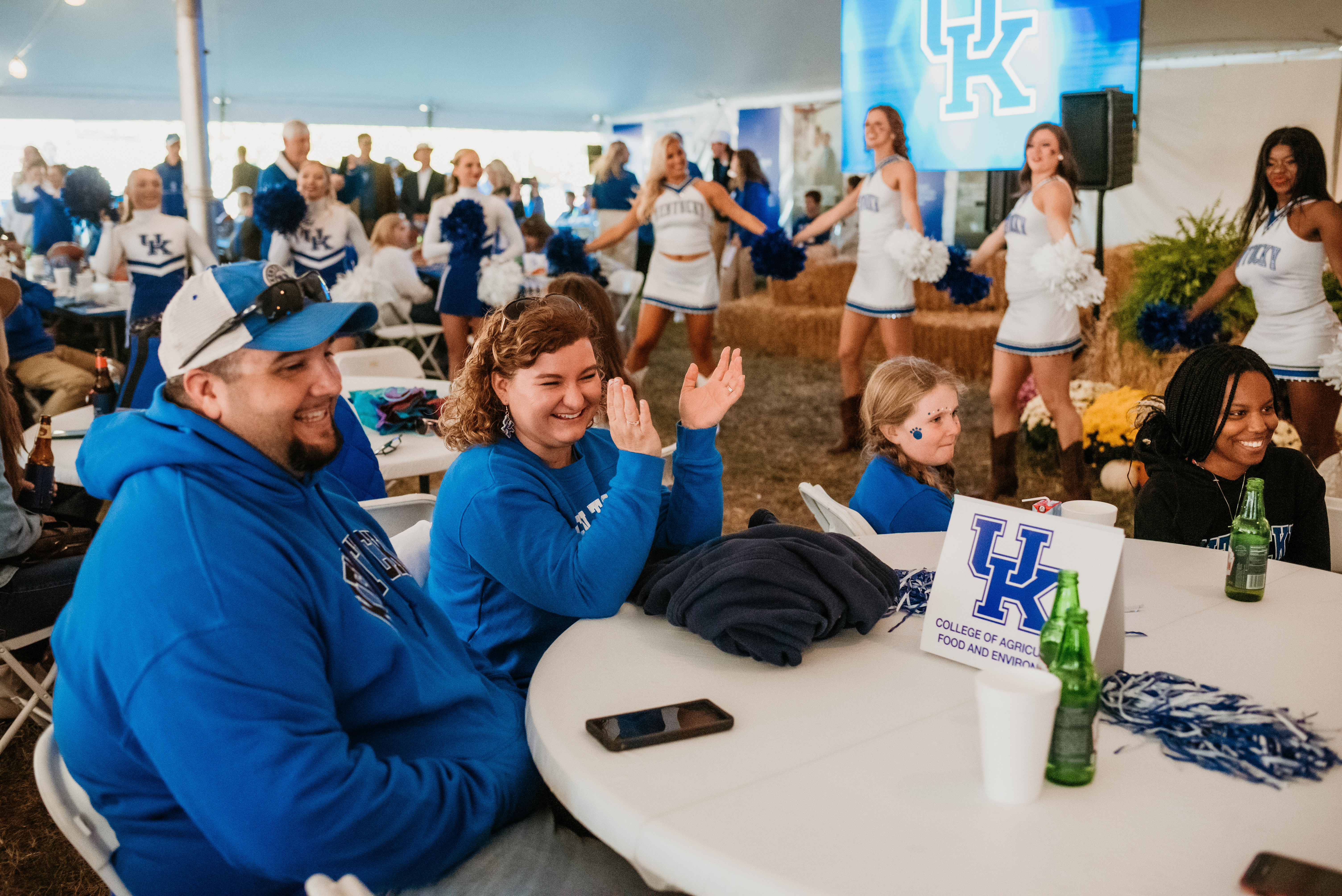 LEXINGTON, Ky., —
The 50th annual Roundup is a milestone tribute to the past, present and future of the University of Kentucky Martin-Gatton College of Agriculture, Food and Environment.
The event brings together students, alumni, faculty, staff and friends to experience the spirit of togetherness that defines a cherished family reunion.
"This will be my second Roundup since being hired by the college, and it seems like I have joined at the perfect time," said Tori Summey, director of alumni engagement. "There are generations of heartfelt connection in every corner of this college and being able to bring those connections back together is a really special honor."
A lot has changed in 50 years. In the early years, Roundup was a one-day event focused on gathering alumni before a football game. Associate director of alumni and development for the college Grace Gorrell spent 17 years building Roundup into a multi-day event involving students, faculty and alumni. Now Roundup is the largest annual alumni event on campus, averaging 4,000 attendees over four days.
Scheduled for Sept 27-30, Roundup 2023 is packed with a wide range of activities and celebrations. Here's a sneak peek at the highlights, all times EDT:
Sept. 27 – Beef it Out @ the Barn, 5 p.m. – student and faculty teams will go head-to-head to create the ultimate burger, while judges decide the winner. Attendees can also vote for the best table theme and enjoy free food while watching the competition.
Sept. 28 – Future Wildcat Day -- high school students have a unique opportunity to learn about the college's programs, student life, scholarships and more. Register at https://tinyurl.com/futurewildcatday by noon Friday, Sept. 22.
Sept. 29
11 a.m.-1 p.m. – Staff Appreciation Day, Dr. Lisa P. Collins Outstanding Staff Awards and the Diversity, Equity, Inclusion and Accessibility Awards.
5 – 7 p.m. – Agricultural and Medical Biotechnology Social
5 – 7 p.m. – Plant and Soil Sciences Alumni Social
6 p.m. – Animal and Food Sciences Reunion, under the tents
6:30 p.m. – Alpha Gamma Rho Reunion, AGR House
Sept. 30
The official 50th-anniversary celebration with live music, tailgating, pep rally and the Kentucky vs. Florida football game. The Roundup tents will open four hours prior to kickoff and meal lines will open two hours prior to kickoff.
4-H Reunion, E.S. Good Barn Culton Suite, four hours prior to kickoff
Alumni and Friends Tailgate, under the tents, four hours prior to kickoff
Program and Pep Rally, 1.5 hours prior to kickoff
In addition to commemorating the 50-year milestone, the college will honor The Bill Gatton Foundation for its exceptional generosity and celebrate the college's new name. The Bill Gatton Foundation is enabling the college to thrive in its vital land-grant mission of teaching, research and extension.
"Our college has never had more to celebrate, and what better occasion than the 50th anniversary of our annual Roundup tradition," said Nancy Cox, vice president of land-grant engagement and dean of the Martin-Gatton College of Agriculture, Food and Environment. "I look forward to reminiscing with our friends on September 30 as we look ahead to all of the achievements still on the horizon."
Don't miss this historic celebration of Roundup's 50th anniversary. Register now to secure a spot during this year's event. For more information and registration details, please visit  https://alumni.ca.uky.edu/roundup.
– 30 –
The Martin-Gatton College of Agriculture, Food and Environment is an Equal Opportunity Organization with respect to education and employment and authorization to provide research, education information and other services only to individuals and institutions that function without regard to economic or social status and will not discriminate on the basis of race, color, ethnic origin, national origin, creed, religion, political belief, sex, sexual orientation, gender identity, gender expression, pregnancy, marital status, genetic information, age, veteran status, physical or mental disability or reprisal or retaliation for prior civil rights activity.
---
Events
Philanthropy
Students