UK program to improve bourbon barrel manufacturing
UK program to improve bourbon barrel manufacturing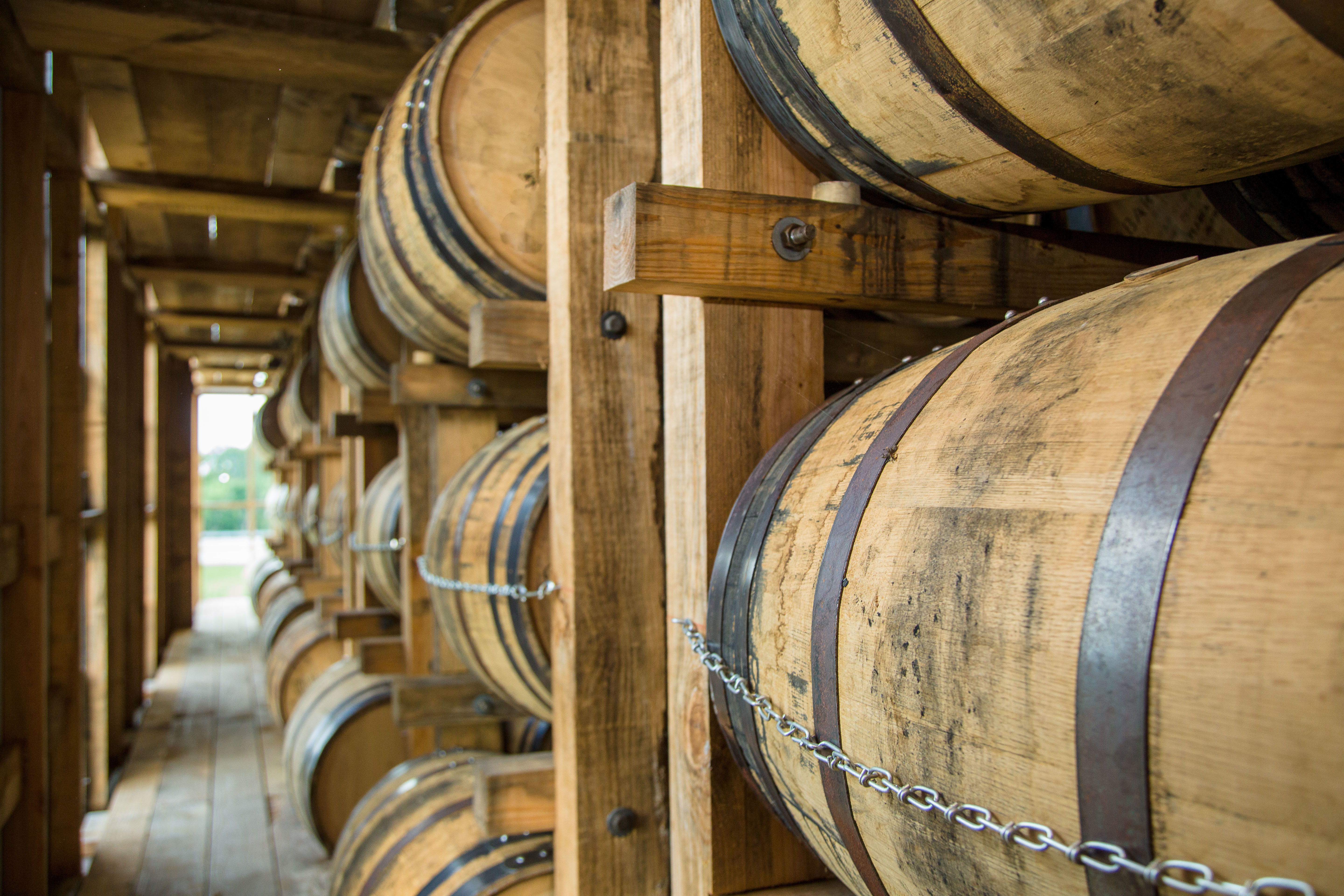 QUICKSAND, Ky.—
Bourbon wouldn't have its distinct taste without aging in white oak barrels. To assist sustainable use of white oak, Chad Niman, primary forest products specialist for the University of Kentucky College of Agriculture, Food and Environment, is leading a team of industry collaborators on a project to provide the industry with information to improve the efficiency of barrel production.
His research focuses on staves, the vertical pieces of wood which create liquid-tight barrels. Staves are carefully sawn from logs, placed in stacks and seasoned outdoors for several months to years. This outdoor drying of the stave wood produces the mellow taste of bourbon that is imparted over the aging process. While good for bourbon flavor, outdoor drying can also create problems. Checks and larger cracks in the staves can increase the barrels' potential to leak and increase the amount of bourbon lost in evaporation during aging, also known as "angels' share." The aim of Niman's project is to provide specific information on the outdoor drying process to improve the efficiency of white oak use by helping to reduce stave degradation.
The research will measure the rate and evenness of drying that directly influences stave degradation. Specifically, the project will provide detailed data on how faster drying contributes to checks and crack degrade development. This will include looking at the season in which staves are cut and dried, their position in the outdoor drying stack, as well as evaluating the use of a treatment that coats and seals the ends of the staves to prevent rapid moisture loss that leads to checks and cracks.
"We want to better understand these moisture loss dynamics, and how the moisture is leaving different locations in the stack, and the effect of end-coating treatments that we're using," said Niman, a research specialist in the UK Department of Forestry and Natural Resources. "We're trying to see how those treatments impact that moisture loss, as well as reducing degrade like those checks, which can be another vector for leakage."
Brown-Forman's stave facility in Jackson, Ohio will provide eight stacks of fresh-sawn, stacked white oak staves at three specific times during the year. During stack construction, researchers will measure the initial weight of staves to enable subsequent calculation of initial moisture contents. Additionally, they will end-coat a subset of the study staves with an emulsion to prevent end-checking. Researchers will cover and transport stacks to the UK's Wood Utilization Center at the Robinson Center for Appalachian Resource Sustainability near Jackson.
Researchers will then weigh staves located at different positions within each 7-foot-tall stack twice weekly and observe any development and characterization of checking and other degradation. They will monitor the staves throughout the drying process and determine how the environment and weather affects stave drying.
After approximately six months of air drying, researchers will thoroughly evaluate the staves for moisture content and degree of checking and other degradation.
Brown-Forman Corporation, Canton Cooperage, Robinson Stave, East Bernstadt Cooperage and other industry collaborators will evaluate the study results to develop improved drying recommendations aimed at increasing the yield of valuable staves.
"This is a multi-billion-dollar industry," Niman said. "Any treatments that we can implement to increase the efficiency of barrel production and reduce leakage during maturing of bourbon whiskey is a huge win for the industry, Kentucky and the surrounding region. By extending the use of the harvested white oak by reducing checking and degrade more barrels can be produced, and we can continually improve the stewardship of our precious white oak resource."
---
Forestry
Research
Sustainability