UK rain garden workshops target storm water runoff
UK rain garden workshops target storm water runoff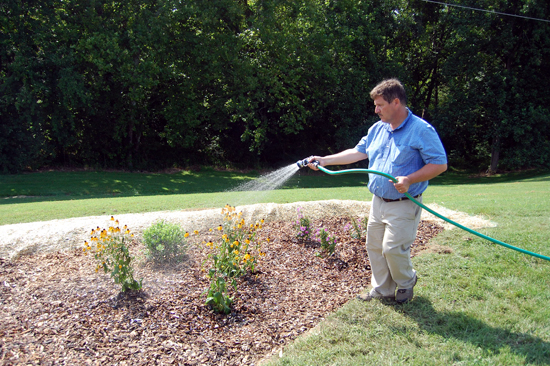 LEXINGTON, Ky.—
Storm water runoff occurs when precipitation hits impervious surfaces, such as roofs, driveways or parking lots. As this water runs off the surface, it takes trash and pollutants with it on its way to local waterways or the sewer system. In many instances, storm water runoff also results in soil erosion.
Because storm water is a concern, the U.S. Environmental Protection Agency is addressing this issue through Municipal Separate Storm Sewer System permits. Kentucky has more than 40 permit holders, representing more than 100 communities. These permits require the communities to meet at least six control measures.
Specialists with the University of Kentucky College of Agriculture are proactively addressing this issue by educating Kentuckians about storm water and residential best management practices for storm water, with a grant from the Southern Regional Water Program. One way they are doing this is by presenting rain garden workshops. These workshops help communities meet two EPA control measures, public education and outreach and public participation.
"Rain gardens are shallow depressions in the landscape that are designed to capture the 'first flush' of pollutants that are washed off of impervious surfaces and are one of the best management practices for reducing storm water runoff," said Brad Lee, UK water quality extension specialist and primary investigator on the grant.
In 2012, specialists led 21 rain garden workshops at extension offices, 4-H camps and schools across the state. This year's daylong workshops provide three hours of educational information on storm water, best management practices to reduce runoff and rain garden considerations. During the second part of the class, participants install a rain garden on a preselected site. The rain garden will serve as a community demonstration site.
"Ideally, individuals would build a rain garden on a well-drained area to catch runoff from their roofs or driveways," said Rick Durham, UK extension professor for consumer horticulture. "In this workshop, we also talk about plant selection and maintenance. We suggest using perennials to keep the garden low maintenance and native plants because they are well adapted to the area."
UK specialists will present rain garden workshops at Cooperative Extension Service offices in the following counties:
·         March 20 - Barren
·         March 22 - Woodford
·         March 26 - Mercer
·         April 8 - Henderson
·         April 11 - Leslie
·         April 12 - Bell  
·         April 16 - Greenup
·         April 19 - Washington
·         April 26 - Warren
·         April 29 - Nelson
In addition, specialists have developed a Web page that explains the essential components of a rain garden. It is available at http://www.ca.uky.edu/gogreen/raingarden.php.
The workshops are open to the public but specifically target watershed coordinators, Soil and Water Conservation District staff, storm water managers, school teachers, Master Gardeners and UK Cooperative Extension Service agents.
 For more information about rain garden workshops across the state, contact a local extension office.
---
Environment
Events
Extension
Horticulture
Sustainability